Have you ever found an inspiration piece and obsessed over it?
I have had this image pinned on my
Pinterest Board
for quite some time now and have been super excited for the chance to find a home with the perfect powder room to fit it in.
The Inspiration!
The Image led me over to
Refresh Restyle
where guest contributor Becky from Houzz discusses different repurposed vanity alternatives. I love all of her ideas.
Like I said, this image has stuck with me…so much so that back in November I purchased the following vanity for the sole purpose of putting it in my new house that I had not even seen or purchased yet!
I paid only $20 for it and it is the perfect size for my new future vanity. Even though I promised MyLove just a few days before that I would not drag home any more furniture from the curb until after we moved. I know I kind of cheated by purchasing it but I could not pass it up! Funny thing is that I laugh when I see this style since I grew up with the entire set. Not sure whatever happened to it though.
So it has sat tucked away in the back of our garage now just waiting for the opportunity to be refreshed!
The Dilemma!
The new home we purchased indeed has a powder room but already has a gorgeous granite vanity and sink that I don't want to touch. In fact, I am IN LOVE with it!
Isn't it beautiful? We close on the home in TWO WEEKS! I am so excited!
I have decided I am still going to keep this piece and have been thinking of even going a bit out of my comfort zone a bit with color.
Here are some ideas. I would love for you to tell me your favorites.
You know I love red so of course the first thing that came to mind was this red dresser, totally in my comfort zone: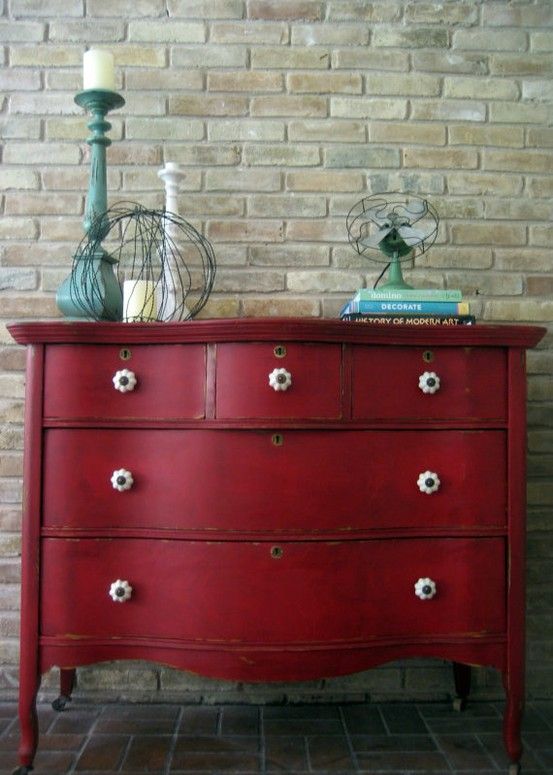 I would really like to infuse a bit of blue or turquoise into my home so came up with a few inspiration pieces.
I love all of the above Blue/Turquoise Furniture Painting techniques and the blogs they are found on are some of my favorites.
Karen is another dumpster diving teammate, much braver than I am, and is super talented in her painting skills.
I had an "Aha" moment when I saw how she painted these little drawers. It just might be a perfect way to infuse my existing red pieces in with a touch of blue.
Trust me…I have a lot of RED!
Curb Alert! Red Accessories
Outdoors
Curb Alert! Red Kitchen
Of course, the red kitchen is staying with the existing house!
What do you think?
Should I go for the pop of blue?
Tuesday Bluesdays Link Party!
If you have any blue painted projects I would love for you to share-help a girl out! I need some more ideas and want to see your creativity in Blue. I would also love to feature your projects on the Curb Alert! Facebook Page, Pinterest Boards and here on the blog on upcoming
Tuesday Bluesdays!
I look forward to your inspiration!