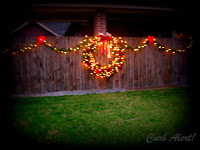 Here it is! I am very excited to show you the wreath I found!
I got the wreath from my friendly Freecycle website. I use the website to give away my possessions that I no longer use and also peruse it for interesting items for my home. Last month I gave away an 8×10 rug that I just could not use anymore-it made me feel good when the gentleman who picked it up was soooo excited to receive it.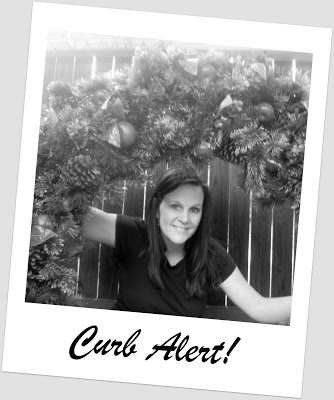 Last Spring I was checking my email and an alert appeared, it was an offer for a 5′ large Christmas wreath. I was in the truck with MyLove and somehow convinced him to drive me over and take a look. Wow, was I excited and shocked that the homeowners were cleaning out there garage and this wreath was still in the original box. Now granted, the box was old and dusty but once they opened up the lid there was a beautiful decorated pre-lit 5′ wreath (berries, bows, pinecones, and all). I asked them if I could just take the wreath and leave the box and they agreed.
This was March I tell ya and all of our Christmas decor was packed away in no man's land in the attic above the garage, so I stored it on the back porch for a few weeks. I decided to go ahead and leave it out and decorate it behind the patio bar frosty beverage area for our annual Luau in April.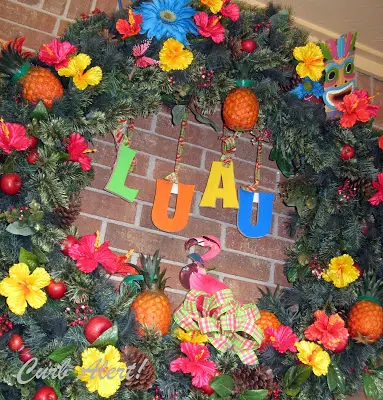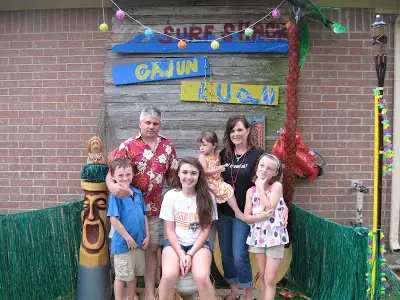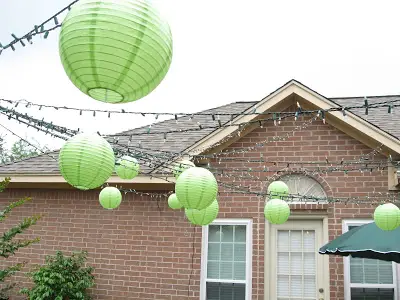 I strung lights and paper lanterns up along with the wreath and lit them up for the week prior to our party. My neighbor walked over and said "Tami I think you are a little early for Christmas lights!" I have left them there and love it all lit up at night!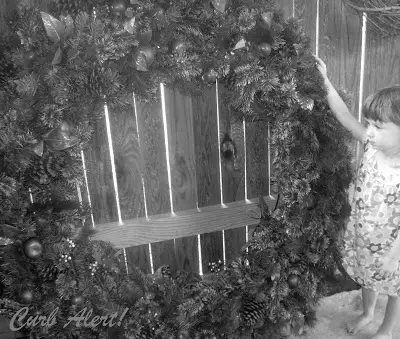 Now back to the wreath. It was a big hit at the party, everyone thought the wreath decoration was such a neat idea, not knowing that I really was trying to cover up the fact that I had no place to store it for now!
My first intention was to put it above our front door. As you can see it didn't make it there this year!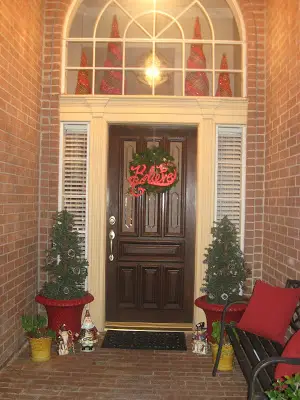 I am very excited about it though. Many of our neighbors have the same large wreath over their doors, so for the past few years I have had "wreath envy" but was not willing to pay the big bucks for my own. Hopefully next year we can properly hang it over our door (it's heavy!) so for now it sits on the fence.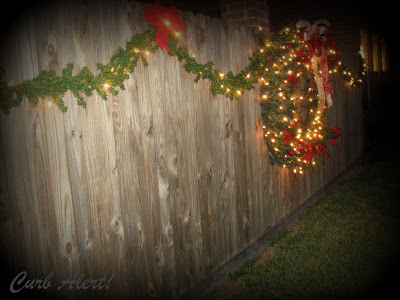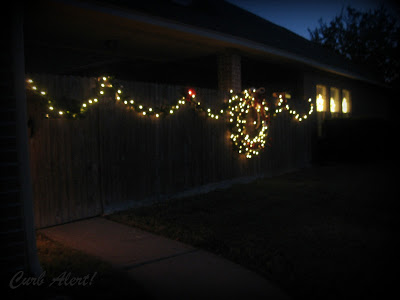 Santa looks pretty bright over there in the corner!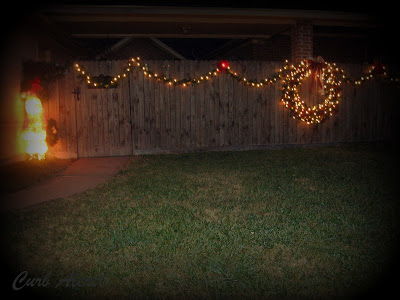 So what do you think of our wreath? I like it alot! Once again "one man's trash" has become my treasure! Thank you to my Curbside neighbors and Freecycle folks whom I do not know but diggin' your old Christmas decorations!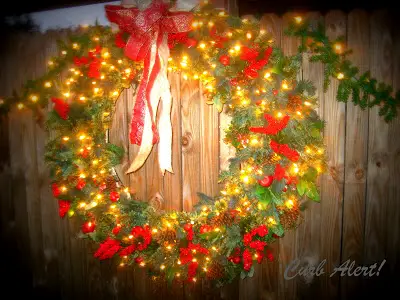 Hope everyone has a great weekend! We are taking family pictures tomorrow after plenty of begging, pleading, and bribing of the kiddos.
Wish us luck!
Happy Treasure Hunting!
~Tami
P.S. Happy Birthday to my beautiful little sister! She surely brightens my world.