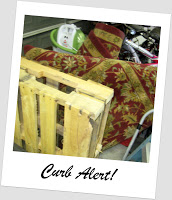 I am as serious as Christmas folks! One night on my way to drop off LadyBug at a church event I passed by a few items on the curb! I could barely contain myself the entire way there! Bye LadyBug, hurry now get out of the car!

I promised myself I would not embarrass the kiddos and pick up stuff on the side of the road with them in the car, so I sure was in a hurry to make it back to see if some things were still there! It has been awhile since I have found anything worth even writing about so imagine my excitement! I am a sucker for furniture – First I saw a rocking chair only a block away from home, oh the possibilities…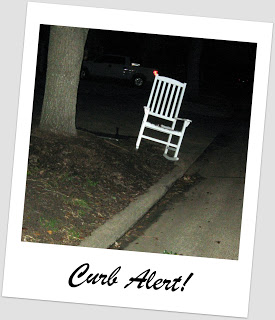 After a quick glance, I realized it was completely wet and rotted on all of the legs and there were some major cracks in the backing. I snapped a quick picture and moved on! Oh well!
When it was time to pick LadyBug up a few hours later I was surprised again by what I saw – Pallets! I would LOVE to do a pallet wall like
Just a Girl
's Tween Bedroom project, but don't really have a place to store them and it would be difficult to convince My Love of the idea of transforming the entire wall!
Ahhh, I love that room!
I pulled over right away this time! These two pallets were in great shape and very clean so I shoved them in the back of my car as fast as I could. Thank goodness it was dark because they were big and heavy, one fell on me and I also got a few splinters in the process! I should have used the advice from my
Dumpster Diver's Paradise
post summing up a few good ideas from that silly blog! The gloves would have come in handy!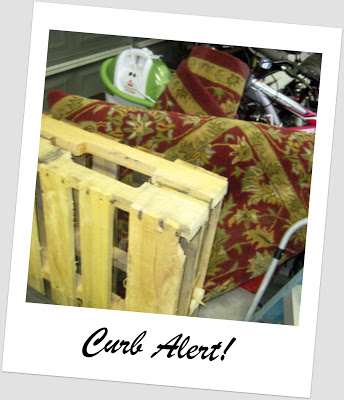 I didn't mention it to LadyBug but the moment she got into the car she said, "Mom, what did you get this time? It smells like fresh wood in here!" Ummm – Nothing Dear! she knows me too well!
Anyway, I have a great idea for them and will try to tackle that project in the new year.
MOVING ON … do you see what's next to the pallets? Yes, it's a RUG! An 8×10 kinda rug! Awesomeness right there! I saw it on the way home so quickly dropped off LadyBug at the house and made up some kind of excuse to leave again, like a quick trip to the grocery store!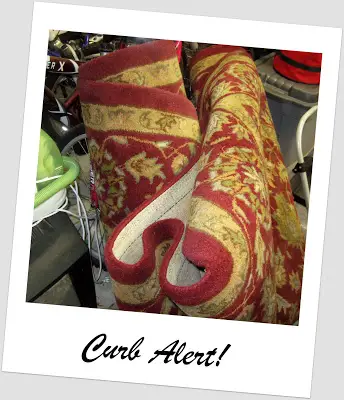 ONE PROBLEM though, the back of my car is full with the two pallets! Being desperate to hurry I just decided to walk the block away from home and pray that I can lift the rug! Well I did it and thank goodness again that it was dark out (we are working on 9 pm now folks!) I lifted and dragged that heavy sucker home real fast and shoved it in my garage. I decided to deal with it all explain it to MyLove later in the week, there was just too much to do to get ready for Christmas! I could hardly sleep!
If you remember, I mentioned before that I gave away my previous rug on Freecycle. I loved that rug! But my daughter threw up on it and … long story about the cleaning process – I'll spare you the details. I fully disclosed the info to the recipient and he wanted it anyway – ewww!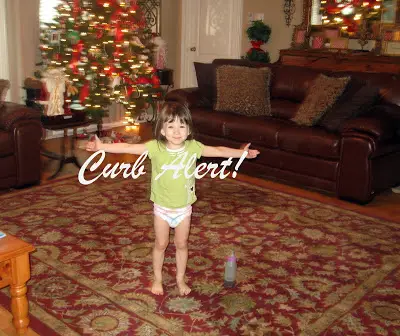 And here it is – my latest Curb Alert! Buttercup wanted to get in the picture so why not? "Tada" she says!. I really did not need to be fooling with it a few days before Christmas but I was so anxious to see it's condition and check out how it looks in the room! It looked clean and had no smell thank goodness which was a super plus!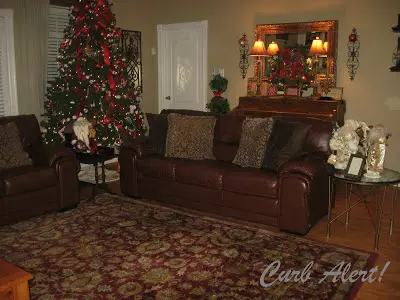 I got out the trusty Green Machine and got to work on my hands and knees to clean to entire rug, just in case it has cooties!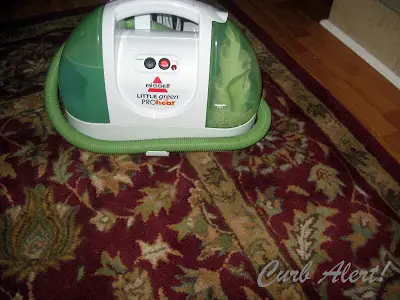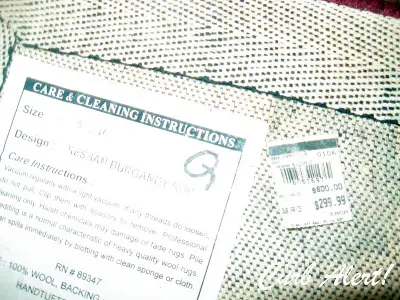 HELLO! Does that tag say an $800 rug for $299!? Why YES it does! I recognize that tag and it's from Tuesday Morning! Wowsers!
I try to stay out of that store for sake of my financial security and My Love's financial sanity!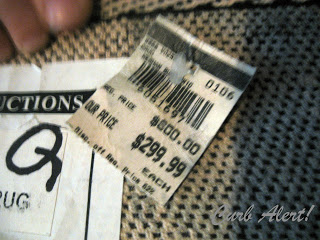 And a close up just in case you didn't see it clearly!
A w e s o m e ! (In a high-pitched singing squeel!)
And here it is now. I cleaned up all of the Christmas stuff, moved the furniture around a bit and left it a little bare of decor…for now!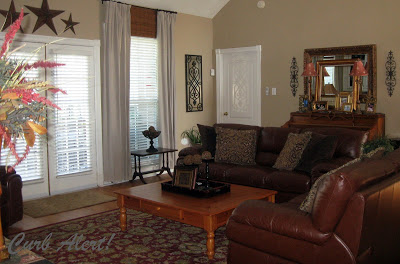 And the first thing Butterfly said when she saw it … "Wow Mom! What and ugly rug!" Thanks babe, you can pick out our next rug when you can afford to pay for it! Sheesh! Kids these days!
SERIOUSLY, who throws out this stuff? It's probably some sick joke and they were watching me from the window laughing! Oh well, I have no shame in rescueing it! (but do have a bit of a backache now!)
Doesn't matter, it makes me happy!
Merry Christmas to ME!
I look at it this way – since I save so much on home decor, I can afford to pool together my Christmas money and buy a few of these…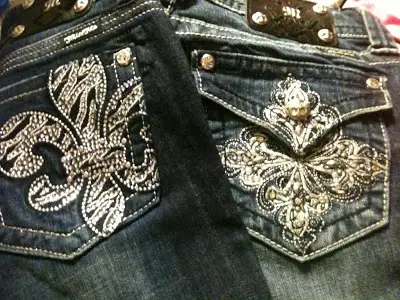 Yep! My favorite pair of jeans! – and only one size larger than Butterfly, my eldest decor-complaining daughter (begging to wear them) I might add!
Happy Treasure Hunting!
~Tami