This post may contain affiliate links. Please read my
full disclosure
policy for details.
I am in love with Beautiful Scrolly Frames. This one in pink is so pretty! That's why I was so excited to find some a few weeks ago at some awesome Garage Sales in my neighborhood for real cheap!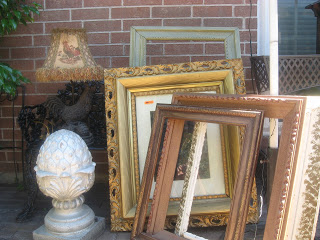 There are so many ideas out there and since I have a new obsession with chalkboard paint, I am especially in love with the chalkboard frames.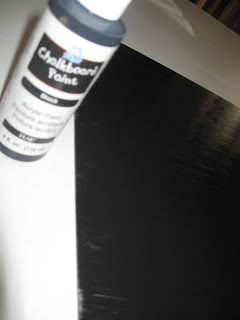 I made this one for my kitchen. We change it up all the time with quotes, pictures and weekly menus: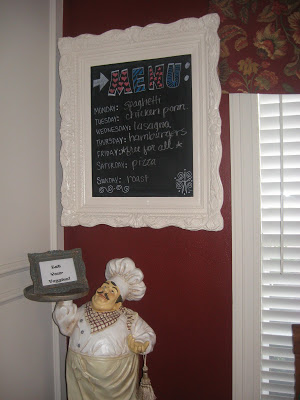 My original inspiration for the chalkboard obsession –

Via 320 Sycamore
I love the quote she used on hers in her post (so much that I copied it here for you):

"If we thought of life as a gift, we might not demand nearly as much from it. And if we lived more graciously, giving of ourselves more freely to the well-being of others, many of our personal concerns would disappear, and life would become easier for all."
— Lowell Bennion
I found this super fabulous to me frame at a resale shop for $10 and added the mirror to it (Home Depot builder mirrror) I love the way it turned out and have it as the backdrop of my little gold frame "collection" in my living room. My Love thinks it's about time I quit "collecting", what do you think?
Remember the free items that I shared with you during my
Garage Sale Weekend Shopping Trip?
Here is the free pile:
LadyBug had her eye on the blue table and Ikea chalkboard and quickly called them for her room.
I went crazy with the chalkboard paint one day and painted whatever I could get my hands on at the moment. Here is our pantry with the grocery list and yes, it is always that organized NOT! :
And a silver tray that sits on my kitchen table:

My friend got me thinking about painting some frames red and I think I just may do that for Buttercup's new room:
I envision something like this:


but in this color:
And just one more thought, maybe I can convince My Love to install it for the Master Bedroom:
Via Pinterest
He's thinking TV while I'm thinking Frame.
What a better way to compromise!!!
I hope you like frames, I could go on and on…
Have a great week!
~Tami