Freecycle is one of my obsessions. I found out about it years ago when my sister drove across town to deliver something she scooped up for my kiddos…It was this awesome freestanding basketball goal!

For FREE! It looked like this…
From then on I have subscribed to the Freecycle website for their daily deal lists and have both given away items and picked up a few myself!
A few months ago I responded to a posting that was listing cabinet doors in my area. I thought "what the heck, let's check it out" as I have seen many ideas of re-purposed cabinet doors like the post over here at
Infarrantly Creative
, and isn't this one cute?
I drove over and picked up the doors, the owner gifted about six of them and they were all brand new samples that were given to her from her cabinet maker for her new home. Cool!
8 cabinet doors in all
Right as I was picking them up the owner walked out and asked if I would be interested in some more wood items that she left out for another freecycler that was a no-show! I said a quick HECK YES! agreed to take the rest. I was very excited because my girls are also very crafty and always whining for me to take them to the craft store begging me for materials so this would give them a good start!
Here are some pictures of the items she gave me …
20 or so sanded and painted project boards
20 or so Craft Frames
My mind started churning up ideas like this one below, discussed over at Infarrantly Creative. There are some creative ideas out there! I have been saving 4 of the doors to replicate it and actually had the same website saved in hopes of tackling the project. Haven't started that one yet but it's on my to-do list…
Cabinet Door Picture Frames
I HEART this one!
4 frames, 4 kids w/a crafty momma – I must try this!
So in the meantime this is what I came up with. It hangs in my kitchen and took me all of about 10 minutes to create. It helped that I had all of the items on hand already.
Framed Keys
No sanding or painting needed, all I used was the keys ( I found in Fredricksburg years ago), glue gun and ribbon and PRESTO! I kinda like it. 🙂 I think it looks great!
And I couldn't stop there, I got our my ModPod, printed a quick saying on my computer in Edwardian Script font and glued it right on to the cabinet board. It sits in the corner of my kitchen counter and just kind of looks cute if I do say so myself!
Framed "Eat" Sign
Not that we need to be reminded to eat around here!
It's raining today and we need it pretty bad so I am not complaining, but it does tend to mess up my weekly curb finds for Monday morning!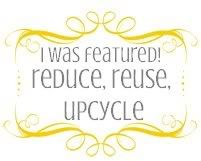 ~Tami