I hope everyone had a fabulous weekend. We sure did. Today our family decided to skip church and spend some time together at the beach park close to our home…it's still God's creation and we said a quick prayer so that's good, right? We just needed some time away with just us and a little bit of nature.
Thank you to those brave souls that attended our Curb Alert! Friday Block Party. I really appreciate you linking up and enjoyed reading through your posts. It's so fun to see all of the amazing talent and creativity out there.
These are the Top 5 most viewed links from the Link Party, please be sure and visit each of them.
Please DO NOT pin the following images from my blog.
Simply click on the link provided with each photo to re-pin to ensure that they receive proper credit.
Be sure to grab a Curb Alert! Block Party Feature Button on my sidebar 🙂
and thanks again for linking up.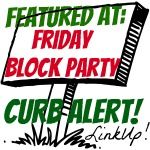 I hope to see everyone again this Friday.
Now off to some treasure hunting – you know it IS trash day tomorrow morning!
~Tami