Sooooooooo glad it is Friday!
Somehow just saying the word "Friday" makes me feel great!
The kids are off to school and I'm here gearing up for a rainy relaxing weekend.
I first want to share with you the most viewed link from our previous Block Party.
Remember Shenita that I mentioned in yesterday's post? Well she linked up to our last Friday Block Party and was the most viewed link!
It was her first time on Craigslist and she rocked it! You won't believe how much she paid for this beautiful dining room table. Be sure and visit her and check it out.
Now on to the Friday Block Party!
I would love for you to link up and only ask that you add a Curb Alert! link to your post or display the party button anywhere on your blog.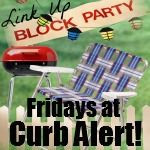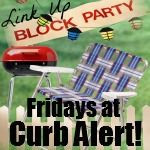 TGIF!