Hey Guys!
What a great week.
What have you been up to, anything fun? I was busy finishing up decorating our KidzSpace area for church…


Spruced up a Curbside Firepit just in time for our first Curb Alert! Block Party…


Put away tons of laundry!…(I'll spare you the real pictures)

And then sanded and sanded and sanded all week and completed my "new to me" Outdoor Garden Bench.

Go take a look if you happened to miss these posts!
I am now anxious to see what you have been up to so I would like to get the Friday Block Party started early this week.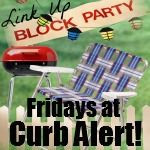 Please link up your favorite posts (old or new) and share them with us!
Here are the rules:
1. Link up anything you want to share with us this week (please limit it to 3). It can be your fabulous crafting skills, trash to treasure, before and after transformations, tasty recipes, and of course your dumpster diving adventures are welcome too!
2. Please follow Curb Alert! while you're here!
3. Please grab a Block Party button (on the sidebar) and post it on your blog somewhere, that would be great!
(I know, already a new button image, I am very indecisive! – I like them both)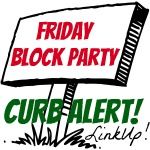 4. I'll feature the Top 5 most viewed links on Sunday.
5. Please visit other links at the party.
So grab your flip flops, your favorite chair and your favorite post this week, come right over and enjoy!
Hope you will join us!
~ Tami
Thanks for sharing: