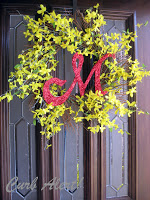 I have spent the last few days doing some serious napping putting away Christmas decorations. I don't know why so soon but I am just ready to get my home organized again.
I didn't have the heart to put away the Glittery Monogram Tree Topper that I made. I really liked the way it turned out and think I can use it many times during the year.
See
HERE
how it was such a quick and easy project to make.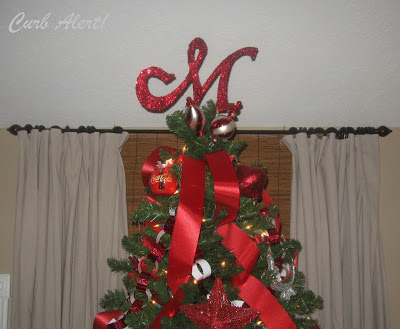 I am still sweeping up glitter from my kitchen floor! By the way my LadyBug made a 96 on her Science Fair Project that she completed the same evening as I made the M – I am sure it's due to all of the glitter that she used on her project board. Just kidding – she is a super smart cookie!
Anyway, I decided to put the M on my Forsynthia wreath that I purchased from Kirklands a few years ago. I know it's a little springy, don't accuse me of getting my seasons wrong! I dont want to buy anything else right now and it matches the yellow lantana that is still trying to bloom in our front yard.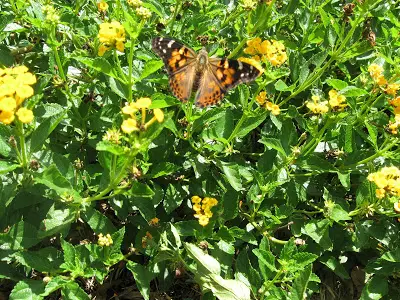 And here it is on my front door. I love how the glitter sparkles in the sunlight (first sight of sunlight since BEFORE Christmas!) and the red and yellow colors make me happy! Who cares if it's winter, right?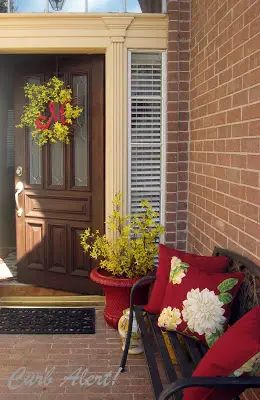 I also repainted the pots…remember? I'm still loving the red!
Read more about my love for red
HERE
.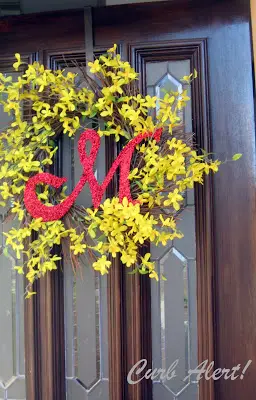 Now off to deal with the rest of this…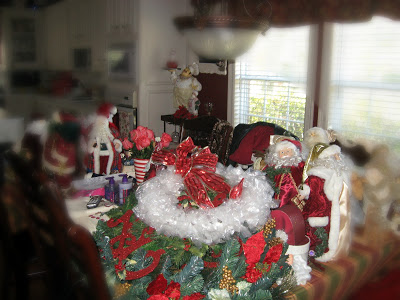 Happy Treasure Hunting!
I cannot wait to show you a few curbside things that I have found the last few weeks!
~Tami