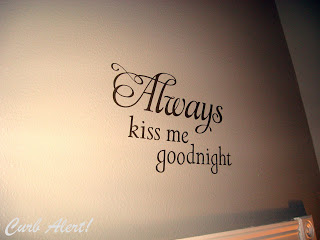 The Master Bedroom – Isn't it always the last room to get updated? I have worked so hard at decorating my kids' spaces that our bedroom seems to
be the most ignored. MyLove has agreed that if I keep the bedroom somewhat masculine, meaning no frou-frou or flowers,
then he will leave the rest of the home decorating up to me. So with that compromise in mind I have tried to stick with the deeper masculine tones yet at the same time trying to keep it a bit appealing to my feminine eye.
Total score for me because it means this guy below and his friends can all stay in MyLove's closet "Man Cave". Trust me when I tell you that the moment we moved into our new house this dude had to find a new home: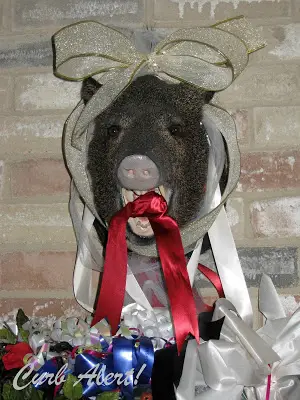 Wearing ribbons from our wedding gifts
He was so prominently located on our fireplace so I had to spruce him up at times to make him more tolerable. This dude has had more makeovers than anyone in our household! (He was the decorating compromise in the other house as I had to leave him above the fireplace mantel) I do still bring him out of hiding from time to time…like for parties and special occasions. Luckily MyLove is a good sport!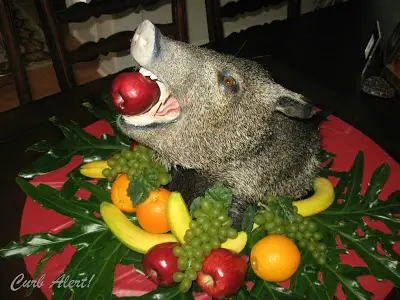 Luau Pig

Okay, Wow I was a little off-tangent there for a moment. That pig makeover adventure constitutes a post of it's own. Maybe I will share that with you at another time.

No more distractions.
If you follow me on Pinterest (Pinterest button now on my sidebar!) you can tell that I have drooled over some starburst/sunburst mirrors for quite some time and would love to have it over the bed. This version from Ballard Designs is a whopping $395.00 plus shipping! No thank you. Even though I will be the last person in the blog world to do so, I have big plans to make my own and have been swiping saving Home Depot paint sticks for six months now! I am almost at my goal!
In the meantime I came across these at the Family Dollar Store for $10 each. At such a great price I purchased two of them. I think they will do for now. I like the extra little feminine swirls that they add to the room.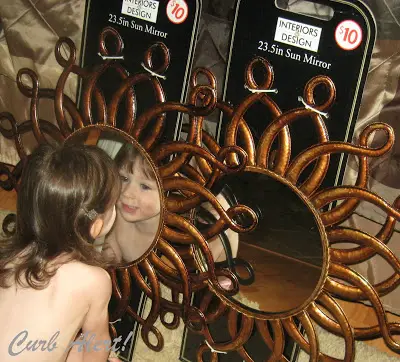 Buttercup checking out the mirrors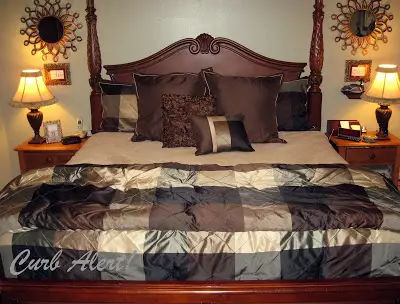 I also like the cheap but oh-so-soft $9.99 Walmart Brown Ruffled Pillow
and the very soft plush blanket from Linen's and Things.

And just when I thought I was fresh out of ideas, yesterday my friend Mandy comes up with her Cameo Sillhouette Mr. and Mrs. Frames:
Perfect!
Now I don't claim to have thought this up on my own or to be as fancy as she is by doing it on her new Silhouette (I am jealous!) I definitely don't want to steal her thunder. She IS in fact the The Project Queen by golly! Go check her out! (after you finish my post of course)
I knew I had everything on hand:
Cheap Goodwill Frames (1.99/pr)
Printer
MS Word
Paper and Scissors
Tape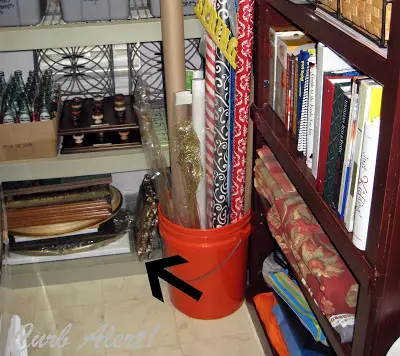 My stash of frames up there.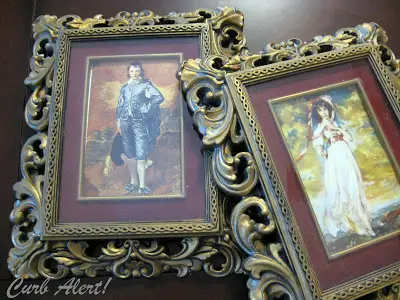 Looks like the same prints that my Grandmother had in her house in the 70's, maybe they ARE the same prints because check out how old the tape is!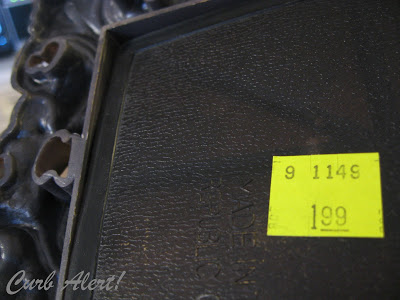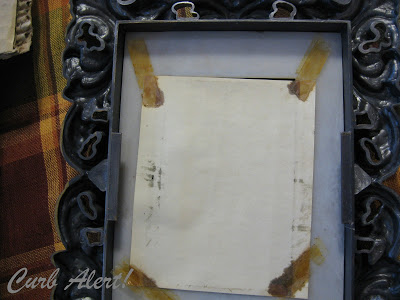 And here it is! I can hear MyLove right now saying, "Tami, do you really have to label my side of the bed?" Why yes I do honey, now just smile and go to sleep! Actually as I write this, I don't think he has even noticed them yet. Or else he is just polite and knows it's best to not say a word about it!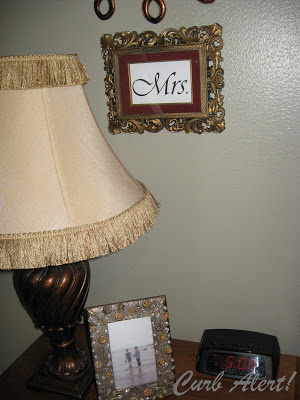 MS Word/Vivaldi Font
The same font I used in my Kitchen Frame
HERE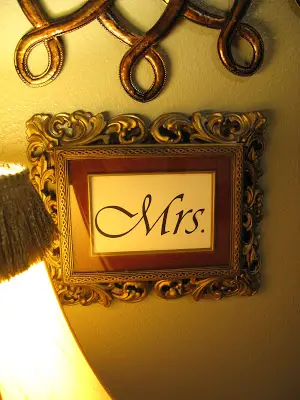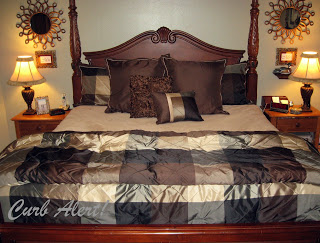 Bedding from Overstock.com
Lamps/Shades from Walmart
Pulaski Nantucket Four Poster Bed
Ethan Allen Nightstands
Do you think I have some OCD symmetrical issues!?! Oh well, I like it.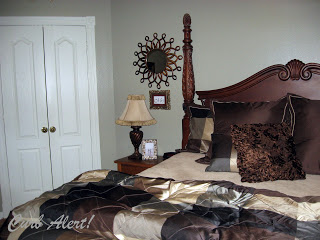 Looking good! And for the final touch I headed over to Tarjay and added this vinyl word kit over the bathroom door…"Always Kiss Me Goodnight"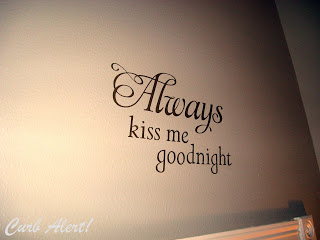 $14 Target
Well that's my Simple Updates to the Master Bedroom! Notice how I only showed you half of the room, maybe someday I will show you the messy laundry other side.
Wow! You know what I realized? None of these things were from the side of the road! Imagine that! Any way my point was to also show you how while I do enjoy my "hobby" I don't want you to think my entire house looks like Sanford and Son.
And I leave you with this, the closeup of the picture on the side of my bed. Butterfly took this picture of MyLove and I strolling the beach near our home. I love how it wasn't planned and she just captured us in the moment, wading boots and all!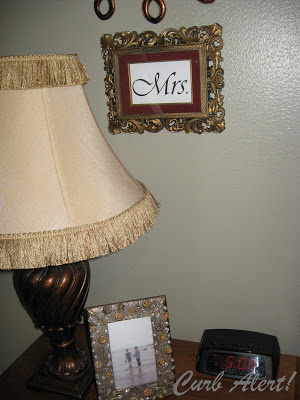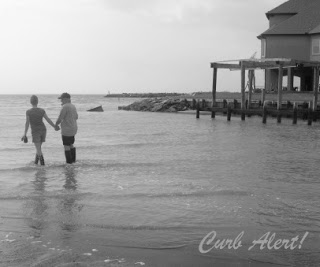 Happy Treasure Hunting.
~Tami