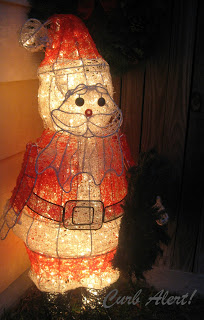 Remember Santa? Poor guy was kicked to the curb around Halloween all shabby, broken and lifeless! Lucky for him I know the true meaning of CHRISTmas and as a true Samaritan would do, I helped him along, fed him, clothed him in some new bling and gave him a new life! See more
about him and his new home in my Outdoor Santa Reveal post. Well Santa is now all snuggled up at North Pole but lo and behold as I was driving down the street the other morning I spotted his Sleigh!
I had to grab it, how could I not? I am sure he is worried sick about it!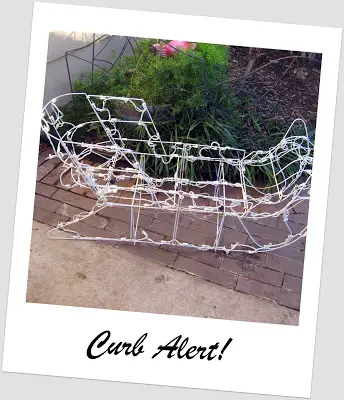 I plugged it in and most of the lights are working! How hard would it be to add a few more? No huge big reveal here since all of our CHRISTmas lights are all packed away in the attic but I am proud to report that Santa, like my friend Debbiedoo :), also thinks I am a winner. He promised to be good to me this year!
One last thing…My sister gave me the biggest compliment the other day when I was excited about a crock-pot travel cover she found for me at Amazon.com. I have been searching for one to take my fabulous meals on the go.
She said "It's so cute how the simplest things make you so happy!" They really do! (among other things like jewelry, home decor, fleurdelis, my well behaved children, etc.)
Thanks Girl!
~Tami