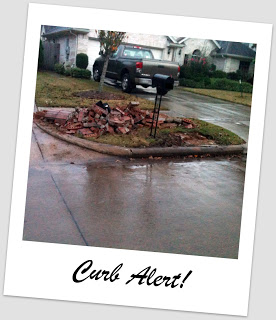 Yep, it's definitely "Slim Pickins" the few weeks after Christmas. The first picture is a pile of bricks. "From what?" you ask.
Well it is the leftovers of some wild kids or a crazy driver that hit a homeowner's mailbox – not good!
The weather doesn't help either! Seems like for the last few weeks it has rained the night before trash day, making it very difficult to find anything. If I do find something it is usually not a pretty sight.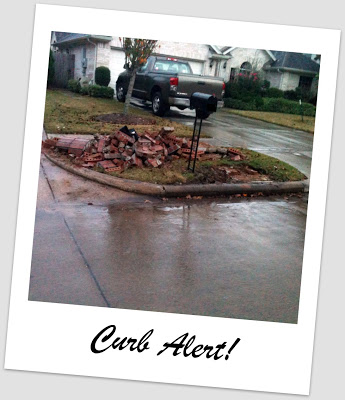 Here is a Christmas Tree left outside. It's even boxed up all nice and neat. There are a ton of requests right now on Freecycle asking for artificial trees and if the weather was better I just might be tempted to take it and respond to one of those postings. I'm kinda nice like that!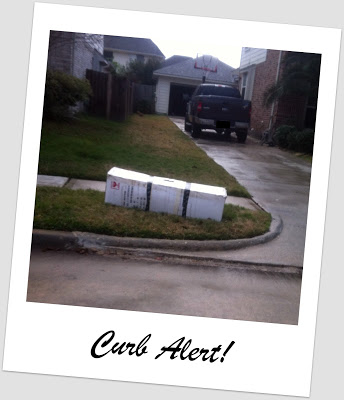 And there is way too much of this sight…the poor old Christmas trees that they finally decided to take down and were kicked to the curb!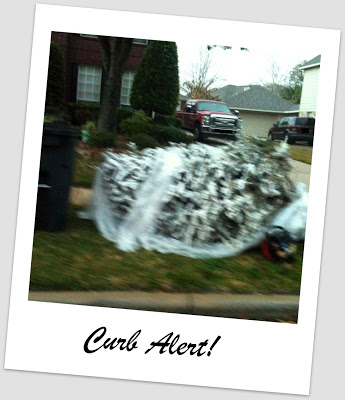 Sorry for the blurrriness but I was driving in the rain and taking the pic in a moving vehicle – shhhh.
So for the above items I will say as I have said in the past,
"I'll Pass!"
I can't complain, I have found almost everything but the kitchen sink this year … oh wait! I found that too (today in fact)!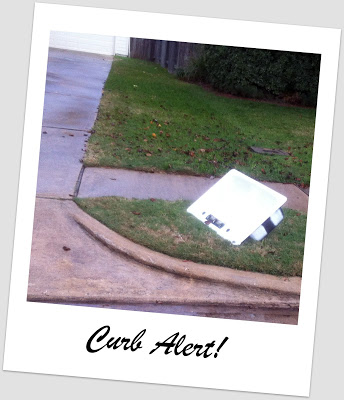 But I have faith that as the weather gets better, things will definitely pick up. Everyone gets the bug to Spring Clean and I bet ya I will be right there scoping it out every Sunday and Wednesday night when they make their way to the curbs.
Until then I really need to work on my organizing and sprucing up some awesome finds that I already have stored away and cannot wait to show you!
Happy Treasure Hunting!
~ Tami