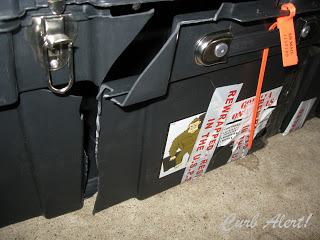 The weather was pretty good this weekend so I guess my neighbors got a little early spring fever and decided to start cleaning up a bit!
Tonight I stumbled upon stealthly and quietly drove down every street in my neighborhood and found some pretty interesting things.
First, I found a large box and a trunk. I quickly opened up the box to find it was stuffed with a bunch of other emptly boxes. Oh well. That's about the extent of my "digging".
I grabbed the trunk and put it in my car. LadyBug has been begging me for a trunk like this for quite awhile so she can take it camping with her, I have just put off trying to locate one to purchase since they are not cheap. I thought I was in luck with this one. Once I got it home and was able to see it in the light I realized it was cracked and broken.
Cute travel stickers!
I decided to return it to the original home because Lord knows I have enough junk to put out on trash day and MyLove might get a little anxious if I store one more junk piece for even a second.
So back it went – I carefully stacked it on the box and went on my way.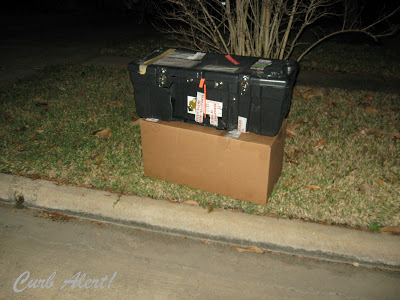 Shame.
It must be a travel theme tonite because this was the THIRD suitcase that I found. I usually pass on suitcases because I don't want my unmentionables packed where someone else may have put their stinky clothes – I do have my limits you know! I decided to take a picture of the last one on the road.
It may be in perfect condition but I'll leave that up to someone else to decide.
Moving on … I came across this heap of a mess. I promise, MyLove, I only stopped long enough to take a picture. (You know MyLove reads my blog, right?) Besides there were a few big manly Texan fans a few driveways over tailgating and watching the football game. Didn't want them to see me on my adventure, that would be embarrassing. Looks like a bunch of baby stuff in there anyway and if you know me well enough then you know that I am NOT having any more children unless the Lord decides upon another immaculate conception…just sayin!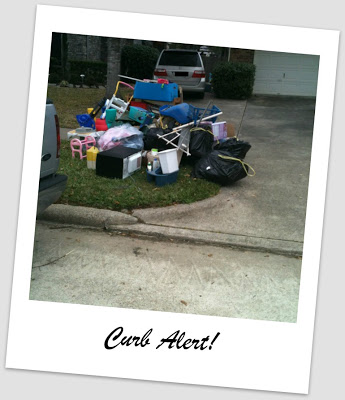 And what is this? I was curious to find out. I was hoping it is a ping-pong table and just had to know so I left all shame aside and walked up and rang the doorbell to find out.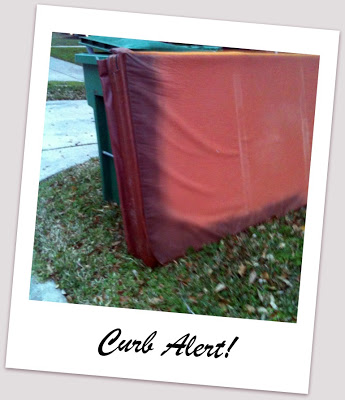 A very kind and excited navy blue jersey wearing Texan fan (before they lost the game! – uggh!) advised it's a spa cover and begged me to take it! I politely passed, but went home a put a notice out on Freecycle advising of its location.
And finally in the distance I discovered my Sunday Night Treasure! This patio table and chairs. I was so excited and cannot believe I remembered to take a picture but I did 🙂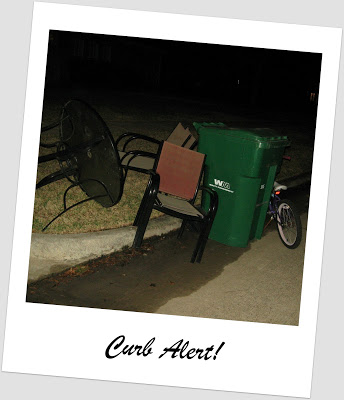 In almost perfect condition with the exception of some fading on the chair backs. Super easy fix so I hiked it up into the truck and decided to call it a night.
The bike was super cute too but we do not need an extra bike right now. We have 6! one for each of us…so I added it to my Freecycle listing as well.
I am a happy girl and as I wrap up this post I am off to bed. I just need to think of a way to gently confess to MyLove of my new treasures (in addition to last week's that he has yet to find out about) and hope he doesn't mind. Luckily he's a good sport about it – that's why he's a keeper.
Happy Treasure Hunting!
~ Tami