Dinner time is such a dilemma in this household. With six people with very unique tastes it's very hard to please all of them at once. How I cope is that I try to fix something every night that I know is a least one person's favorite
and then try to mix it up a bit by putting some of my favorites in there as well. When it's mom's night to choose this is usually what I experience from the peanut gallery:
No, this is not my kid in the picture but she sure conveys their dramatic reaction perfectly! And then our normal dinner hour ends up blah and boring.
My kids love roast so I thought this Crockpot Chicken Pinterest inspiration would work well. I was excited, it was so easy to prepare without risk of burning with only 5 ingredients.
Via Pinterest
My version up next. Although the recipe got rave reviews online, I think my family would beg to differ. I see now why Pinterest only shows the crockpot and not the end result. If I would have seen the "after" picture I would have known my kiddos would turn their nose up to it. It reminded me of an old Navy Mess Hall reference of "Shibit on a Shingle". If you know Pig Latin then you get the jist of what I'm saying.
Ummm…I'm thinking it will be seriously difficult to convince the kiddos to try this one.
I decided to make taste testing into a little game so I pulled out some index cards and asked the family to critique the dinner based on the following criteria:
Overall Presentation/Looks of the Meal

Smell

Texture/Tenderness

Taste of the Chicken alone

Taste of the Rice alone

Overall Opinion and Would you recommend to our dinner guests
Here are some results, and from the consensus I am probably not going to cook it again.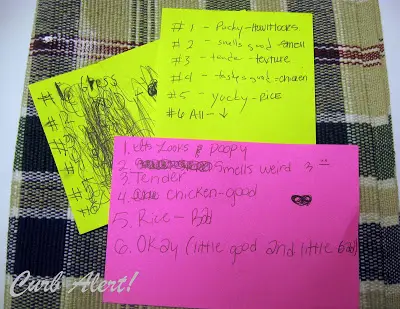 Seriously? Poopy!? Yucky!?
By the end of the critiquing time we are all giggling and laughing but what my little "food critics" did not realize is that they had almost eaten the entire meal while trying to take my little survey!
Overall it was a FAIL but the family time and critiquing fun was PRICELESS!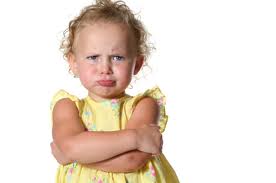 I have come to the decision that I am going to stick with my safe "go to" meals and just spice it up a bit. I have also noticed that the kiddos often beg me to make meals that they see on TV such as Spaghetti Tacos from iCarly or Yogurt Sundaes as Dora & Diego eat. As long as they are an ounce of healthy I guess I will just have fun with it and quit trying to be Martha Stewart. I'll leave that to the Olive Garden and La Madeleine.


For now I am just enjoying being Mom and creative with these WINS…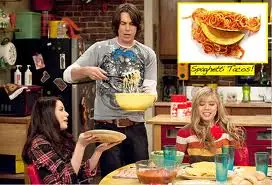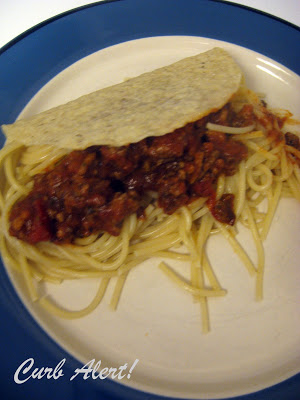 Tami's Attempt
Bubba eating our version of Spaghetti Tacos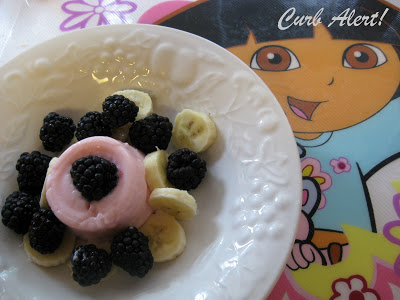 Buttercup's Dora Yogurt Sundae
Awesome!
Now Tami, why all of the cooking chit-chat and what curb finds did you find this week?
Well I have found a few things but with the weather all gloomy and rainy it has been difficult to work on projects that are worthy of a mention. I like to save those to showcase with before and afters/not just the side of the road pics.
But since I am such a dedicated friend, I ran outside in the rain to show you the FAIL that I have been working on. Remember when I painted these chairs in one of my first posts (they were a win)?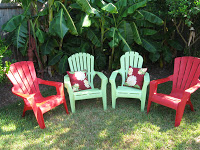 You can see more of them
HERE
.
LadyBug has been BEGGING me to paint some purple for our upcoming luau and the only chairs I could find lately are these: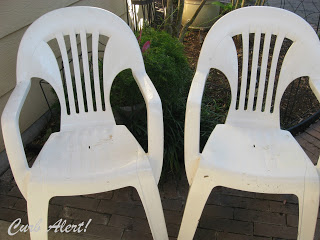 I'll give you a sneak peek of the results but I warn you to dare laugh at how they turned out for this project … SUPER FAIL!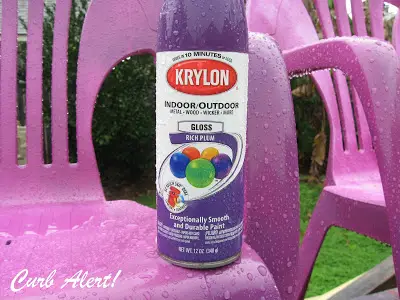 See how dark the Rich Plum color looks on the cap? What can I lose to try it on curbside chairs-obviously my sanity is what I lost!
So now why do I keep thinking of this?
UGGGGG…You Win Some/You Lose Some!
Happy Treasure Hunting!
~Tami
Sharing over at this partay!