Hi guys!  Traci from Three Dogs at Home is back with another great furniture makeover to share!  You know how much I LOVE furniture transformations, I hope you will love this one too!
Since my daughter moved out I have an extra room which I have been using as my project room.
Like many of you, I am usually working on more than one project at a time and my project room is no different but because it is not really a "public area" of the house it keeps ending up on the bottom of the priority list.
Fortunately I have made some progress.
I started with redoing my work table.  This is not my table. I lost the pictures of my table when my computer crashed last year due to a virus.  I found this identical table for sale online. And it comes with a cute dog.  How perfect.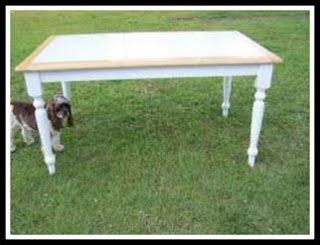 Unfortunately my table looked a ton worse. Not only was it a 1980's reject but
it was in really bad shape. The tile was cracked and stained and finish had worn off of the wood edges. But I only paid $32 for it at my favorite Goodwill.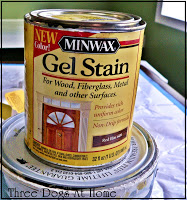 The first step in this project was to make it match some of the other furniture in the room.   I covered the pine with a thick coat of dark gel stain and then I dragged a cheap chip brush over the gel revealing some of the pine to create a faux grain.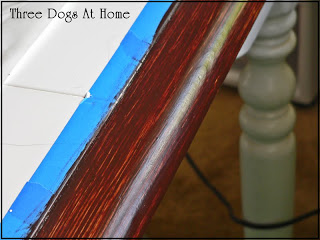 I was thrilled with the results so it was on to the next step.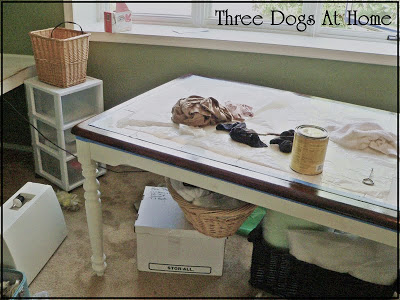 The tile top was in horrid shape.  Grout was missing, tiles were cracked and it was all stained with what I think was coffee.  I tried caulking the grout lines and the cracks but that just made it look worse so I moved onto idea number two.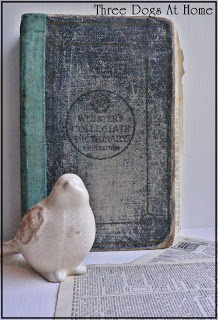 I thought about just painting the top with paint designed for tile but I wanted something a little more unique and decided to decoupage something on the table top.
  I have this great old dictionary that belonged to my grandma.  I love the way the pages have aged and the words listed and the definitions certainly date this dictionary.  At first I wasn't sure that I was okay with tearing pages out of such an old book but some of the pages were already falling out and if I used the pages to redo my table top I would feel more connected to my grandma
every time I used it.
I got a little carried away with picking which pages I was going to use.  I picked pages with words and pictures that had meaning to me.  I included pictures of dogs, birds, and furniture.  My husband is an avid cyclist so I snuck in a bicycle too.  I used pages featuring the words family, love and engineering.  Engineering is what pays the bills around here so it is a very important word.
It took me forever to lay out the pages and decoupage them onto the table. Okay it was not forever but it seemed like it.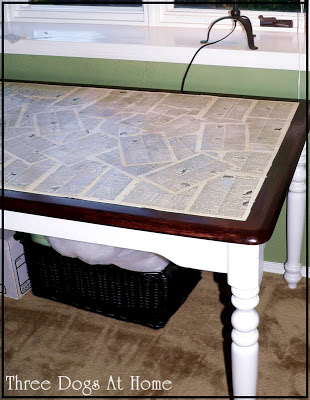 And I finished it off with a coat of varathan to protect it.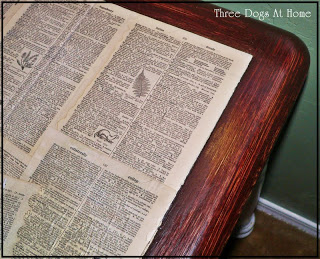 It looks like an entirely different table.  Thank goodness because the old table was gross.
What have you decoupaged lately? 
Thanks for reading,
Three Dogs at Home
threedogsathome.blogspot.com
Traci, that table turned out fabulous and has given me some great ideas for a few projects of my own!  Thanks for agreeing again to Take over My Blog!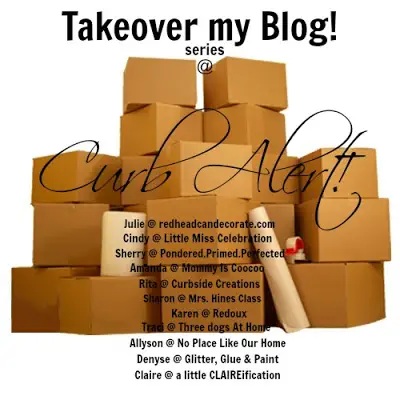 Paula @ Chillin with Quillin