Hi Curb Alert! Friends! 
I hope you are all having a great week so far and keeping cool from this crazy heat.
Let me just say that Texas IS HOT!
Here's some hot Curb Alert! news… 
 After many attempts to make my so called "Butt Ugly Chairs" beautiful, I just could not make it work. MyLove was right when he lovingly named them because as much as I cut, sanded and tweaked them, they would never cooperate to shape up into the cute bench that I envisioned.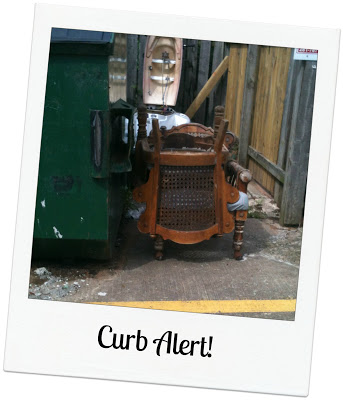 You know how I like to repurpose things so I even tried to cut off and turn the armrests into 
candle holders…still did not work.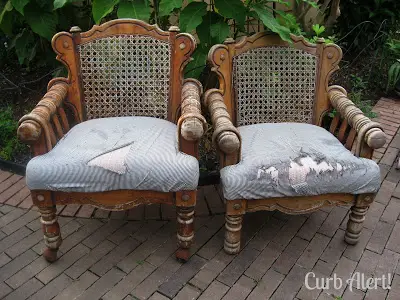 Epic FAIL!
So on Sunday evening I put them out to the curb and sent them on their way, along with a coffee table and a few other furniture items I should have left at the curb to begin with.  Thank goodness MyLove is not a "told you so" kind of guy but I do know that he was so excited that he was doing the happy dance for the new additional space left in his man cave garage.
Little did he know, nor did I for that matter, that
JUST AROUND THE CORNER was THIS: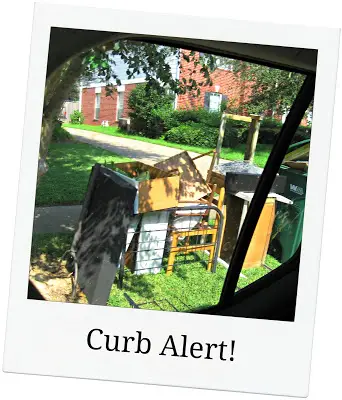 A brand new desk…well new to me because the poor piece doesn't even have a top or backside.  The old me would have picked up a lot more from that pile but remember how I am trying to be a little more picky?  Sounds funny to be picky when you have already stooped to curb shopping!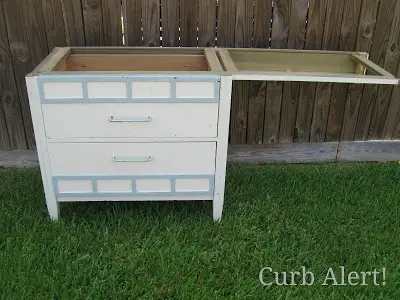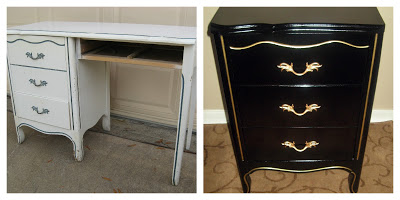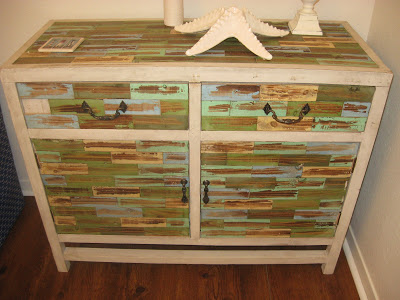 Do you see the similarities?
I quickly cut off  a few parts and here she is now…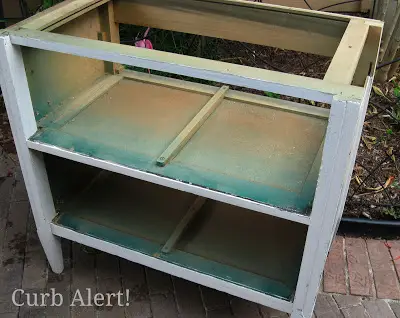 Ready to be prepped for her makeover.  Sanding is already a booger in the heat but I love it.  
I cannot wait to see her all prettied up!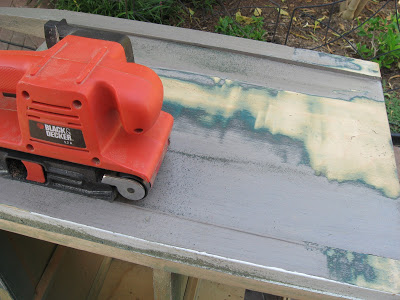 A few hours later I decided to prop her up in the sun to get rid of a slight old grandma's house smell and hang out with some new friends for a few days.
I'll tell you more about them tomorrow.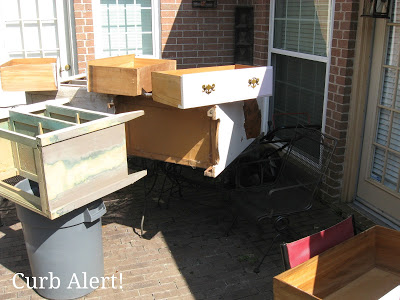 In the meantime…Let's just say My Love is no longer doing the happy dance.
Luckily he is a good sport and at least enjoyed it while it was short-lived!
Happy Treasure Hunting! 
~Tami