With the Fourth of July in the middle of the week, entertaining 4 kiddos w/summertime activities – I have been a little bloggy MIA lately.  I have also been busy working on this…
Buttercup's Armoire
Although I LOVE crafts and posting about them, my true love is refinishing furniture.  I love to see the transformation process and although I am no expert at it, I thoroughly enjoy the time spent on each piece. 
I have been searching for an Armoire for Buttercup's room for quite some time, but didn't want to spend a ton of money on furniture right now.  You may recall that we converted our dining room into her room, so she does not have a closet.  
I finally ran across this piece at a garage sale last weekend: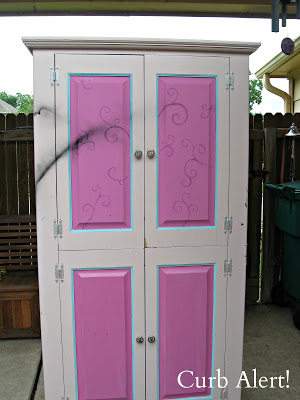 I spotted it way in the back of the owner's driveway and told my girls that if it was less than $50 I would take it.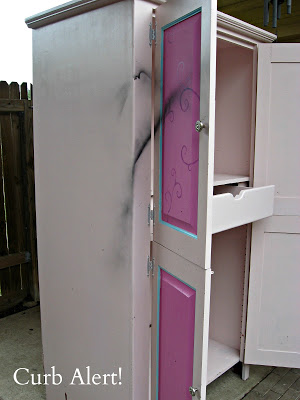 Well to my surprise it was only $20 – SOLD.  I also saw a baby bed over by the trash can and asked if it was for sale and they threw it in  for free!  (Don't worry Mom and Holly, no real baby plans here!)  Don't know why I need a baby bed but look how cute the head and foot board pieces are!  Adorable and I have been itching to try my hand at something creative with it.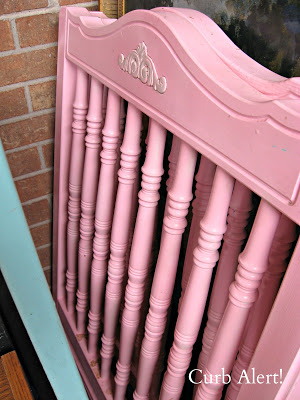 The garage sale Husband even offered to follow me home and deliver it for me since I didn't have our truck with me at the time.  Awesome! 
Now, to explain my new purchase to My Love.  He always rolls his eyes at me when I come home with something big and there was no way of hiding this one from him. He would have to jump over it to walk into our back door.   
Here was my no-brainer solution: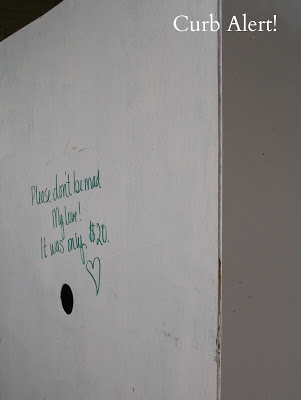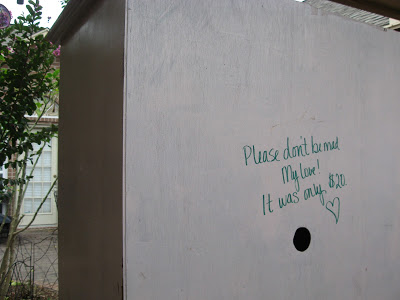 I am no genius, I know but it was worth a try, right?
Well it worked!
He was actually impressed at the purchase and gave me some pointers on the best way to fix it up. 
It definitely needs some TLC, which I am willing to give it.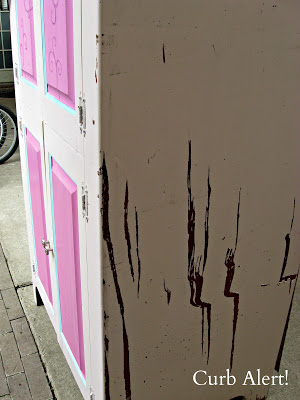 I got out my very own MyLove's trusty tools and got right to work.  The weather was perfect all week last week but is forecasted to rain for the next seven days here.  I was determined to finish sanding so I could bring it inside before it gets wet.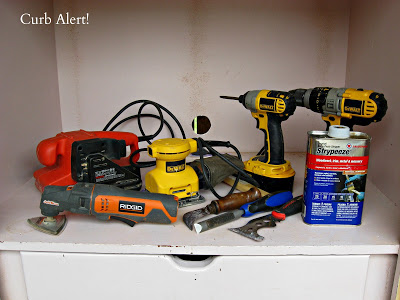 So I sanded, and sanded and sanded and this is where I am now with it.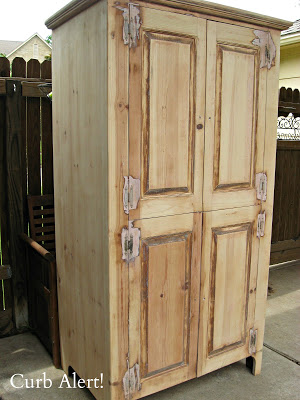 I like the hinges but they need a bit of work as well!
They are now soaking in paint stripper as I write!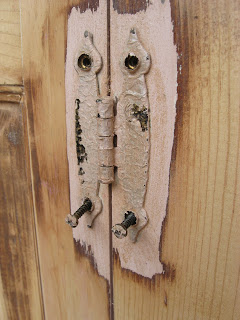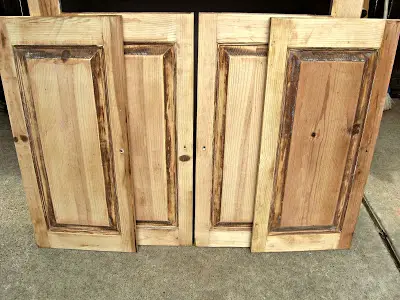 I am super excited at how it is progressing so far.  It looks like pine and although my original plan was to paint it white and glaze and distress it, now I am debating whether to stain it.
Here is the dilemma, Buttercup is BEGGING for me to paint it purple!  I convinced her that I will only paint the inside purple but she chose a purple color like this: 
UGGGG!  What to do what to do!
We need to compromise, I don't want to break her little heart but after spending so much time on it already I hate to paint it crazy!
I need to think a bit on this one!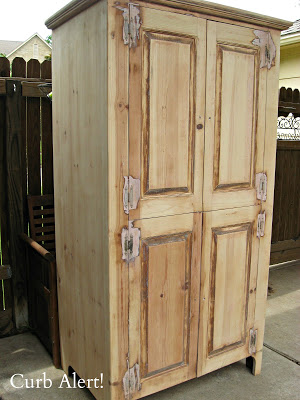 It's now in the house, safe from the rain elements ready for a good wipe down and cleaning. 
What are your suggestions? 
!!!HELP!!!