Thanks so much Tami for having me , I may never leave this place. Once again I'm really excited to be helping Tami out. I know that feeling of moving.
Today I am sharing an easy way to make some beautiful curtains with painter's canvas, paint and a stencil.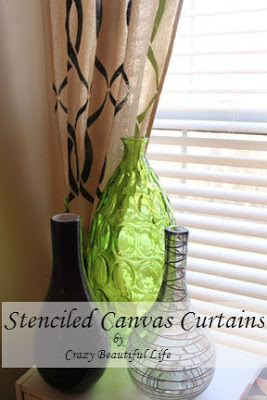 One of my main goals this year is to re-do every room in my house. It is time for new decor and since I am on a budget then most of it will be done by my own two little hands. I have been working on the home office and have hit the point that I was ready for some new curtains. So, off to Hobby Lobby and JoAnn Fabrics I went to buy some material to make some great ones to match the rooms decor.
Time to switch gears real fast. I was searching through many of my craft ideas on my computer and came across some stencils I had loved and thought well what the heck let's stencil some curtains.
I very well couldn't stencil on the material I bought to make curtains so I had to come up with a new game plan. I am getting ready to turn a bedroom into a guest room so I will just make some curtains for that room.
Now, I've never painted curtains before so I had to do a little research. Thanks to some wonderful fellow bloggers,
I got some questions answered. Off to Lowe's for some painter's canvas.
My materials list: Painter's Canvas, Drop cloth, Foam rollers and Tray, Paint, and Stencil.
First thing I did was lay my canvas cloth on the floor and cut it in half straight up the middle.
I used Stitch Witchery to hem the cut edges of the canvas and to make the pocket for the curtain rod. I also ironed out all the wrinkles. I would suggest washing them first before you do anything to soften them up a bit. I am just too darn impatient and went to town.
Now the fun begins! Whatever you do, MAKE SURE YOU LAY DOWN PLASTIC OR SOMETHING TO PROTECT THE SERVICE YOU ARE WORKING ON. The paint will bleed through.
Tape your stencil to your canvas using either painter's tape or masking tape.And, then get ready to roll your paint. Make sure you do not have a lot of paint on your foam rollers. You don't want to soak your cloth with paint. Go ahead ask me how I know? LOL
Just follow your pattern and move on down your curtains. I chose to paint the curtains black with an Apple Green trim.
Not perfect but not bad for my first time. But, it is a much needed improvement to a window with no curtain on it.
So much better, don't you think?
I'm not keeping the purple decor because I decided to do the room in Apple Green and Navy Blue. But, sometimes you just have to decorate with what you have for now, and these vase are from my office when it was Apple Green and Purple.
Don't be confused about the "Crazy Beautiful Life" watermarks. Many of you may know me from there. But, we have a new name and new look and lots of fun new projects.
THANKS again, Tami for having me over at your beautiful blog!!!
~Denyse
~Design your life with a little SPARKLE~