Hello Friends.  Did I skip a week?  I sure did but I didn't mean to – it has felt like F O R E V E R since I wrote a blog post!  I have really missed y'all.  Last week was our first full week of the kids and I in our new home but I kind of put some of my own projects on the back burner and signed my kiddos up for camps right away so that they could quickly establish some friendships in our area.  I can already tell you that we are so blessed because our neighbors on our street have been extremely welcoming to our family…something we had prayed about during this transition.  We even had some time to visit a new church on Father's Day and finally feels great to return to a bit of normalcy in our lives! 


I wanted to share with you a post from my friend, Rita of Curbside Creations.  Well I feel like we are friends already although we have never met but if you check out her blog you will probably fall in love with her transformations just like I did.  I'm still trying to get over my jealousy though because that girl can score some mighty bargains, I tell ya!  Well I'll work on that jealousy thing and you just sit back and enjoy a bit of her post… 
Hi, I'm Rita from Curbside Creations!!  I'm guest blogging on Miss. Tami's page so she can get all moved in and we can see all her new house transformations like we all want to! Right?!
I'm a curbside picker upper too and I love to transform furniture!One of my favorite colors to use is gray, and since my sister bought me a can of French Linen from Anne Sloan…lets just say my life has been a little happier!!
Since I don't want all the furniture I do to be too matchy- matchy, I thought I'd show you a couple of different finishes using the same color paint with different wax finishes…READY!!
Not too long ago, I painted this ratty old coffee table with French Linen.
I LOOOVVEED the color and decided to lightly distress the table edges and give it a coat of
clear wax. I liked the subtle change and didn't feel it needed to be to weathered looking. This is the end result:
NICE AND CLEAN RIGHT!!
So what if we want it to be more distressed? Well, more sanding on the edges can always help but if you want a more weathered and worn look, my favorite go to is dark wax. I have a tub of Anne Sloan dark soft wax,  but any dark wax will do.
I decided to use this finish on a small nightstand I picked up for five dollars at a thrift store. Here is the before:
I'll try to take you through the steps so you can see the difference with the wax and without.
If I wanted to leave this nightstand this lighter gray color, I would have simply used my clear wax but I love all the groves and details this older piece and knew the dark wax would really make them pop.
To start, I take my wax brush (or rag) and rub the dark wax in a circular motion on the corner.
Then simply wipe off with a clean rag. Do this until you get the desired look you want.
I did this to half of the top and snapped a quick photo so you could see the difference with and without the wax.
After I did the whole piece, I added the untouched drawer so you get a better feel of the difference.
Pretty big difference huh?! And last but not least the final product.
I hope you enjoyed my wax tutorial and come by anytime if you ever have a paint question. I'd love the company!!
Thanks again TAMI!!
LOVE,
Rita @ Curbside Creations
Isn't she talented?  She has so many transformations that she shares on her blog I really don't know how she finds the time to do them! (Wife, Mom of two and full time work!-busy girl that paints like a pro!)  Thank you so much Rita for agreeing to Takeover My Blog!  I have truly enjoyed getting to know you!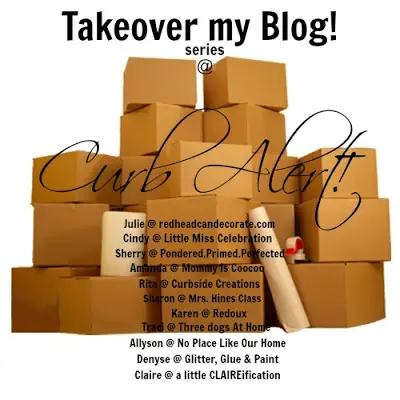 Paula @ Chillin with Quillin
Curb Alert! friends, stay tuned as I    T H I N K    I just about have most of our things sorted and put away in our new home!  I had better because this week I am hosting my daughter's belated Graduation party and then our Fourth of July Family Reunion at our home AM I FREAKIN' CRAZY?!?  I am feeling major blogging withdrawals and need to find more "Tami Time" so I can share new stuff with you all.  Thanks for hanging in there!