Hi!  Have you ever worn TOMS?  My girls are obsessed with them.  Here are the next pair on my wish list, aren't they cute?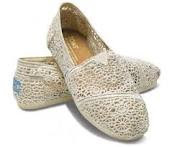 And these: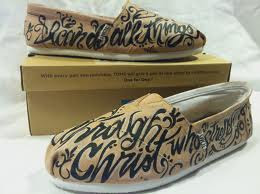 I love TOMS, I love scripts, I love the bible verse (Phil 4:13) so I'm drawn to them!
  Well they are on Buttercup's wishlist as well but she has begged me more for the glittery ones like her sisters.  Check out my solution that I shared today over at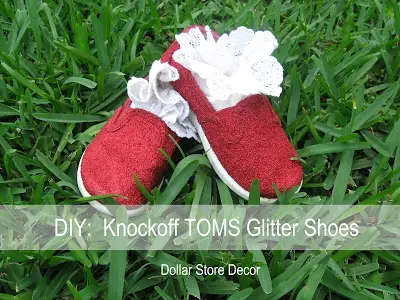 Not really a post about decor but everyday Dollar Store items can be used for just about anything, even fashion!
My youngest was begging for me to buy her some TOMS Glitter Shoes so that she could be just like her big sisters.  I am just not willing to pay the $42 for toddler TOMS that she would grow out of in a month or so, so I was excited when I found these shoes at the Dollar Store.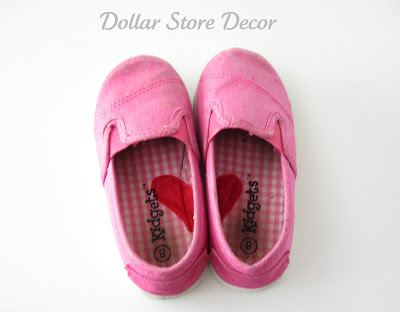 One Dollar Folks!!!
I purchased two pairs, pink and black.  She wore them for awhile (as you can see) until one day out of the blue she informed me that they were not glittery enough!  She wanted them to sparkle like her sister's. (One sister has pink and the other black).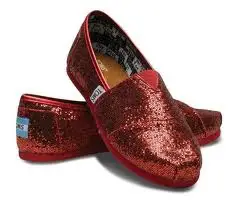 So in a desperate attempt to please her I racked my brain and decided I would glitter them myself.  I know this approach will not last long but these little shoes are almost at the end of their life anyway so I gave it a try.
First I taped off the shoes with painters tape.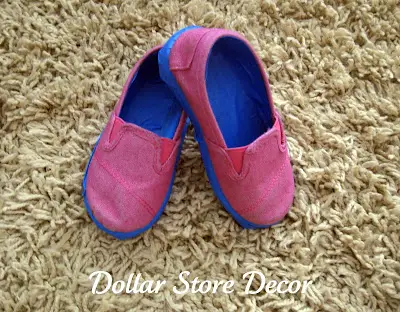 Next, I sprayed Red Krylon Glitter Blast on them in my home-made spray painting box. I already had the Glitter Blast on hand so was definitely a bonus in the finance department.  That Krylon Glitter Blast goes a LONG way and it's so much fun to work with.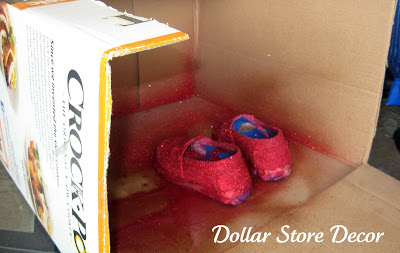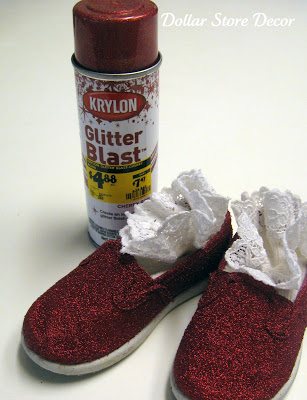 And here they are again.  Very cute I must say and Miss Priss was very excited to wear them!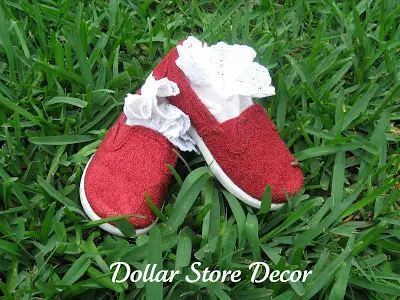 … and wanted to pose in them.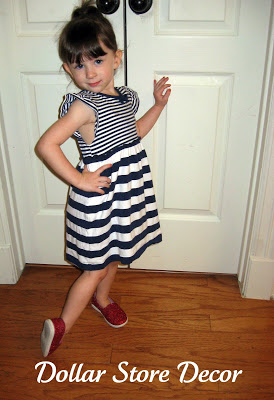 Again, not sure how long they will last and if there are any scuffs later on I can just re-spray a little here and there!  Either way she is happy TODAY and that's what makes me smile!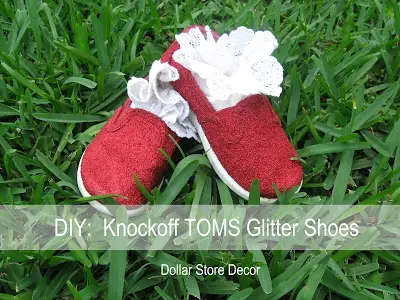 Not too bad for a Dollar!
~The Dollar Store Decorator~P.S. That's me…SHHHH!  I would love for you to follow along over there as well!
Happy Treasure Hunting!
~Tami
Update:
One week later.  Miss Priss has scuffed these up pretty bad but they were very easy to spray over on the scuffed spots.  This time I also sprayed over them with a coat of clear gloss spray, just for a little added protection.  We'll see what happens.  Still can't go wrong for a dollar, right?!?