He was getting a little anxious and started the process without me.
I realized I had better get to work quick, so the moment the month was over in KidzSpace I scooped it all up and moved it all into Bubba's room. Setting it all up was a snap since I pretty much had it all made up. My DIY room projects never end up like that since it's usually a major work in progress. Of course Bubba is a lot easier to please so it was fairly easy!
And now on to his room!
"Devoted in Love"
Honor Above Yourselves"
Romans
Excuse the ceiling fan cord right in the middle there!
(Darn, you probably didn't see it till I mentioned it!)
The red curtains and linens were previously purchased at Tarjay. That sure did help out that they were already red! The tan paint is only a year old and glad that was the choice I decided on, it goes with everything. This room used to be LIME GREEN when it was my daughter's room. No way no more!
I love the symmetry of this room – yes I am a bit neurotic that way!
Remember the framed artwork above the window that I made out of a curbside temp gauge/clock?
I purchased the take-out boxes for 20 cents each from our favorite Chinese restaurant. They were leftover boxes that we stuffed with party favors at his karate themed birthday party in January.
The shelves were given a quick coat of black paint and so was the desk. I thought it would tie in everything together a bit more. The Lego's are there because, well, the boy loves Lego's and they are everywhere!!!
This was my grandmother's old desk, please don't tell my dad that I painted over the drawers!
I found this belt display at one of my favorite thrift shops for $15!
No thanks!
Wow! Bubba's on orange, he's got a little ways to go!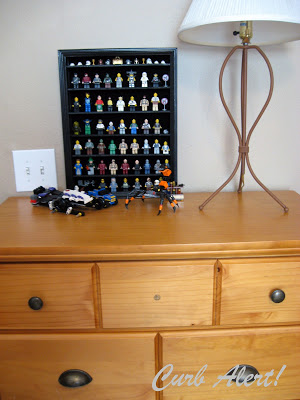 And finally, these are two of his favorites…his microscope where he looks up gross bug guts and whatever else intrigues boys and his cigar box that his grandfather gave to him. He keeps his special collectible things in there. 🙂
That stool will be my next DIY victim!
Now don't get too excited about my organizing, neurotic, symmetrical craftiness because this is how this side of the room usually looks (don't judge!)
And here is the room again now, my "Aha" moment where I sit back and smile real big and love it! Makes me feel good that Bubba loves it too!
I guess it HAS taken me some time to work on this room if I have working on projects for it since New Years. Oh well, I love how it is simple decor that can easily be changed when he decides he has outgrown this phase. Until then it sure is fun to encourage his interests by creating a space just for him to enjoy.
That makes momma very happy!
So what do you think about the Karate Room?
Happy Treasure Hunting!
~Tami