To most classy folks this looks like a bunch of trash. Well, it is…for the most part, but for some silly reason to me it's a treasure waiting to be discovered.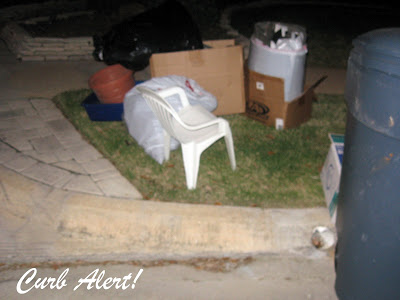 Here is my typical Sunday evening (actually last Sunday, in fact)
See that roll of something in the above pic?  Well, it intrigued me so I got out to take a look and found out it was a rubber welcome mat.  Well if you are a regular to my blog then you know how much I love my rubber door mat, read about it
HERE
.
I tried to quickly pull it out of the box but it was stuck so I just threw the entire box into my trunk.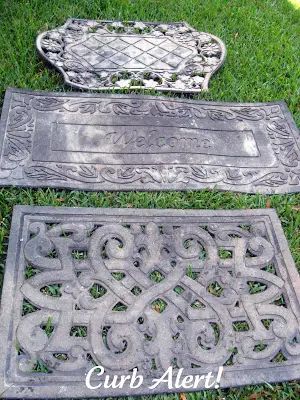 When I got home and unraveled my treasure I was pleased to see that it was not only one but THREE rubber door mats in various sizes!  How easy would it be to just paint over them and put them to use? Well that's what I did with some Truck Bedliner Spray Paint and they were transformed right away into awesomeness! (at least I thought they were)
I thought the Truck Spray would be more durable and so far I was right.  It has held up very well.
When I unrolled them there were some more surprises, two pair of shoes!  Well one of them was quickly ruined by "you know who!"
Meet Beauregard!  He swiped the golf shoe right away, the moment I turned my back on them.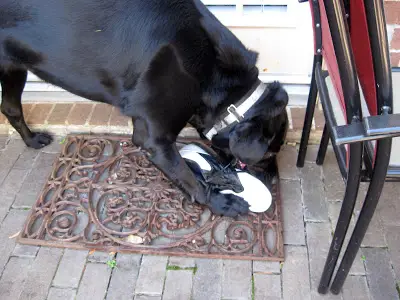 Not my style of shoes anyway.
See that brown door mat?  It's made of iron because anything else out there would not survive this ferocious guy!  So I had to put two of my curbside mats indoors in my kitchen. 
The larger Welcome mat was placed on my front porch.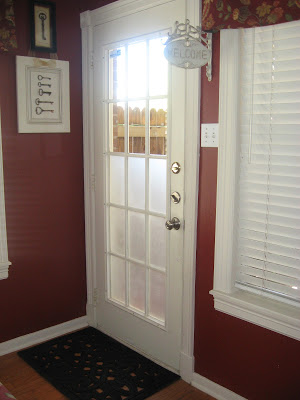 Look how nice and refreshed it looks now!  Just what I needed. 
And look what also was wrapped up in them – these yellow rubber boots! HELLO YELLOW!
  I love them and they are just a tad too big but no worries because I just throw them on to tramp around in my muddy backyard!  Don't know why I am so excited about these little guys but I am.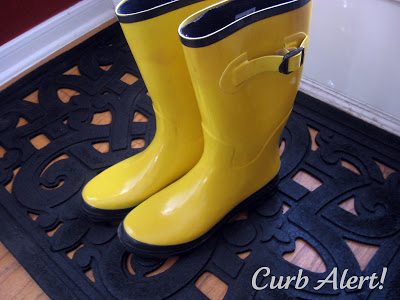 The yellow makes me happy and make me think of Springtime just around the corner.  And again, check out that pretty door mat!
The other two doormats turned out just as great, I just didn't take pics of them.
Speaking of rubber boots…Here's me working at VBS last summer rockin' my giraffe rubber boots (we were trying to fit in w/the jungle theme!) 
Quit laughing!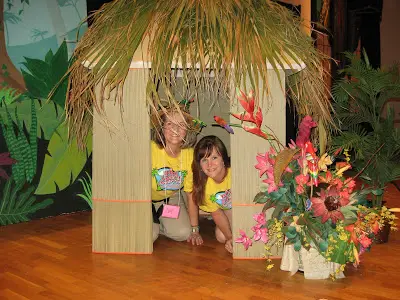 Oh, and I also have these boots that I wear to our annual Trash Bash bay cleanup.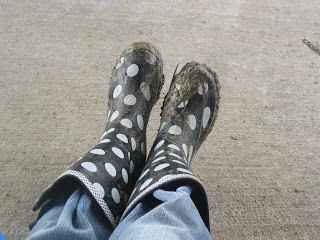 Here's my friend, Recycle Ben.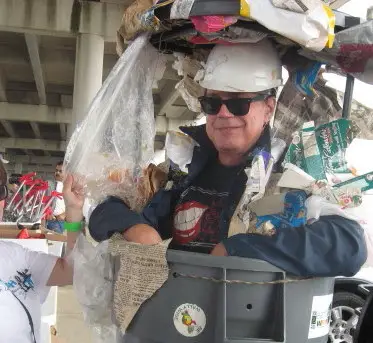 So why not add another pair and just call it a collection?  Gotta be fashionable, right?
The yellow boots inspired me to make a little basket for a friend that needed a little pick-me-up.  It's a little 'Basket of Sunshine!"
It's filled with anything and everything yellow that I could find at the Dollar Store…yellow duckie cookie, honeycombs, yellow funyons, yellow gatorade, yellow flowers, yellow juicyfruit, notepads, pens, yellow peeps, candles…you get the idea!
No, I didn't think of it on my own, once again Pinterest to the rescue!
I hope she liked it.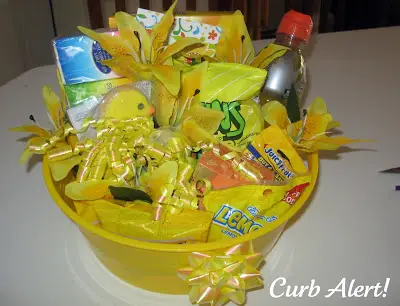 It's now raining again so I may just have to go put on my new pair of boots and head on outside to put our big ferocious Beauregard up for the night.  It's bedtime!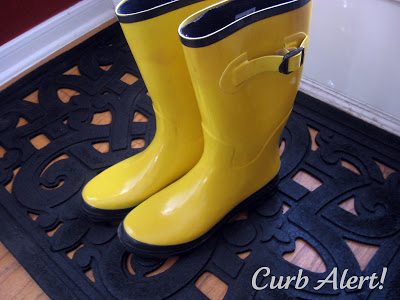 Happy Treasure Hunting!
~Tami