Welcome back to my favorite day of the month: Themed Furniture Makeover Day. I have to admit, I have nothing in my home that resembles "farmhouse" so to try to come up with a farmhouse makeover kind of stumped me at first. Upon brainstorming along my way to dropping off kiddos at school I came to the realization that I drive by some beautiful little farmhouses every single day and decided to share one of my favorites with you.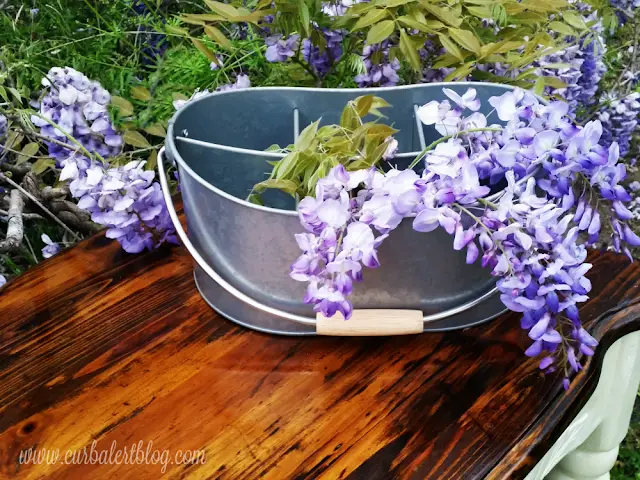 The home comes with a little bit of history…
Built in 1892, it was once a family home, a hotel, a Christmas home tour and the scene of one of our town's most talked about "miracles". In the early 1900s, a young boy was bird hunting in a nearby field and accidentally shot himself in the abdomen while crawling through a fence. He was taken to the home and laid on a long table in the front parlour room where a local doctor immediately performed major surgery on his abdomen (removing much of his intestines) that lasted all through the night.  Somehow he survived the primitive conditions and made a full recovery and even later served in the army. Locals believe it was truly a "miracle" of the time.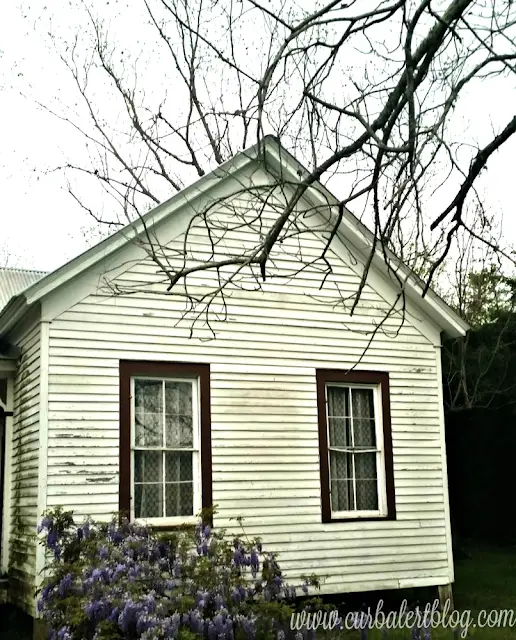 The farmhouse is now owned by the local Historical Society and has been abandoned for over two decades. It is also said to be haunted, which makes for some pretty interesting conversations amongst the children that attend the elementary school next door.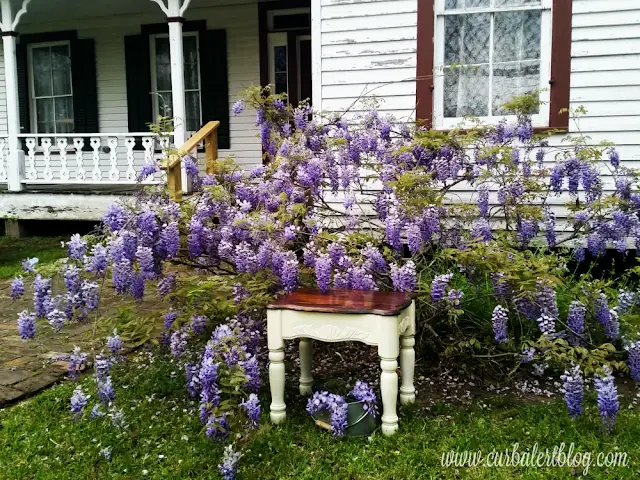 One miracle that I notice every year is the beautiful wisteria bushes that adorn the front of the home and found it the perfect backdrop for my little Farmhouse Table Makeover.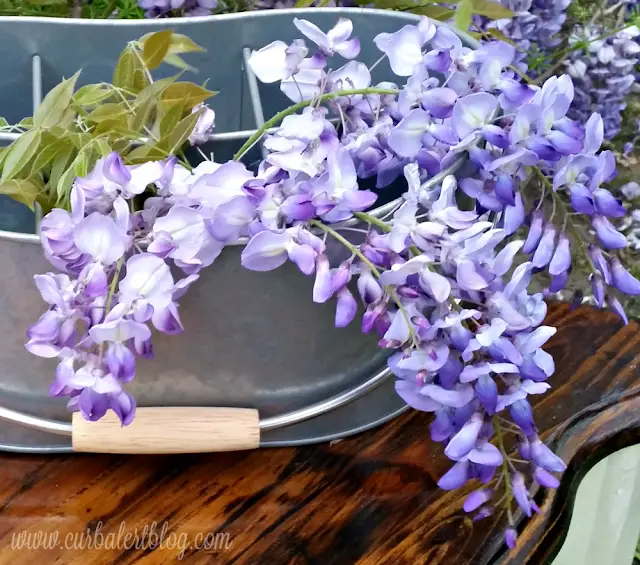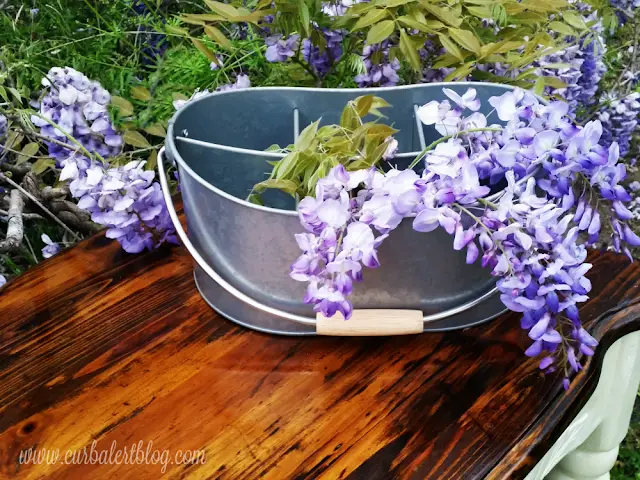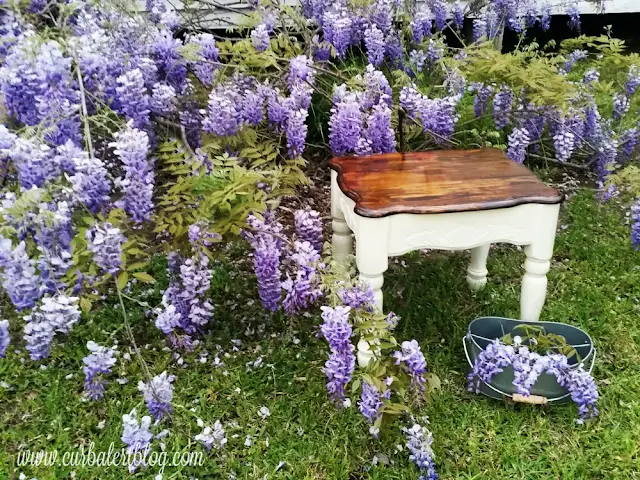 The wisteria smelled so lovely, making this the most enjoyable photoshoot I've attempted.  I almost forgot how the little table looked in it's earlier days (just imagine old 80's orangey pine).  A few fresh coats of Annie Sloan Old White for the bottom and Minwax Dark Walnut for the table top transformed it into a cute new farmhouse feel.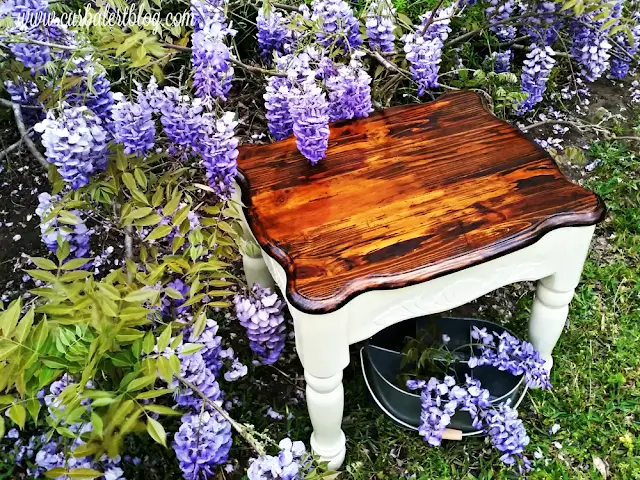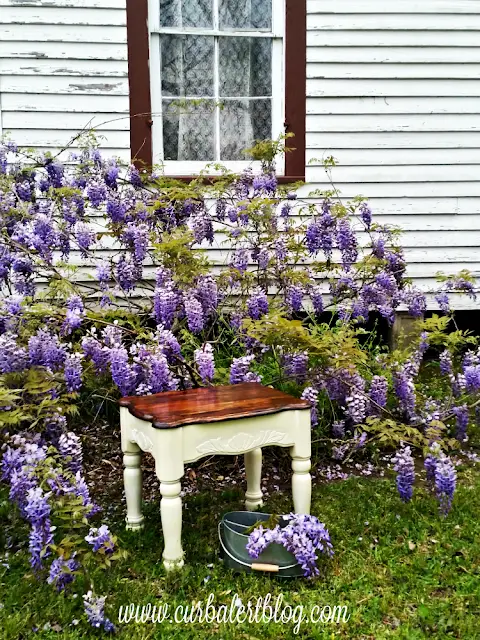 Here are a few "during" shots of the sanding process and the first coat of paint.  I just wasn't feeling the blue so changed it to white midway.
**Please note that this post contains affiliate links**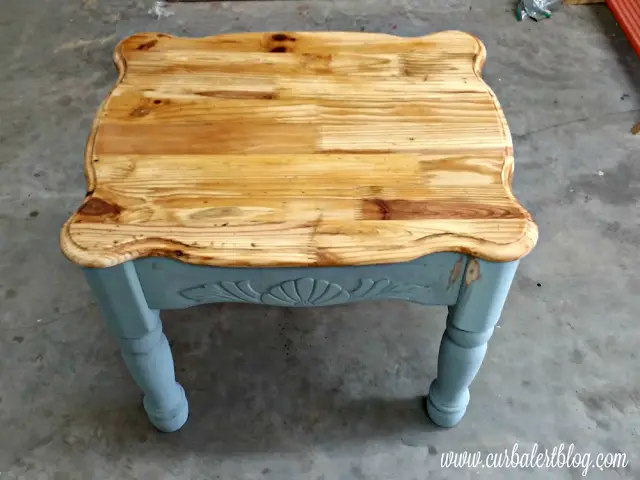 Here's an easy little painting tip… I love these tiny furniture risers called Painted Pyramid Stands. They really come in handy when trying to paint the feet of a smaller piece by lifting it up just enough to not get paint all over your work surface. Something so simple makes a big difference in my cleanup efforts.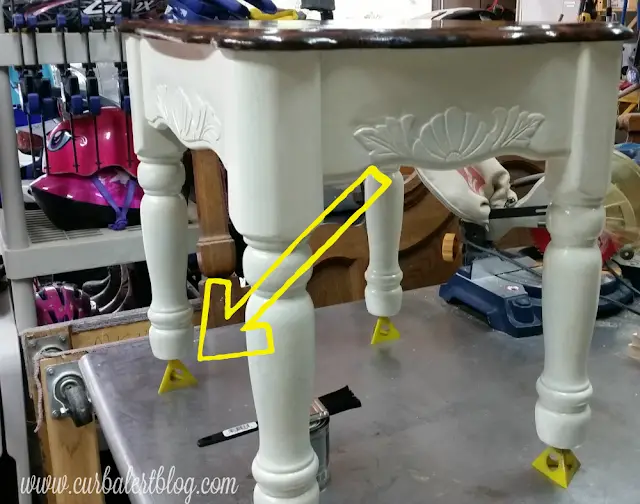 Painter's Pyramid Stands, Yellow
Now back to that beautiful wisteria adorning my little Farmhouse Table. I'll have to stop by this home more often just to enjoy the scent (as long as there are no ghosts handing around!).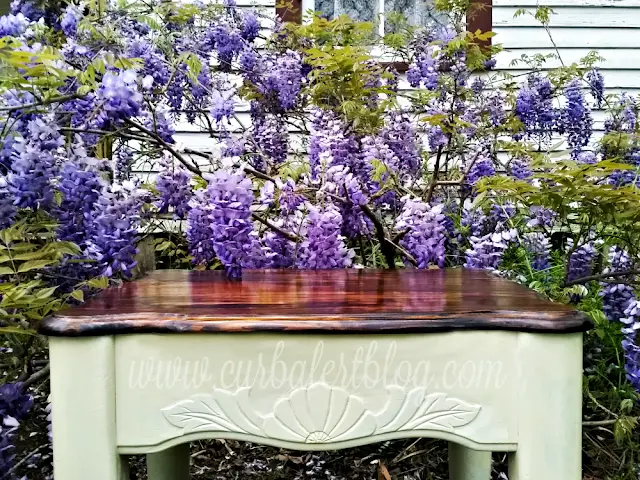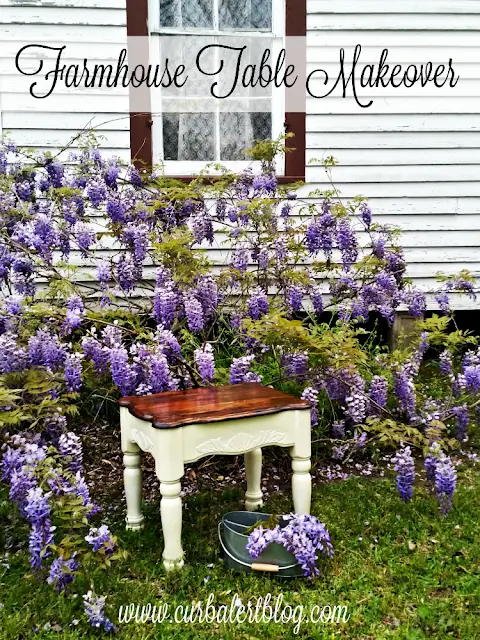 I hope you enjoyed my little Farmhouse Tour and my Farmhouse Table Makeover. Please be sure and visit my other DIY Furniture Girlfriends to see their Farmhouse Interpretations. 
Thanks for visiting Curb Alert! ~Tami