Okay so you know we are moving, right?  For the last two weeks I have been purging our personal items and trying to get rid of whatever we no longer want or need!   Now I am starting to look at things closely in order to stage our house.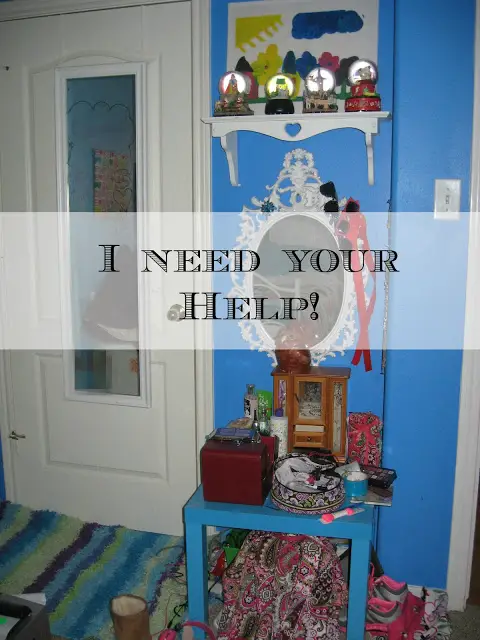 We have two more months until we put our house on the market so I want to be ready.  The kind of stuff like in the above picture drives me batty!  
CLUTTER! 
This is from LadyBug's room, our tween.
She is actually the neatest one of the bunch so I would not even dare to show you the other rooms…yet.
I have LOTS of work to do! 
We have decided to rent a storage unit and start storing some furniture right away.  There are pieces that we still want but just don't want them around while trying to sell the house.   (like that blue Ikea clutter makeup station) I found it for FREE on the curb by the way during one of my 
We have already decided that we are going to pack up most of our decor starting now.  The kids have agreed to start putting away those little personal items and collections…momma has got to do the same! 
Here is where I need YOUR HELP!
You know I have a
Red Kitchen
and I am leaving it as is.  The other bedrooms are all tan with the exception of this one…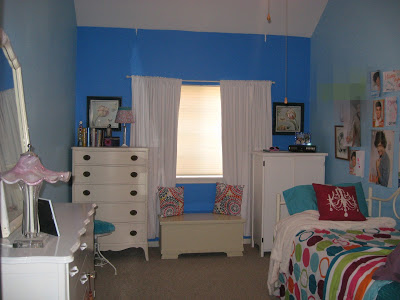 Again, we are storing some of the furniture.  I am already going to have to touch up a ton on the walls due to the billion tacs and nail holes in the walls. 
Question #1
  Should I touch up the blue or go ahead and paint the entire room a neutral tan? 
I need to mention they are 12 ft ceilings!
See what I mean?
Poster City!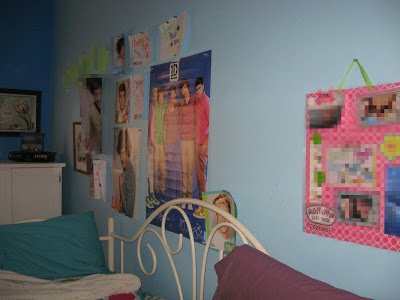 Here is our kids/guest bathroom when it was a 
(found the frame on the curb)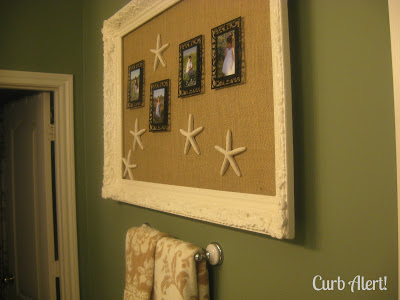 I took down the frames, touched up the holes and re-painted the entire wall. 
Much better now.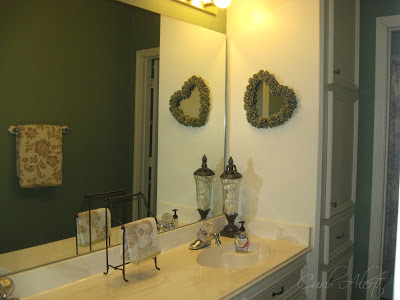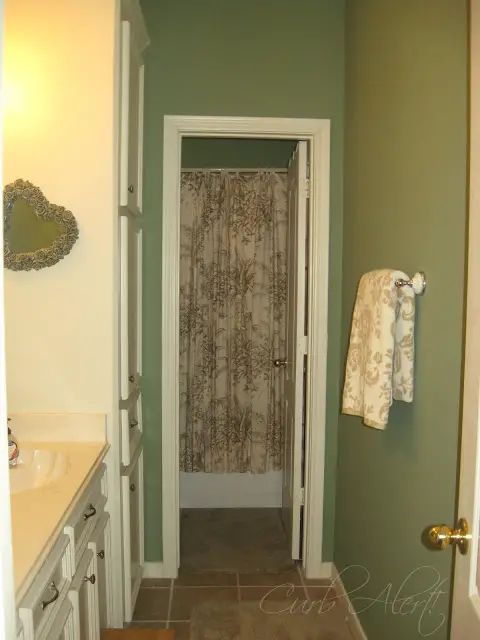 I am leaving it green. I think it's a soothing neutral that is easy on the eyes (much easier than the blue)
I have already deep cleaned the tile grout and will remove the rugs when we show the house.
But… 
Question #2:
Do you think I should invest in a white shower curtain and white towels for a cleaner look?
There are some other great ideas there as well. 
I am trying to separate my emotional ties to things in the house and prepare to start seeing it through a prospective homebuyers' eyes. 
Finally, I have a few quotes and wall decals throughout our home.  
Question #3:
Should I leave the decals or take them down?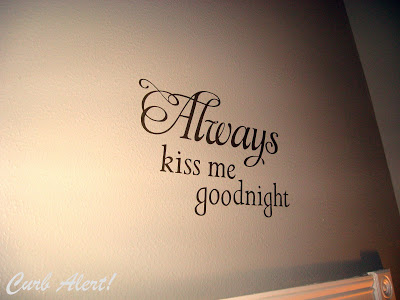 Our Hallway Quote and Topiary.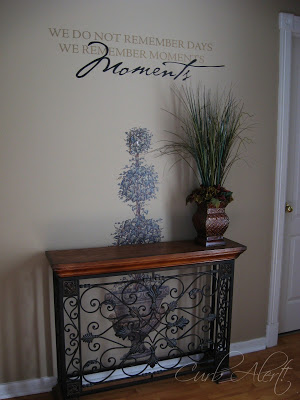 Our dining room has a Monogram Script M. (not pictured) 
I'll definitely take that one down.
Okay, I asked the question but the more I write I am thinking the decals are too personalized. 
So please take a look at Question #1,#2, #3 and tell me what you think!
I hope I am not going overboard. 
I want to sell this house!
Stay connected with Curb Alert!