I have a fun new furniture makeover to share with you today!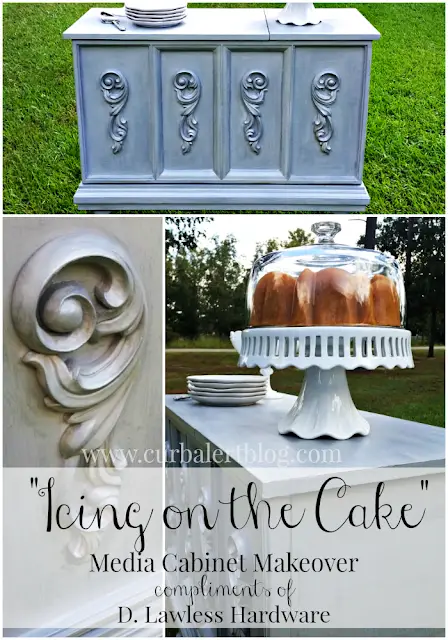 You HAVE to see the Before shots to truly appreciate the stunning After! You won't even recognize it, my favorite kind of makeover!

I am excited to recently join the Fab Furniture Flippin' Contest Group. In summary, each month a group of creative bloggers compete in this fun furniture makeover contest by incorporating a monthly assigned theme and sponsor products. Most brands are generous enough to offer their products either free or at a deep discount for the participants. The entries are voted based on multiple criteria in hopes of winning the grand prize!
This month's theme is "Icing on the Cake"!

The moment that I saw the sponsor for August is
D. Lawless Hardware
I jumped right in.  
D.Lawless Hardware
is a family owned store that provides knobs, pulls, hinges, slides, hooks, screws, fasteners and wood trim.   I  previously used their hardware in my
Faux Card Catalog
Transformation and appreciate the quality of their products and outstanding customer service.   Best of all, their prices can't be beat!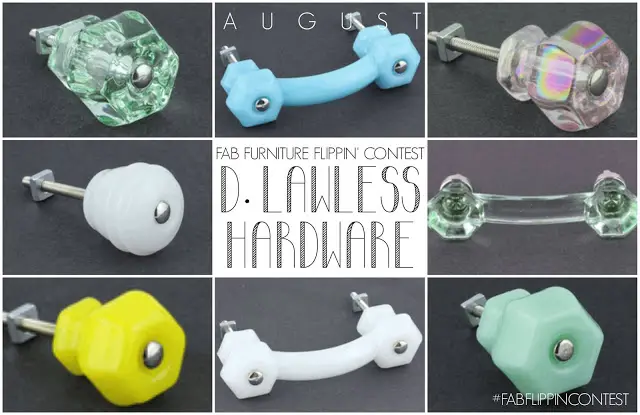 I had the perfect furniture piece in mind that was in desperate need of a makeover:  
A $20 broken Record Player/Stereo Cabinet.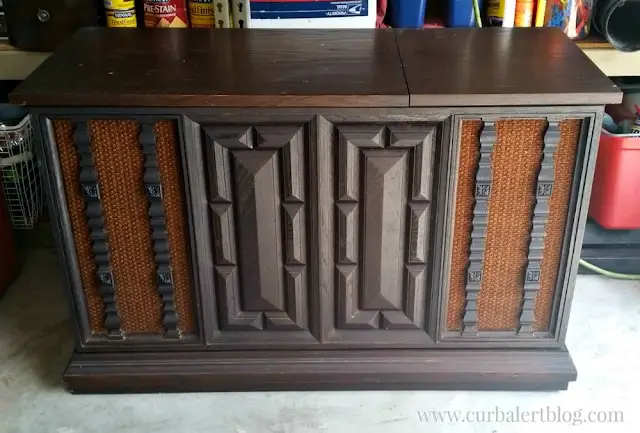 I saw these wood 12″ Scrolls on the
D. Lawless Hardware
website and knew they would be the perfect "Icing on the Cake"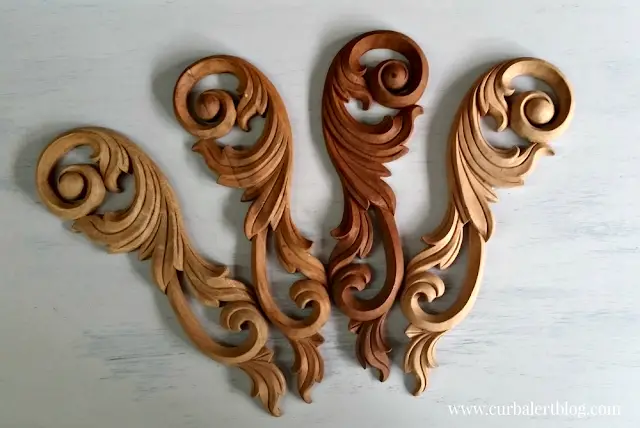 I stripped off the plastic cabinet fronts and fabric and replaced them with some thin plywood.
No worries about the speakers though, as I reconfigured them.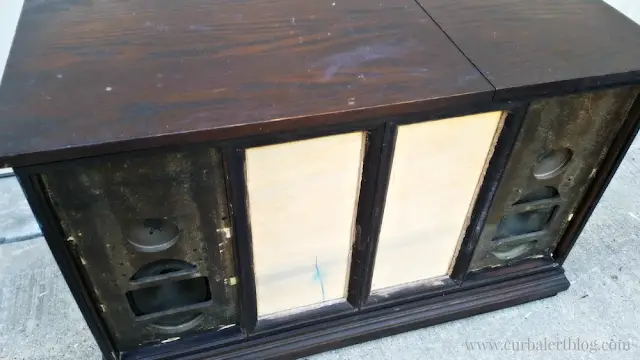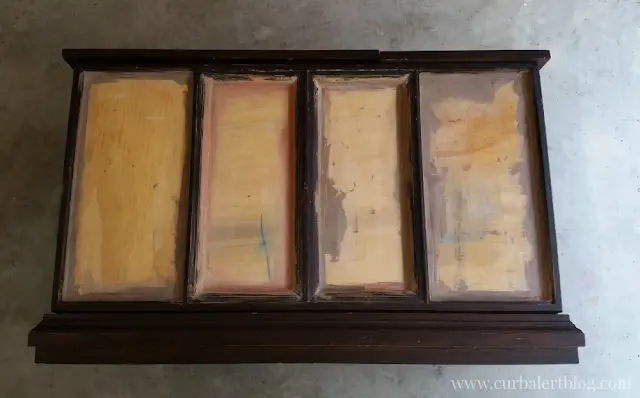 I used a generous amount of wood putty to clean it up around the edges and added some leftover chair legs to raise the entire piece.  At this point I noticed that they needed some adjusting and straightening so back to the garage for some more detail work.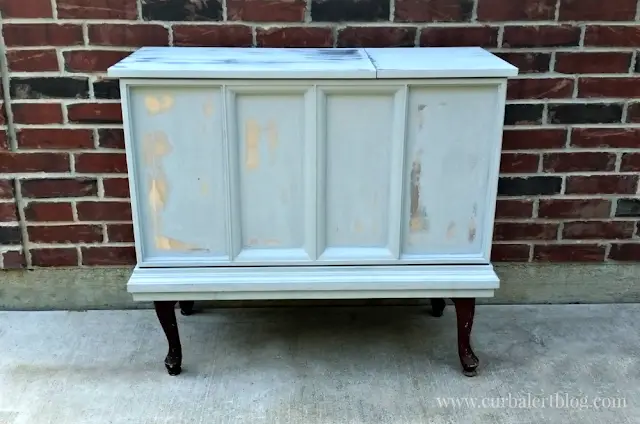 I painted the base and appliques with Annie Sloan Paris Grey Chalk Paint and then embellished all of the details by dry brushing a shimmery Folk Art brand Metallic Silver all over the piece.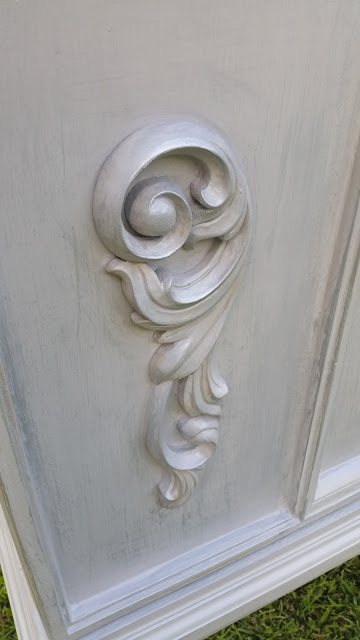 Wow – what a difference some paint makes! Pictures do not do it justice as the silver really shimmers and changes appearance in the light, making the appliques pop!  
And look at her now! Stunning!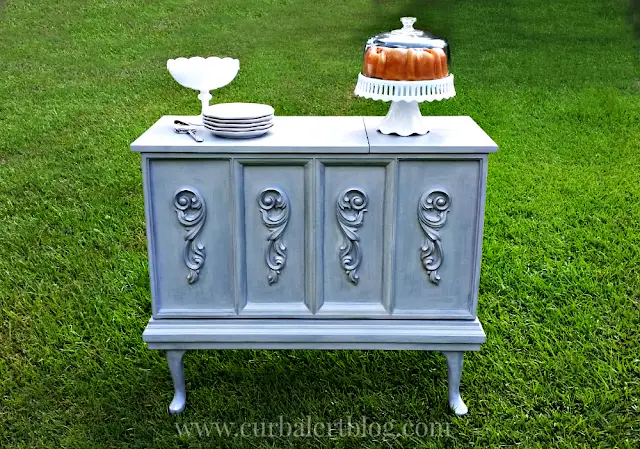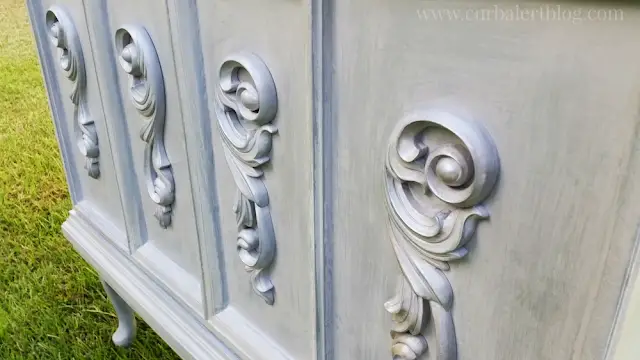 Thank you
D. Lawless Hardware
for supplying the perfect "Icing on the Cake" for this new Media Cabinet!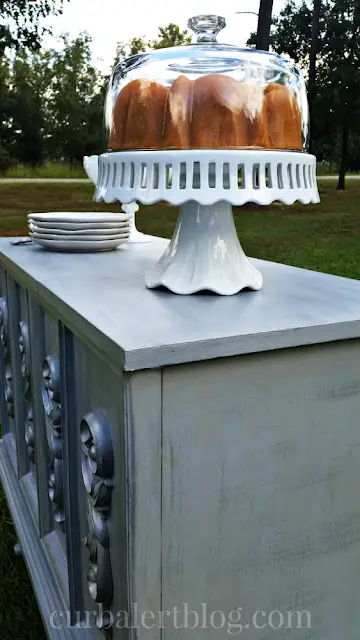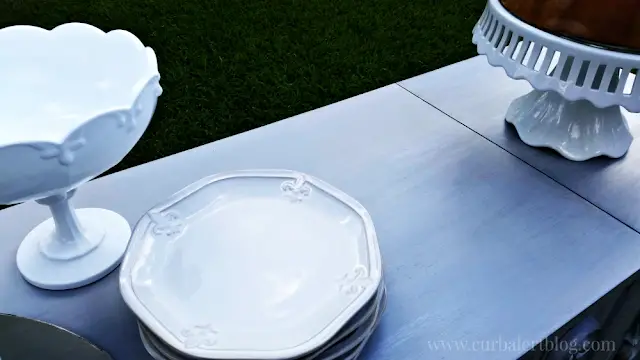 There's a special surprise inside, the Zenith stereo/record player actually works until my little one ripped the needle off of it   So I am now awaiting a new one from Amazon. Still excited though!!!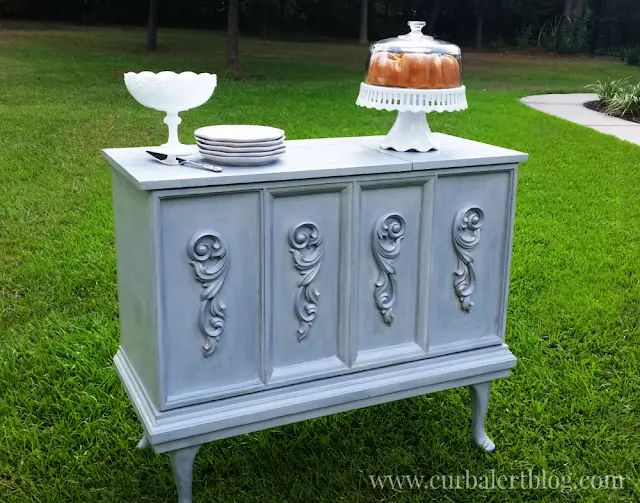 As I mentioned earlier, I am entering this in the August Fab Furniture Flippin' Contest.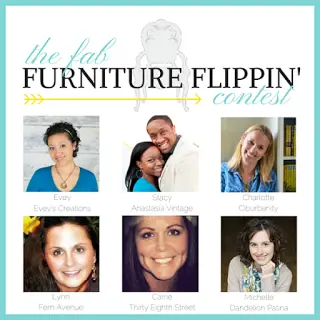 This month's contest was launched by our two featured hosts: 
and

Thank you to Evey and Michelle and Cohosts: 
You can visit their websites to see their creations and other contestant entry projects throughout the month.  
Contest Entries: August 3rd – August 22nd (12am Eastern)
Theme:  "Icing on the Cake" 
Grand Prize Package:  $200 D. Lawless Hardware Gift Certificate 
Additional Prize Package:  $50 D. Lawless Hardware Gift Certificate
The Fab Furniture Flippin' Contest is open only to the entrants who have signed up through the group Facebook Page.  If you are an active, furniture flippin' blogger, and you'd like to participate in future contests, you may contact Evey (info@eveyscreations.com) or Stacy (info@anastasiavintage.com) to find out how!
Please note that I have received products for this post but all opinions about sponsored products are all 100% my own. This post contains sponsored links from D. Lawless Hardware
Thanks again to D. Lawless Hardware for your generosity in this month's contest.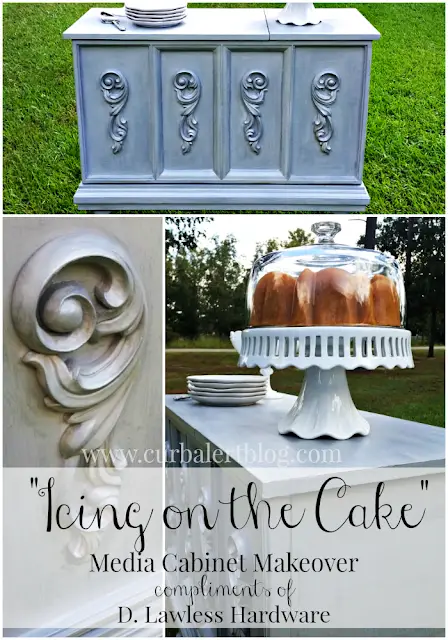 Wish me luck! 
Tami