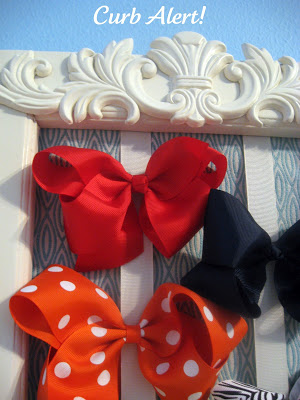 I have three girls and there are a lot of bows in this house.  They are normally all over the place and if lucky can be found thrown in the bathroom drawer. 
Well no more. 
About two weeks ago I was on one of my adventures and was pretty disappointed at how my scavenger hunt was moving along.  And I truly mean "moving along" as in I passed up so much junk!  I was finding unexplainable crap things that I would not even touch with a ten foot pole.  What the heck is this?  German Shepherd taxidermy?  Bubba wanted to touch it to see if it was real, but I sternly advised him "let's just not and say we did".  So I couldn't resist a quick picture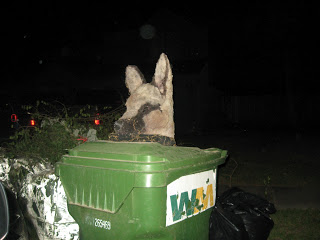 and just up the road we found this screen door.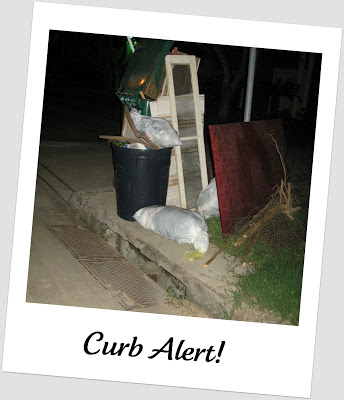 I snatched it up real quick, and also this…and this…and this…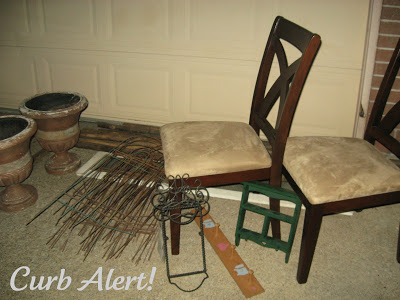 Okay it may look like a lot of junk to you but trust me, that was the best of the slim pickins that evening. 
I was excited about the two chairs but once I got home I realized that two of the legs were broken beyond repair and do I really NEED two more chairs.  I am embarrassed to even disclose or admit to My Love how many kitchen chairs I own at this point. 
Moving on…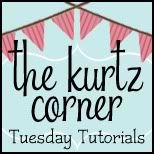 The screen door needed a lot of work so I got busy chipping away and sanding which seemed like forever!  There were lots of coats of paint on there.  This time I was sure to wear my protective mask because who knows what was peeling off of there in the sawdust.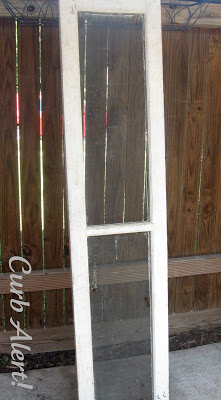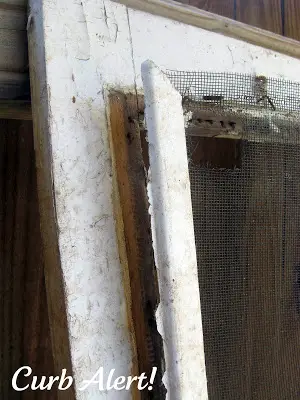 I looked around the house for some inspiration because it just seemed to need a little something else.  I didn't want it to look like a plain old door.  I found this embellishment that I had on the wall in the bathroom and decided to give it a try.  I just glued it right on the wood and spray painted the entire piece in an antique ivory.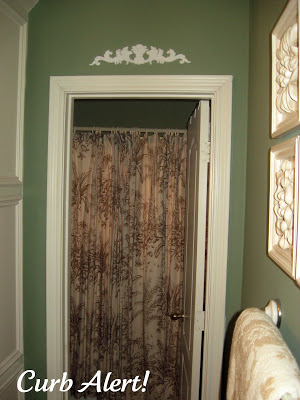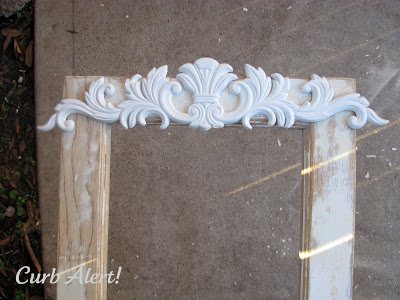 I got out my brand new staple gun that My Love convinced me to buy ( I LOVE IT!) and stapled some fabric and ribbons to the backside.  It was so easy and took about 10 minutes to complete.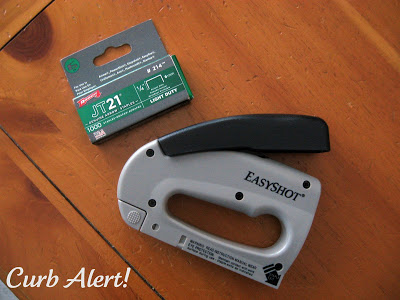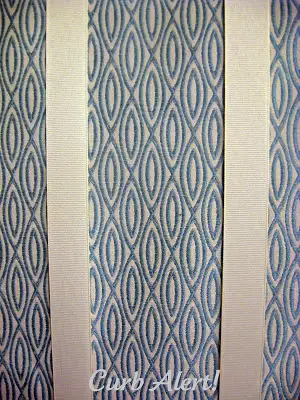 And here it is.  I like it.  It's really not as yellow as it appears in the pic.  It's really more of a creamy 
off-white color.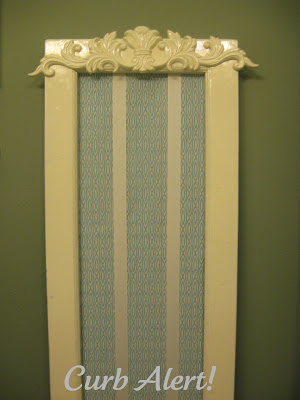 And here it is in Miss BowHead Herself! LadyBug's room.  I tease – she is such a sweet girl!  So sweet that she agreed to let her sisters in her room at any time they need a bow.  We'll see how that goes, it may end up in the bathroom in the end.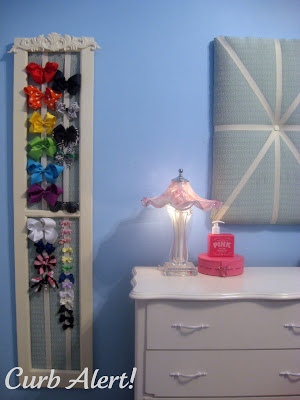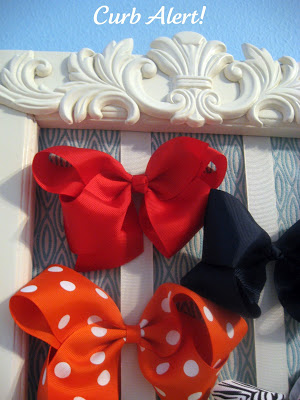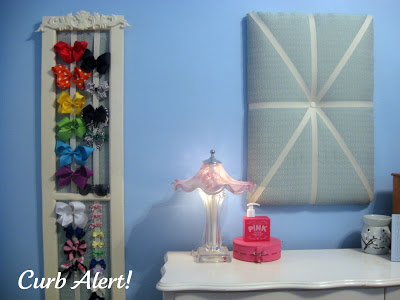 With all of this bow business going on this little one got a tad bit excited!!!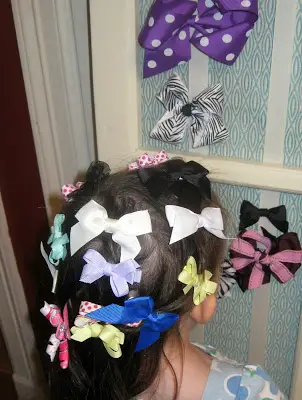 Okay so this little one overdid it a little bit.  She doesn't normally wear this many bows but wanted to try EVERY SINGLE ONE ON.!  The point is … again there are a lot of bows and I think this is the perfect solution.
I have a feeling I am going to need to make another one (little one is begging 🙂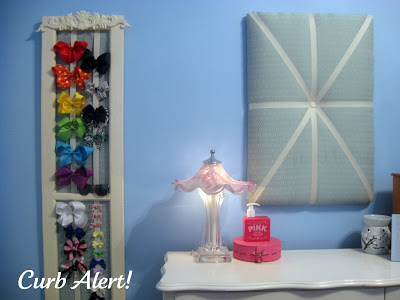 Finally, did you happen to notice how LadyBug organized all of their bows?  in order of the colors of the RAINBOW?
Red Orange Yellow Green Blue Indigo Violet
(ROYGBIV)
Not sure where she gets that crazy neurotic, organizational trait from! 
(me, of course – hee hee)
I love the New Bow Frame. 
What do you think?
Happy Treasure Hunting! 
~Tami
Sharing with my bloggy friends over at: