My mantel usually has some key components that never change, like the two iron pieces that flank our "big" inch TV.  Although the TV is one of my favorite things in our family room, it is also the biggest thorn in my side (speaking from a decorating point of view) 
As you know, I am not a super decorator – but I am a pretty good repurposer. 
Here are some of my ideas…
The TV is so hard to decorate around so when I found these iron pieces at Goodwill last year for around $5 for the pair I grabbed them quick.  They were a peachy color originally and I spray painted them with Rustoleum Oil Rubbed Bronze.  
Here is a picture from the Fall: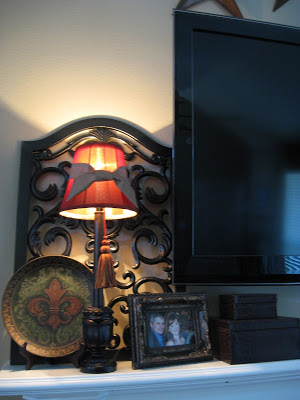 This is what it looked like back in the Spring: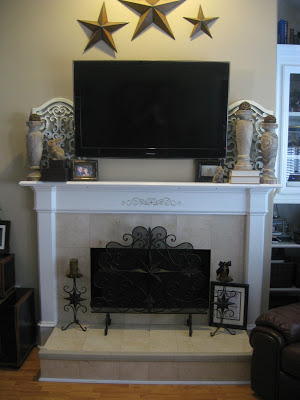 Notice the difference? 
I just flipped them over and painted the backsides with Rustoleum Herloom White and it brightened up the whole space.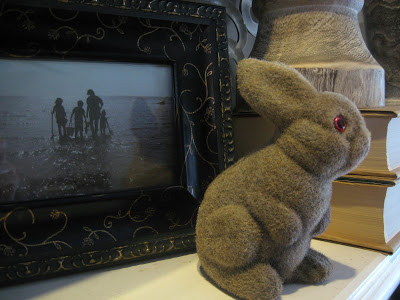 I also added some of my bunny friends ($1/ea) and candlesticks that I purchased for $7 a piece.  They each stand about two feet tall.  I like them because they look a bit beachy to me. 
Bunny and Beachy, they go together – right?  Well they do in my house.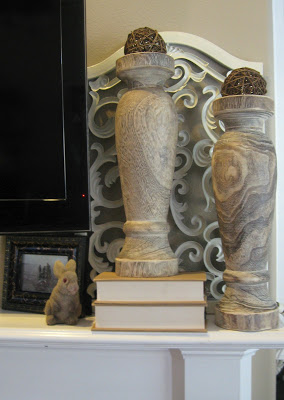 If you know me well enough, you know that by summer I had already changed it up a bit! 
Here is what it looks like Now: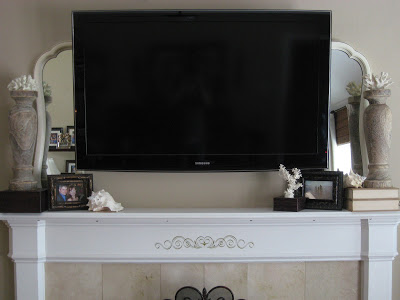 I showed you a glimpse of it in my post about Faux Coral.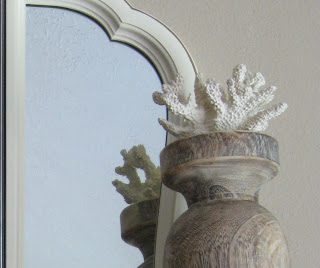 You can see how I made the coral
HERE.
The two mirrors are the side pieces from this piece: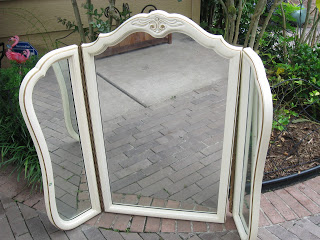 I found the mirror for $10 at a garage sale and am embarrassed to say it was two years ago and has been stored up in our attic (sorry My Love) 
He just gets so super excited when I bring home extremely heavy purchases that we really do not need.
Well I knew I wanted to use it somewhere, just took me two years to figure out where.
Taking it apart was the solution. 
The larger piece I propped up against my large builder grade mirror in our master bath. 
I like that it adds a little feminine touch in there. 
My Love thinks I am crazy for propping up a mirror against a mirror but lucky for me, he get's over it quickly. 
(no picture for you due to messy countertops in our bathroom)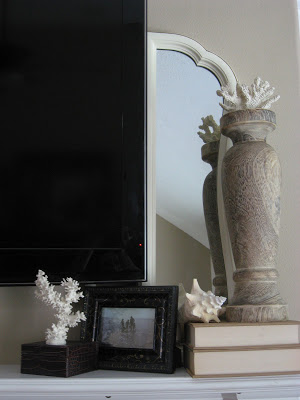 I'd like to share with you what my blog-friend Pamela did with her mirror very similar to mine.
When I read her post yesterday, it reminded me of what I did with my mirror when setting up my summer mantel, hence prompting me to write this post tonite.
I'm not going to show you any pics, you just have to head over and check it out. 
Great minds think alike! 
Have a great evening, or shall I say good morning! 
EEEK!!! 1:40am I need to go to BED!