We just got back from a great family vacation at the beach!  Can you imagine how much luggage and food it takes to spend a week away for a family of six?   ALOT!!! but it's so worth it.  I think my parents were in total shock when we showed up with all of our hundreds of bags, I am an over packer as it is but I like to be comfortable while traveling.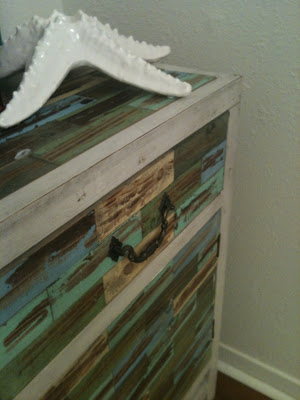 Luckily MyLove doesn't mind hauling all of those bags up the stairs for me, or at least he does a great job of doing it with a smile on his face.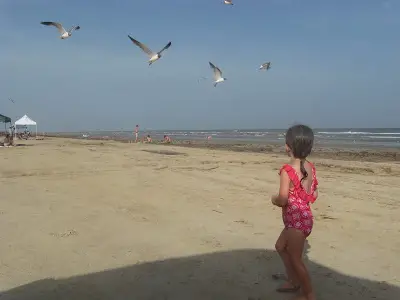 Well on to the good stuff.  I tried and tried to take some family pictures but none of my darn kids would cooperate everyone was too busy to cooperate.  Then MyLove whips out the camera and said "Hey, everyone lay down in the water and face the waves" and like little soldiers they plopped down like little posers! 
Those turkeys!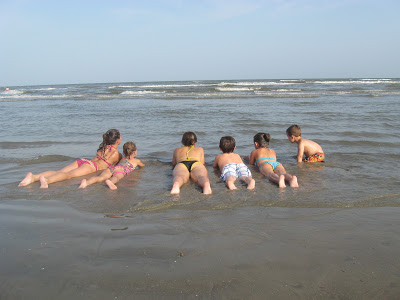 Anyway, glad he was able to get a cute shot 🙂 
…a cute butt shot!
The week was a great time to just sit back and relax and enjoy the ones we love the most.  It was so good to not worry about the hustle and bustle of normal every day life. 
Instead, it was great to stay up late laughing and sleep in even later than usual.
It was fun that the most complicated calculations was to guess how many hermit crabs and sand crabs were caught…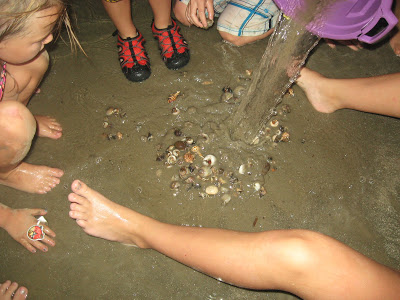 278 on this day!
…or how deep to dig the sand holes…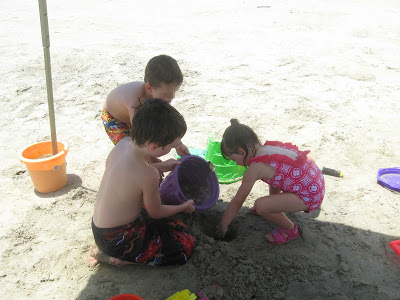 …or how long it takes to finish the puzzles.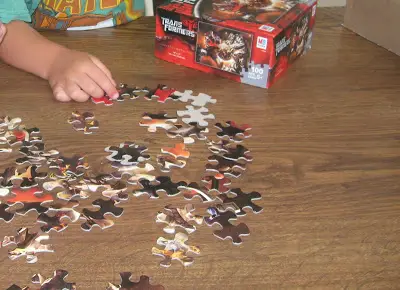 Didn't matter because we had all the time in the world to do whatever we wanted.
Beautiful to watch our kids and parents bonding over simple past-times and making new memories.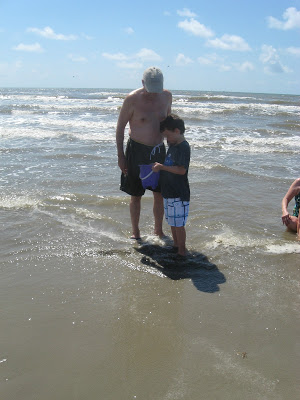 Relaxing to watch the waves come in during the day and walk on the beach with MyLove at sunset. 
It was sentimental to find the very exact spot where he proposed what now seems like many many years ago. 
I even got a little bit craft-envy as I admired the beachy decor in our cute rented beach house. 
This is the living room viewed from up the stairs, check out how they painted the kitchen table and chairs.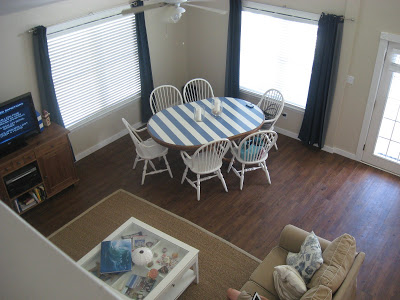 And look at the adorable stairs and closet door: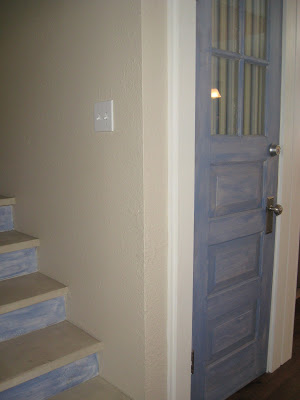 I'm not normally a blue color kind of decorator but I love how they just had some touches of it here and there.  The decor was very relaxing and just right to put us in the vacation mode.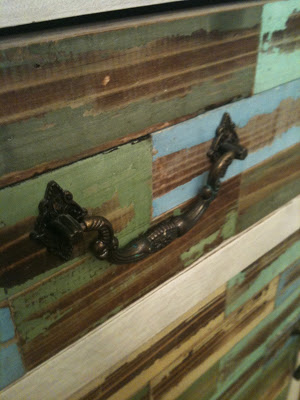 My favorite piece was this little dresser in our bathroom where they stored towels and linens. 
I love it.
It would be so easy to duplicate. (I think)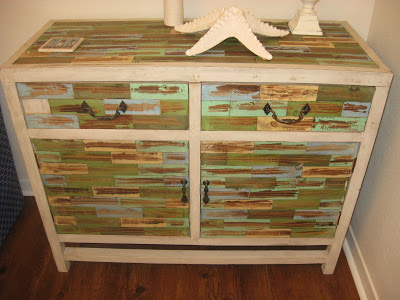 Very inspiring and a much needed getaway! 
As much as I love vacation, I am glad to be back home.
I think everyone had a good time though and is evident in their relaxed state of mind today. 
This morning I woke up to this little note from my older girls: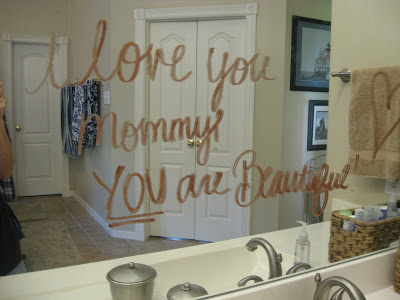 Bubba spent all morning preparing this:
(Making a terrarium for a huge grasshopper he found)
Do you see him in the cup?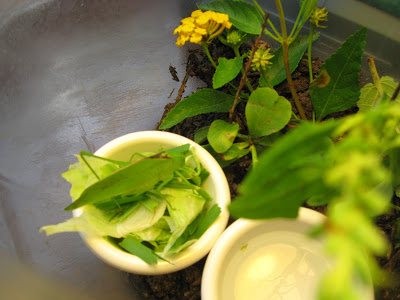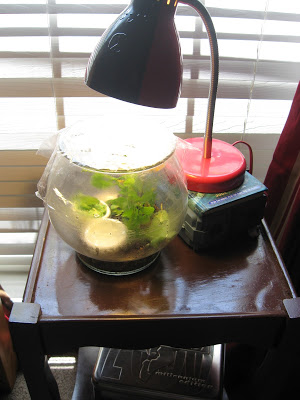 Finally, Buttercup drew this and as she handed it to me said, "I really really love our family"  *sigh*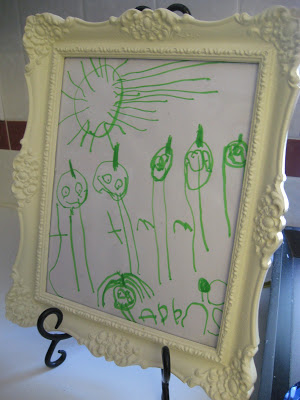 I love it so much that I had to frame it.
All these things make a mommy's heart beam with joy!
How is your week so far?  Do you find yourself ever having to recover from a vacation?  even if it was a great one? 
Today was a great relaxing day to top off an even greater vacation.
Sometimes the greatest treasures are the simple ones right here in front of us.  
It's great to be reminded of that every now and then.
Happy Treasure Hunting! 
Tami