I guess this may be considered a Curb Alert! even though I didn't grab it from there.  Okay, well almost.  When we moved into our home five years ago this was left in the back yard by the previous owner.
He had a dog, we had a dog so we just kept it.  Pretty sad shape and I must say I am pretty embarrassed at how that part of the yard looks right now.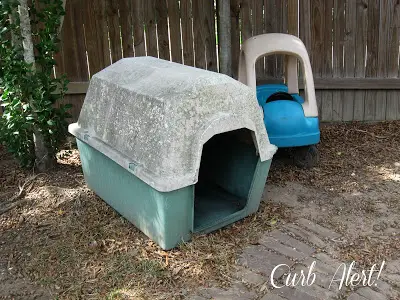 MyLove and I were doing a major overhaul of the back yard last weekend…pulling weeds, tearing down fences, trimming trees.  I pulled the doghouse out of the corner and started to drag it to the curb.  I decided it had seen it's last days. 
MyLove stopped me promptly and laughed "I cannot believe you of all people are going to throw that out on the curb instead of spray painting it!"  What???  Well genius, I guess that's a pretty good idea and seriously I was in cleaning mode and didn't even think of it. 
I quickly grabbed what we had on hand.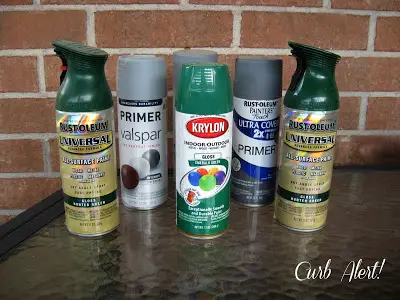 Luckily we have lots of spray paint to choose from and had similar colors. 
I got to work and in no time had a brand new  (new to our puppy, Beau) brand new doghouse.  I didn't even bother to spray the inside because I didn't want him to sniff the fumes.  I'm caring that way, you know!
Anyway, here it is and Beau is loving it.  He has already snuggled in it, peed on it and chewed the corner a bit.  Oh well.  That's what got me started in this little hobby because I wanted nice yard decor but couldn't bear to spend good money on things that may be destroyed.  Funny how my finding yard decor hobby has made me obsessed turned into a mission in finding home decor, furniture, you name it!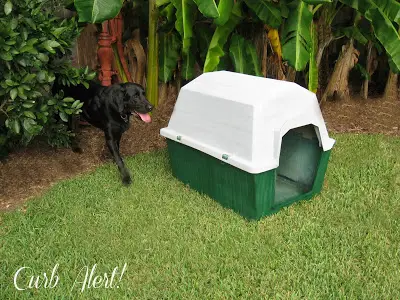 Anyways, he's happy, we're happy and it looks a lot nicer than what we have been looking at with embarrassment hoping no one would see it shoved in the corner of the yard for over five years!
Well, it's almost Friday and that means it's time to throw another Friday Block Party.  
Feel free to link up as many times as you like (be reasonable) and visit some other party goers. 
All I ask is that you follow Curb Alert! and also follow Curb Alert! on
Facebook
.
And while you guys are partying I will be at the doctor begging for long-overdue meds for my headcold.  
I cannot stand it anymore and need relief!
Enjoy!
Happy Treasure Hunting! 
~Tami