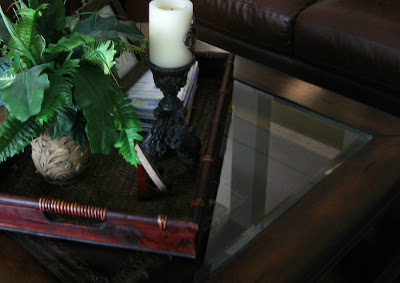 For the last 17 years or so (the time that I have had children) my decor has changed many times.  There have been some times that we have had sparse living room tables to no coffee table at all, depending on the ruggedness of the toddler at the time. (Within those 17 years and 4 children, there has ALWAYS been one at the toddler stage…until now)  FINALLY!  For that reason we have been very hesitant in purchasing nice, expensive family room furniture.  And curbside upholstery just doesn't cut it when you are laying all over it-I do have limits!
The table that has survived the most destruction children wear and tear through the years is this set that my husband contributed from his bachelor days.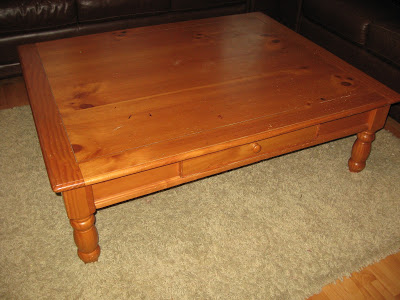 LOVE the size, LOVE how it is solid, HATE the color of the wood.
I had some ideas on refreshing the furniture a little.  Of course I found inspiration from Pinterest. 
I have dark brown leather couches so have always been drawn to this overall look.  Not too formal, just comfy and livable (four children livable!)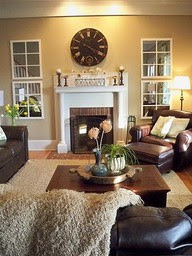 You know how much I love stained furniture so seeing the table like this got my attention. 
I can do THAT!
I quickly changed my mind after tons of sanding and sanding.  The wood would not take the stain well, after SO many tries, uggggghhhhh!  Now remember I am a girl with patience!
Next step was to paint them black and distress it.   The results were not quite the look I was going for so I never even attempted to distress it.
Chalk Paint maybe?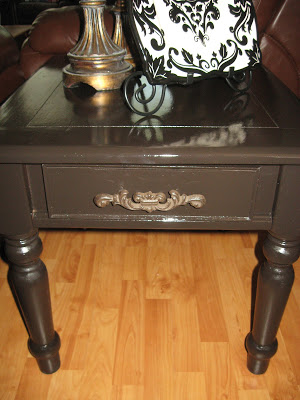 I have even had my eye on some DIY coffee table turned ottomans but always put that project on the back burner for fear I would ruin the tables in the process. 
Most tufting tutorials require drilling holes in the table, I'm afraid MyLove would FREAK OUT!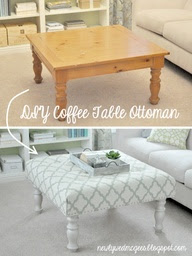 Then one day last week as I was perusing a local Craigslist-like website and could not believe what I saw: 
GROWN UP TABLES! 
The clouds opened up and the angels sang!
   The gentleman selling the tables just dropped the price by 50% and was now asking $75 smackaroos for the entire three piece set! 
I jumped on it quickly and begged responded ever so kindly "I'LL TAKE THEM!"
and right away please! before he changes his mind and regains his sanity.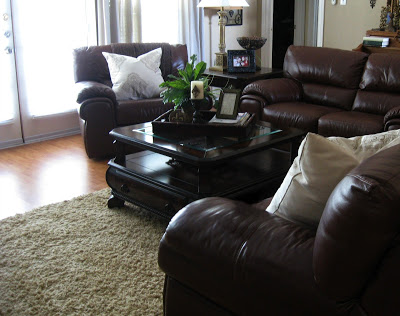 I picked them up within hours and was so excited to be their new owner. 
They were so heavy, I couldn't even get them out of the car myself so my sweet friend came over to help me get them into the house.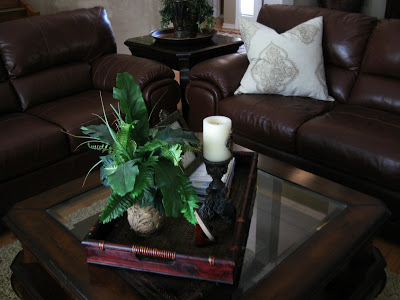 Aren't they pretty?  I feel so grown up now! 
I keep referring to them as such to my kids: 
"No food on the grown up tables" 
"Please try not to jump near the grown up tables"
(as my 4yo jumps from couch to couch!) 
"Get that white hairball shedding cat off the grown up tables!" 
Wow I sound like a nag but so far they are respecting our new furniture!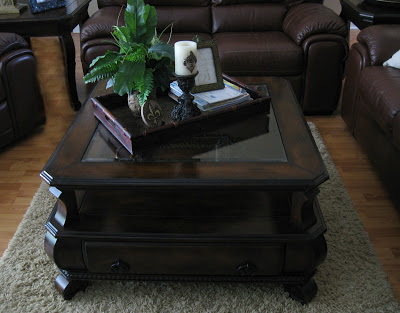 I couldn't be happier! 
We'll see how long they survive! 
Thanks MyLove for not FREAKING OUT! about my quick furniture purchase.
Happy Treasure Hunting!
~Tami
P.S. We are saving the other coffee table for a future game room perhaps? or a child going away to college? 
Maybe I can still do my DIY on it afterall!
P.P.S. You can find all sources for the inspiration pieces on my
Pinterest Boards