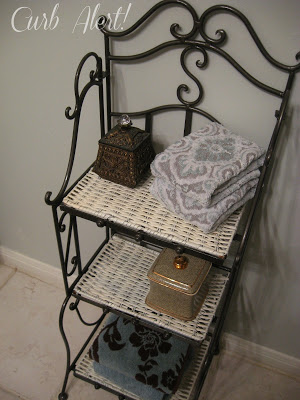 Not sure if you remember these little shelves that I found….months and months and months ago!
They were white and shabby and needed just a quick sprucing up.  
I originally posted about them
HERE
.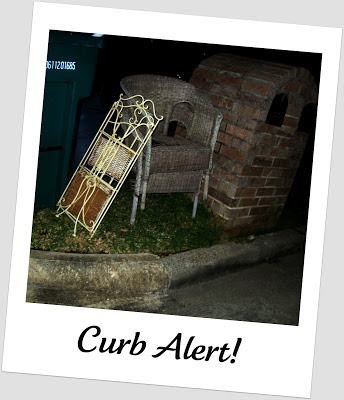 Wow, I didn't realize until looking back through the blog posts, that was back in March!  and they have been sitting in my garage since then! 
What a shame. 
Ahem, wow! lets just say I need to get to work! says the girl that has completed very few of these!
Well the baby is in DAYCARE now and mama's butt in into high gear! (after I do some more laundry first)
Priorities People!
I am now purging my junk and quick fix projects to make room for more FURNITURE!  Yes, MyLove if you are reading this…more old hand-me down, curbside free furniture!  I tease but he is thrilled at the items I have sold this month…and we are only on day 12!
Anyway, here is what the little metal shelves looked like before I got my hands on some 
Rustoleum Hammered Metal and Heirloom White Spray Paint.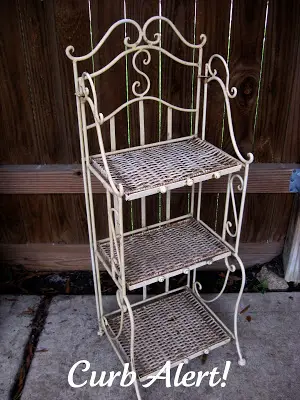 A quick 20 minute spray time and a few dry time hours later they now look like this: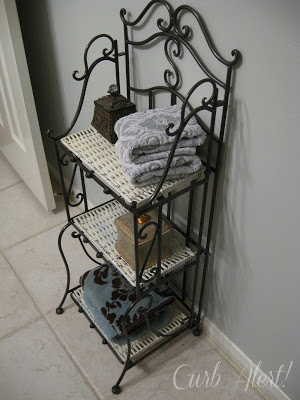 Here they are in my friend's bathroom.
She needed just a little somethin'somethin' in her small bathroom and her last name happens to be Spencer. (I hope she doesn't mind me spilling the beans on her name!) 
I knew it would be a perfect match. 
What are the chances I find another one with an "M" on it? just sayin'!
The wall color is a soft spa blue, the pictures don't do it any justice…it feels so pretty and serene in there.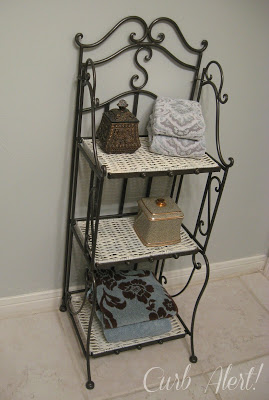 Well, I love it and she loves it and even though it's rainy outside it's going to be a great day! 
I'm going to crank up the Pandora Music and conquer my billion loads of laundry!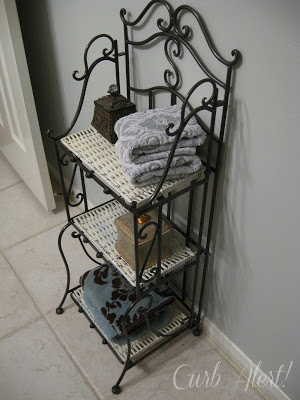 What are you doing today? 
Please do tell, I need to hear something exciting! 
Happy Treasure Hunting! 
Tami