Hi Friends!
You know that thing called "life" that gets in the way of our fun little hobbies? Well life has been busy lately for us but great, I cannot complain! I am so glad to get back to painting and no better time than to dive into it again for our Themed Furniture Makeover Day!  This month our DIY Furniture friends are teaming up to share our furniture "Inspired by Chocolate"!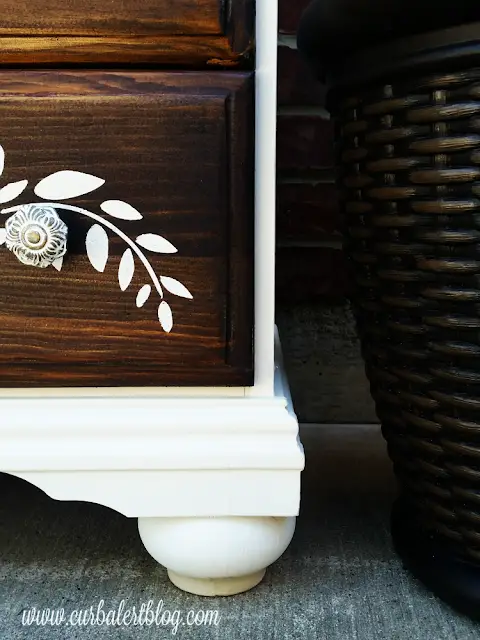 Hmmm…I decided to share this awesome dresser that MyLove dug out of the trash (On Valentine's Day, none the less) and brought home and surprised me. Yep, he knows me well.  He also knows that he better throw in some flowers and chocolates too, which he did!  So let's start with the pitiful before, shall we?…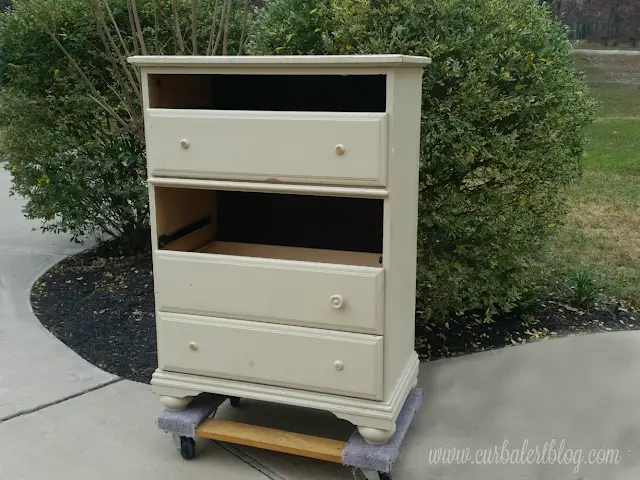 It really wasn't in too bad of shape and super clean on the inside.  As you can see it was missing some drawers and had only one surviving knob. So glad that MyLove saw potential in this piece, I couldn't wait to get started.
I super sanded the top and drawers with my electric palm sander by starting off with 80 grit sandpaper, working my way up to a smooth 220.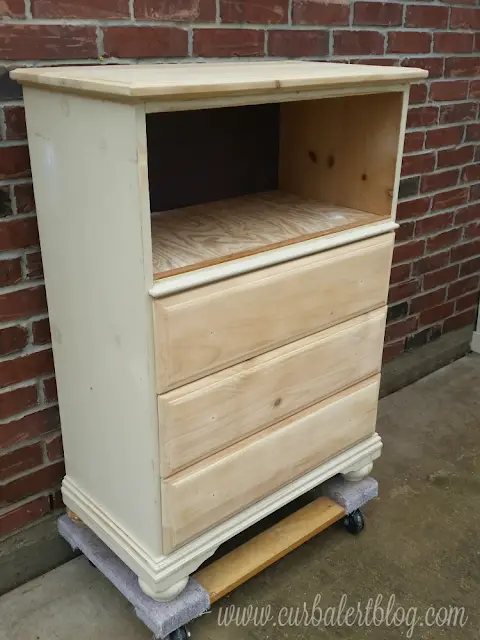 I cut some plywood on hand to make a shelf and trimmed it out on the edge.  It already looks much better.
Now comes the fun part and thinking about chocolate made me choose my favorite yummy chocolate colored Minwax Stain in Dark Walnut.  It actually came out a bit darker than I had planned but still in love with the deep tones of the woodgrain.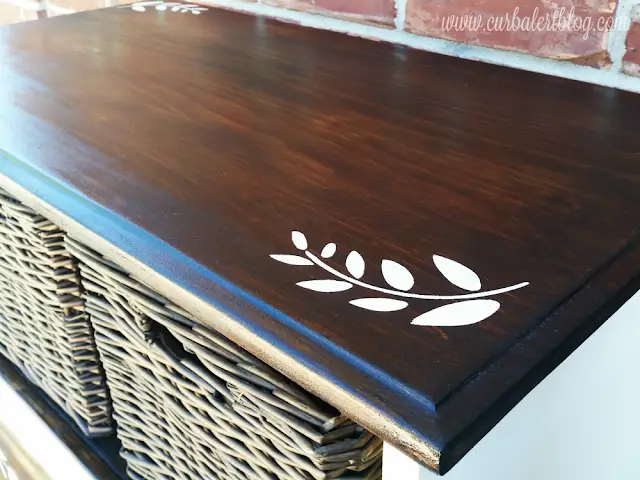 It seemed a bit incomplete on it's own so I added the cute vine stencils for added interest.  The shell of the dresser was painted in two coats of Annie Sloan Old White, the same used on the vines. Finally I added Minwax Polyeurethane Gloss to seal the stained areas and Minwax Polycrylic on the Chalk Painted areas.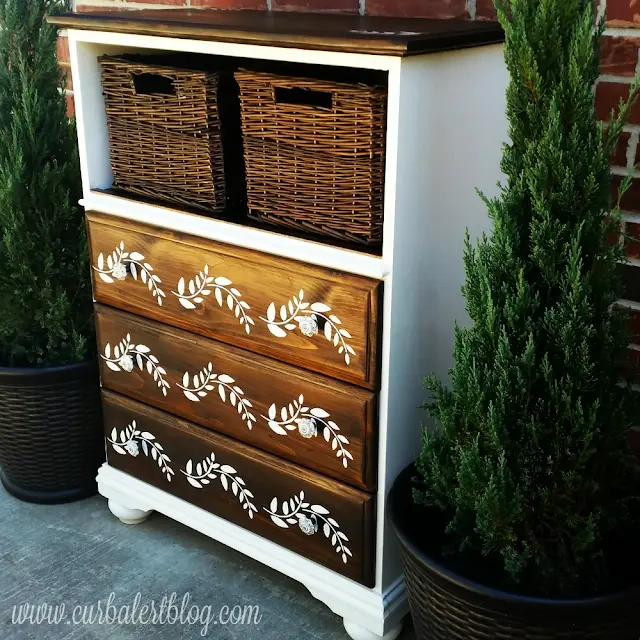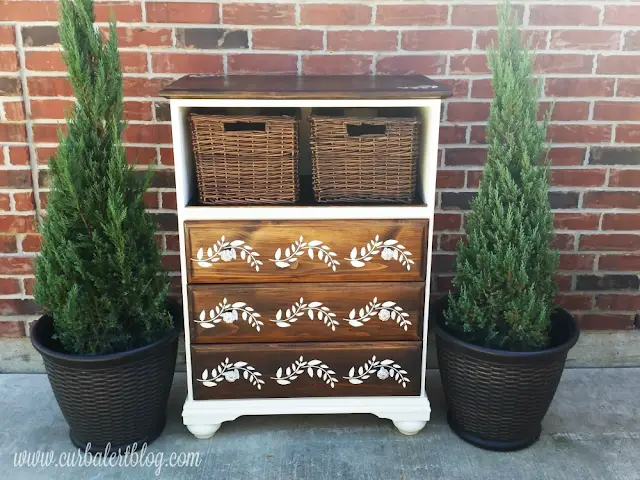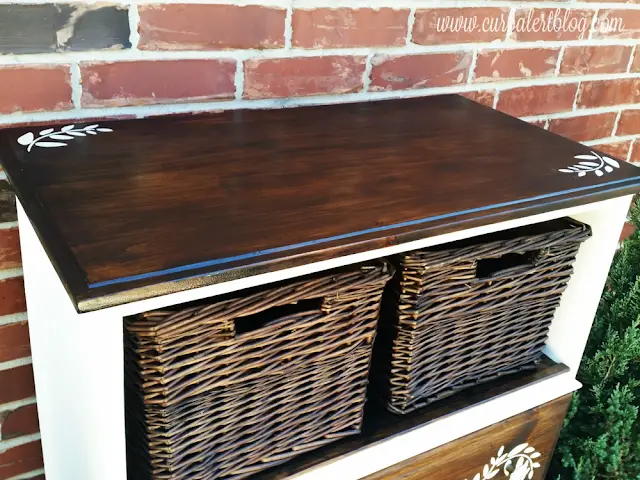 Two functional baskets and some pretty flowered drawer knobs and it's complete!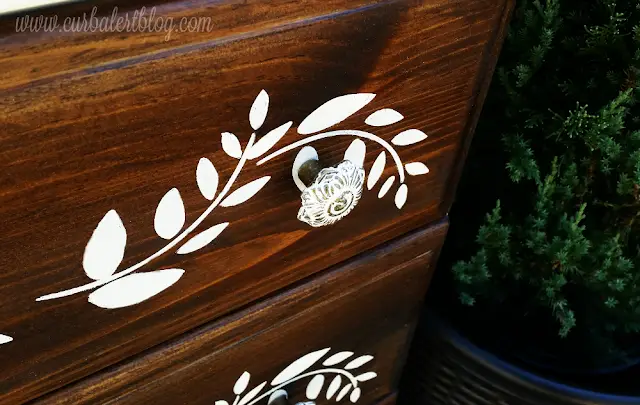 I am in love; and like all of the pieces that I work on, it will be hard to let it go!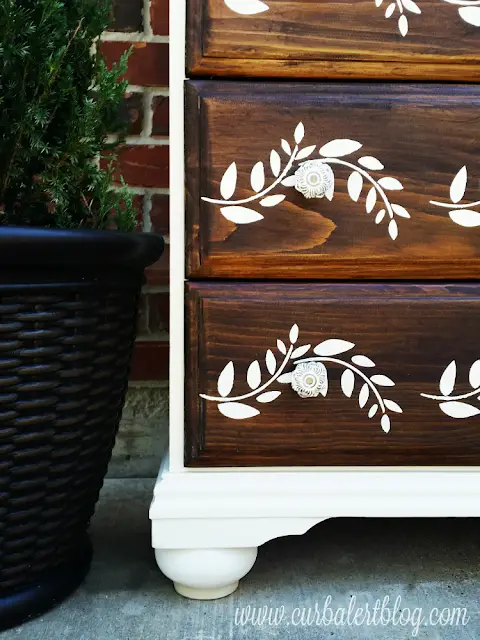 What is your favorite part of this makeover? Mine is that beautiful wood grain! I'd love to hear your thoughts in the comments.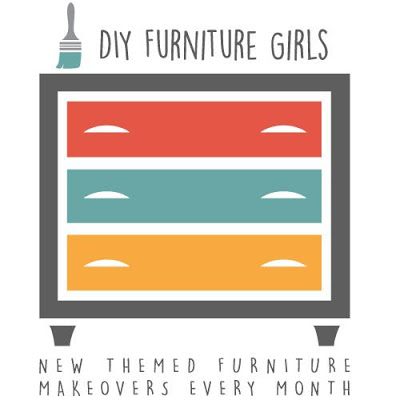 Now I am going to go grab some more chocolate in the form of Oreos and head over to see how my DIY Furniture Makeover girlfriends are inspired! Thanks for visiting Curb Alert! Love ya! ~Tami