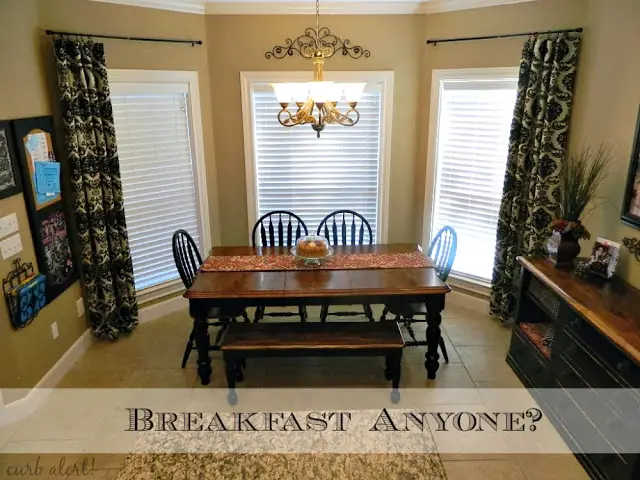 Hello!  I must warn you that this is super exciting post, I tell you so hold on to your seats!  
I was using this Curb Alert! gifted table and chairs from my sweet friends for me to use until I found just the right something to go into our new space.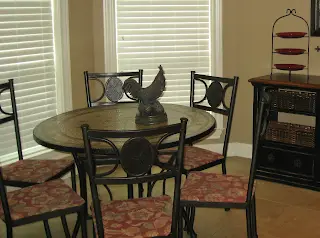 New table found on our local Barter, Buy and Sell website.  You can see how I refinished it in
this post
by clicking
HERE
.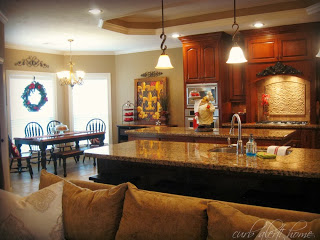 And here it is now.  Our 
Breakfast Room
*Please note this post contains affiliate links: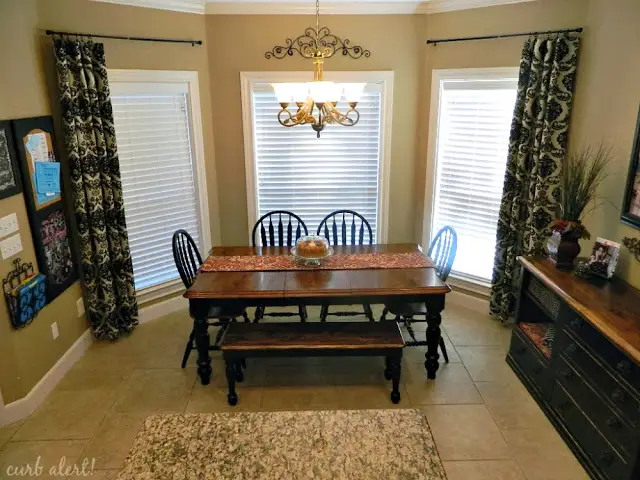 Are you excited yet?   Well I am.  I thought I was finished with it and then right before Christmas I came across this listing…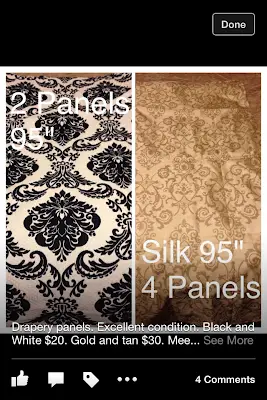 Great pic taken with my phone! 
I love the black and white damask panels and who can go wrong at $20 for two panels!
You can purchase similar panels online:


Damask Print Isabella Window Treatment Panels by Sweet Jojo Designs – Set of 2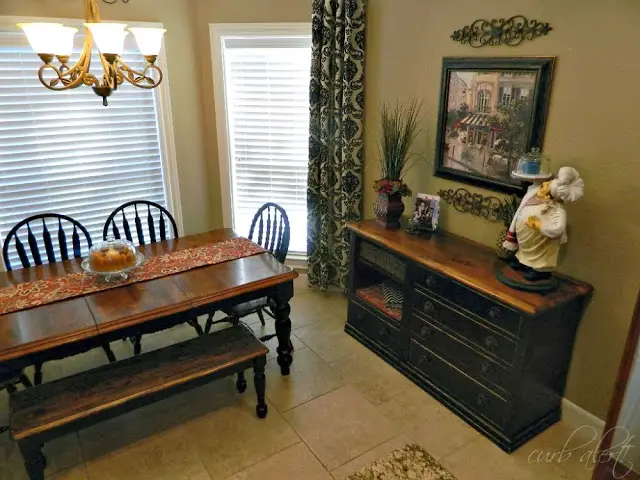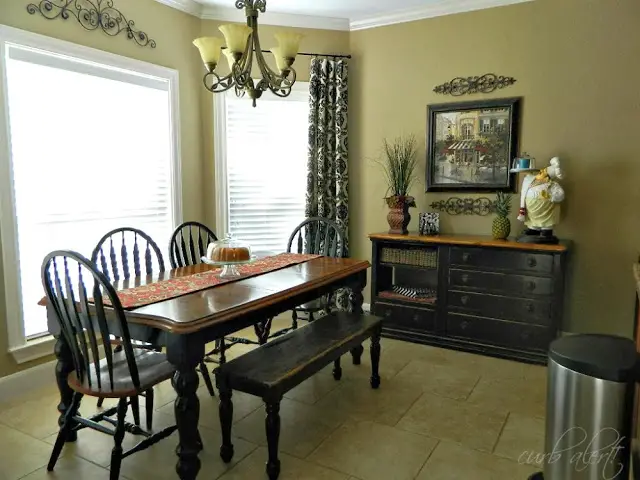 Oh my goodness, new camera not doing it's job here but you get the jist of it.   The curtains go well with my Curb Alert!
Pottery Barn Wannabe Dresser
.  Remember how UgLy it looked before?  You can see it in this post
HERE
.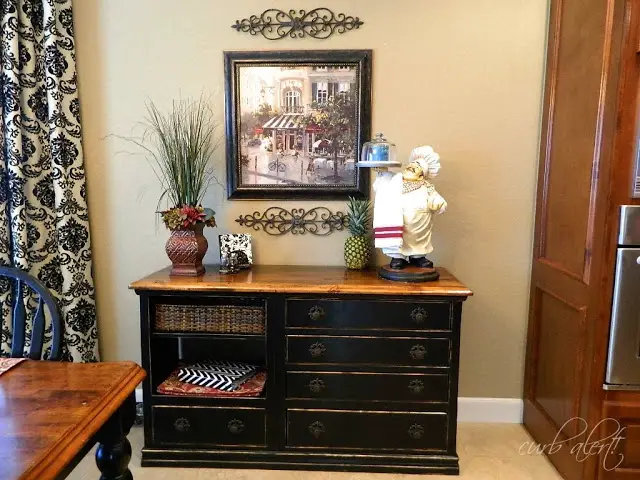 My sister gave me these cute salt and pepper shakers and napkin holders for my birthday.  She knows me well – fleur de lis!  I love them!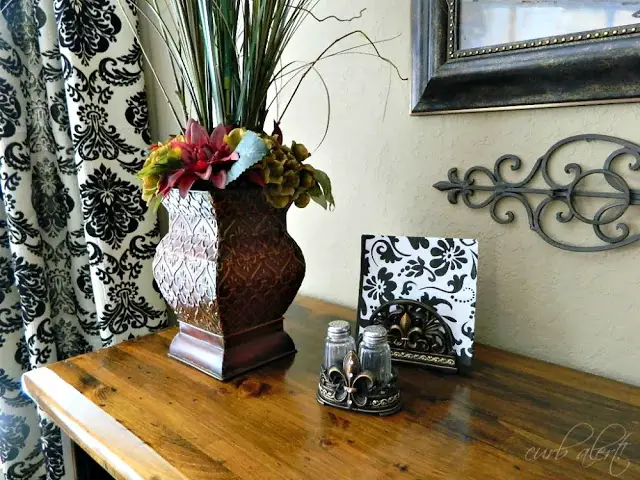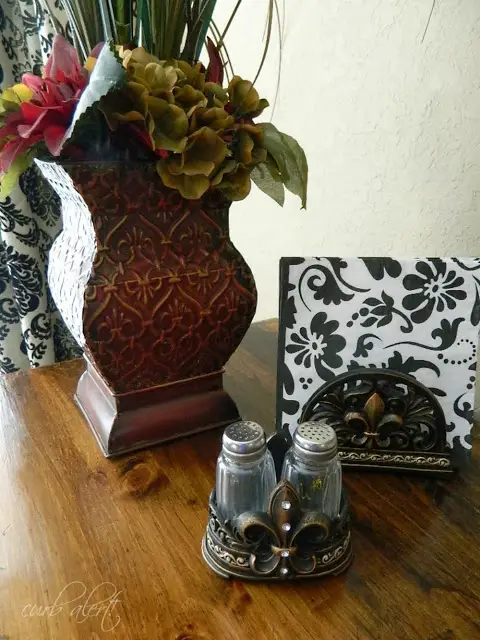 We cannot forget about my personal Chef, Mr. Boyardee, who I turn to on many occasions to help me out with our meals!  Yes, I am That Lame!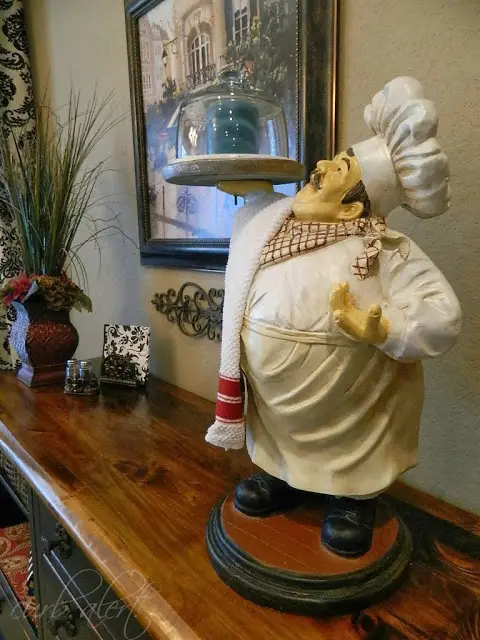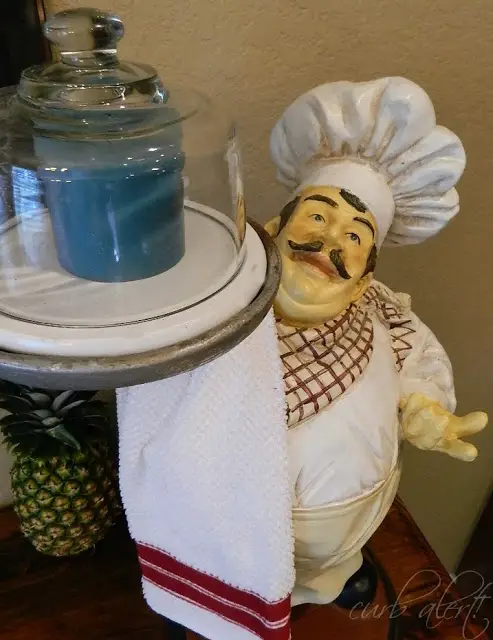 Hidden down in the corner is our very important cat food for if we didn't get up at the crack of dawn to feed our two little rascals they would be meowing and howling all over our house until someone shuts them up feeds them.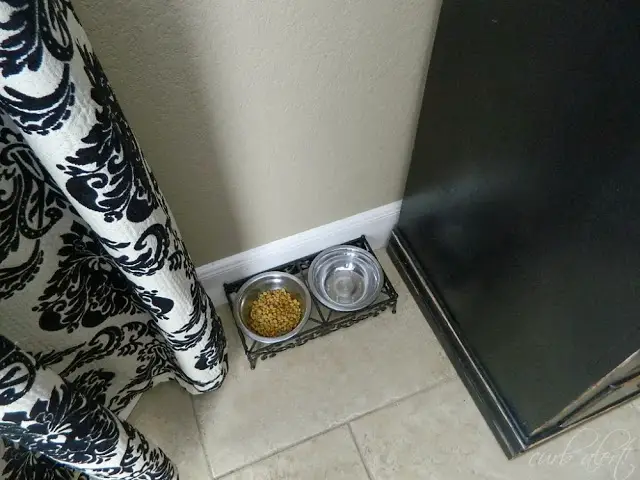 Even though the food is on the other side of the breakfast room, you will usually find Texie-Cat waiting by the back door in hopes to get a glimse of our dogs so that he can torment them!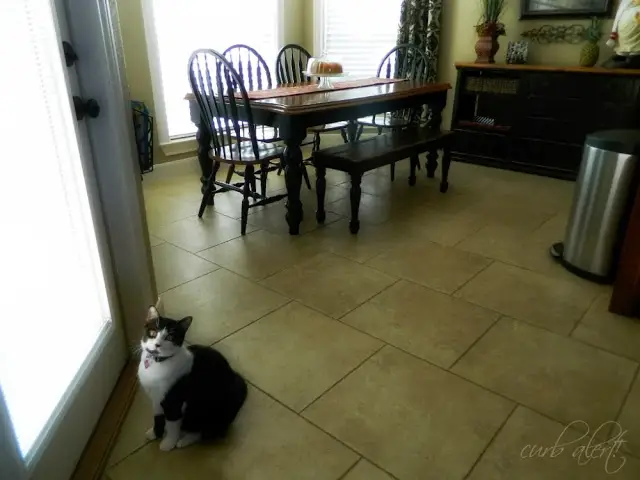 I tried to set up a little command center around the corner here as it's a bit hidden from the entry way and it does it's job for the most part.  I set up my little "blog office" here at the table with the intention to keep myself organized in the new year.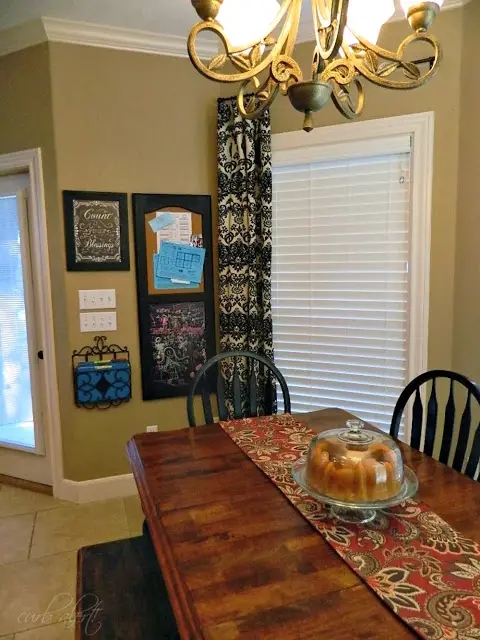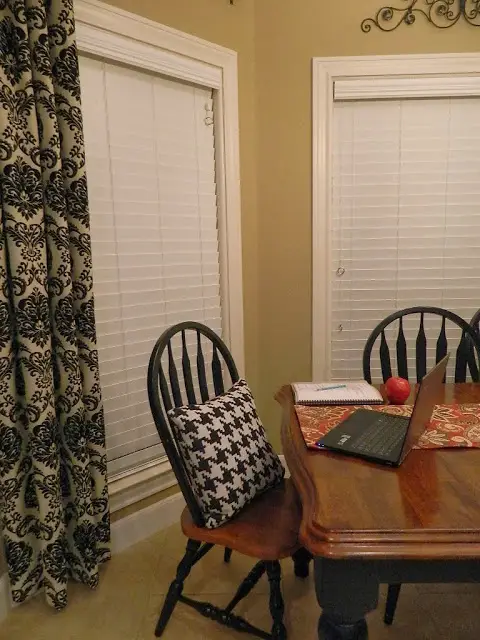 Is it working?  Yes!  Okay back up, who am I kidding it never stays like that even though we eat over at the bar moreso than the table.  The real "command central" is hidden over on the other side of the kitchen.  I say hidden because the front door to our house is on the other side of that wall space so luckily not everyone that walks in has to see all of our office junk!  It was the only place that we could hook up to the internet with our big honkin' CPU and Monitor (sorry My Love, it IS a little bit crazy looking)  Anyway, Bubba enjoys it as he can see his Minecraft dudes in the extra large pixels! 
I didn't intend on including the kitchen in this post as well but it's pretty clean tonite so I thought why not!
I plan on sharing a few neat things about our kitchen with you in a future post.  So far I love it and even though I am not the skilled Chef, I do spend most of my time in here.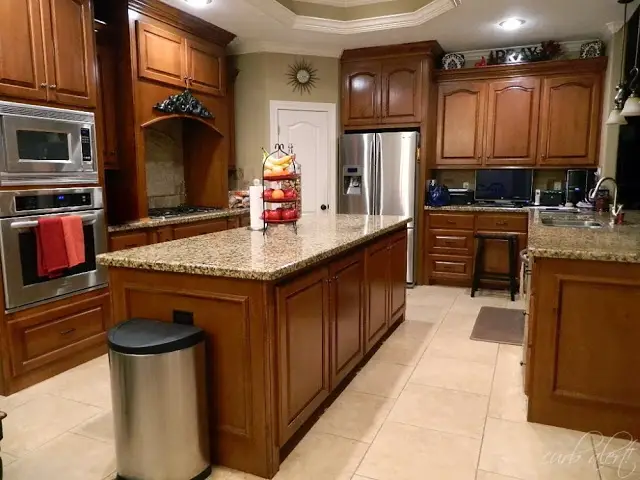 And there you have it, our super spectacular Breakfast Room Reveal!   It excites me because I barely spent a dime on it and I like the way it turned out!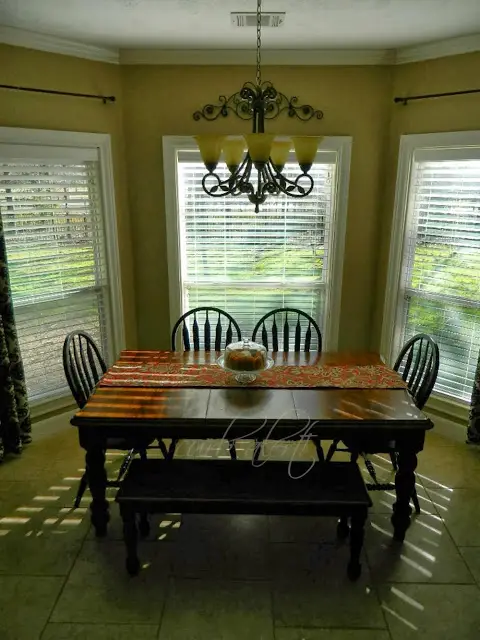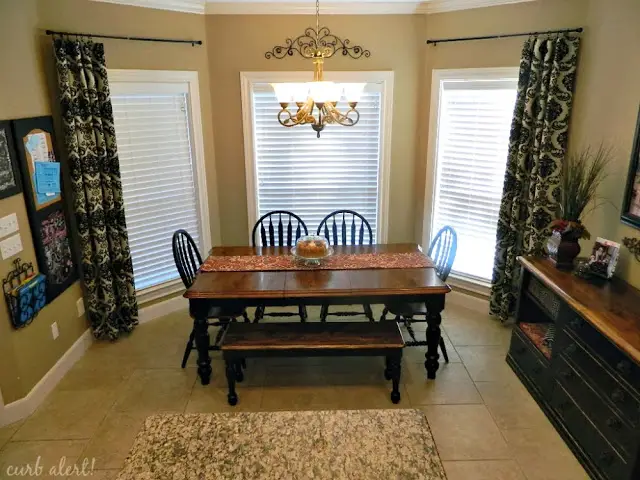 So do you like it?  I would love to hear your opinions (nice ones) or advice on how to make it more inviting.
Bless you all.  It's going to be a great week, I can just feel it!
**There are affiliate links in this post. This does not mean that you pay a dime more when you purchase a product through my website links. It just means I made it easier for you to find something, so I make a few cents when you purchase it. I so appreciate your support of the blog Curb Alert! Thank you!
~Tami