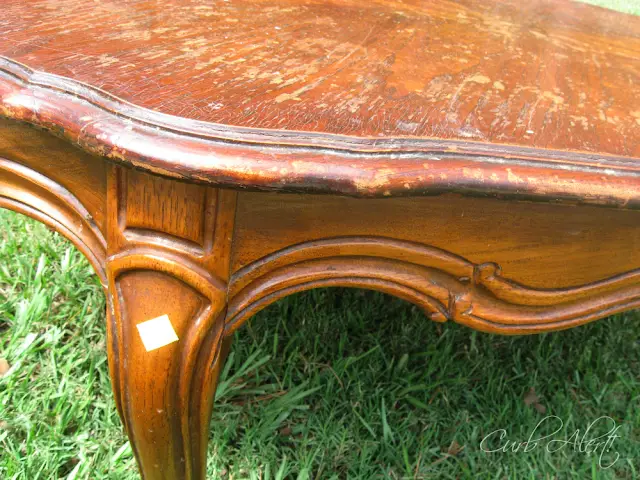 I am blessed…and fulfilled.  I love our new home, our new neighborhood, our new friends (still terribly miss the old friends) our new schools, new church and we have all adapted to our new life out here in the almost country.  We had a great summer getting acquainted with our new surroundings.  We are all settled for the most part and I am happy.  Life is good…but
I have realized that something was missing!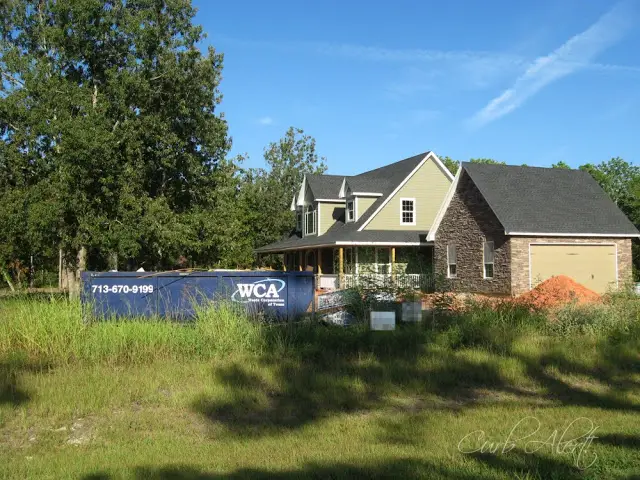 I have missed my furniture makeovers TERRIBLY!  When we found out six months ago that we were moving I vowed not to bring another curbside find into our home for awhile.  I snuck a few things in here and there but spent most of my time preparing for our move, moving and then unpacking – all while trying to obtain normalcy for our kids in our new territory.  I even gave away tons of furniture pieces to friends, knowing good and well I would not have time to finish the projects in time for the move.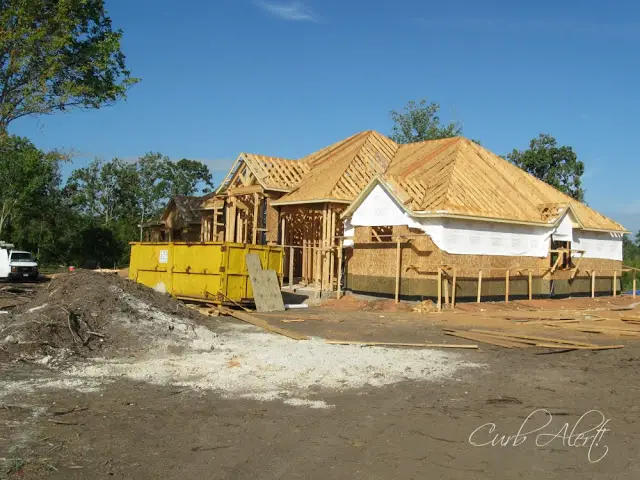 I realized that I do not need anything else in our home, I am very content with what we have.  It's a good place to be.  But I miss my Sunday night Curb Alerting!  Like seriously, total withdrawal!  I even tried to do some curb alerting awhile back and it just wasn't the same.  People don't put out as much stuff as they did back in our previous neighborhood, or I just don't know where to look yet!  Also, the closest dumpsters within a ten mile radius are the homebuilders' dumpsters. Not much furniture in there, unless I want to build out of scraps! 

I've even debated about no longer posting on Curb Alert! for fear I will lose readers if I do not share real curb finds.  I know good and well if I did that then I would truly feel a void.  I LOVE sharing my finds and makeovers, interacting with my readers and meeting other bloggers that "get" me!
So I am jumping into a new, old venture and trying to buy and sell furniture and hope you will still be interested in the process along the way.  I sold a few items last fall and had a blast during the time I was serious about it…until our move put it to a screeching halt.  I am hoping for the same fulfillment and success as I had back then.  I know I can do it, especially with your encouragement.  My little "business" is named the same as last fall…just a new little logo to fancy it up a bit. 

Here are a few items I am currently working on: 
My own kitchen table-okay I am keeping this one since we sold our previous kitchen set to the couple that bought our home since they offered a ridiculously high price for it.  I quickly purchased this farm table on a local garage sale website.  It was $150 for the super heavy all wood table, a leaf and four chairs.  It just needs a little TLC on the top, as the rest is in great shape.   This pic does not show the gauge marks, scraped off poly and blotchy finish but trust me, its bad.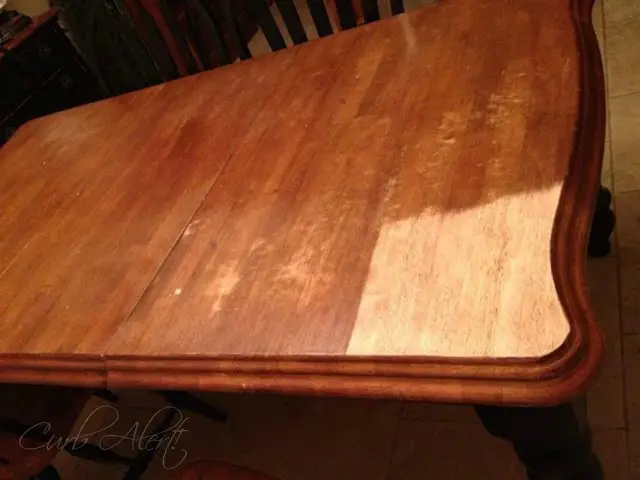 This week I was finally able to sand the top and already love the potential it has.  I cannot wait to stain it.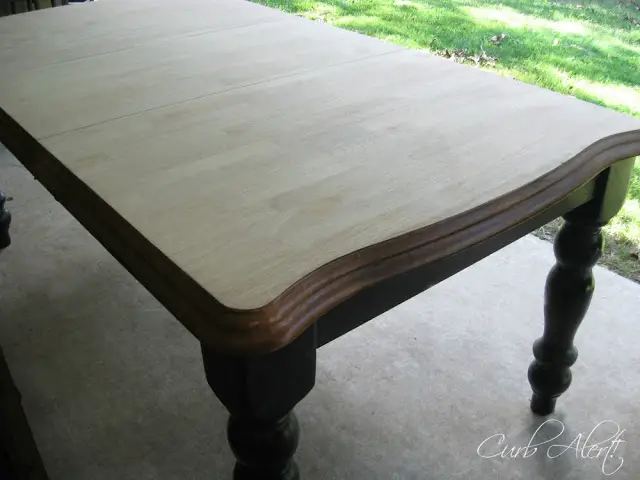 This next item I purchased for $14 at a resale shop.  I just thought with a little work it could be something cute.  MyLove disagrees.  Truly the man has no vision for home decor unless it has antlers sticking out of it!  I'm kidding – I love him so much for putting up with my hobby!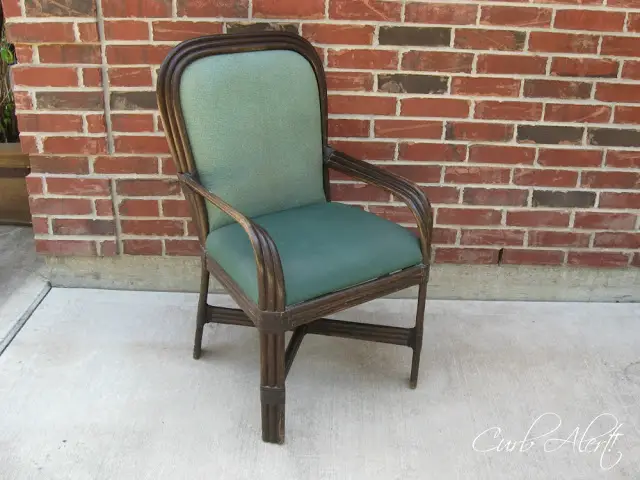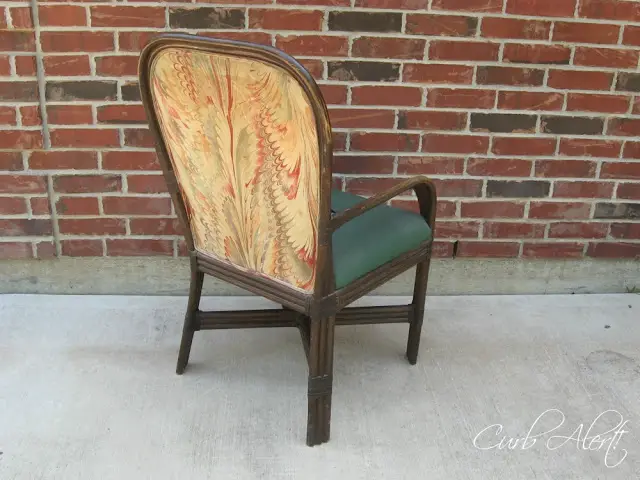 Hmmm.  Maybe something in blue?  Stay tuned!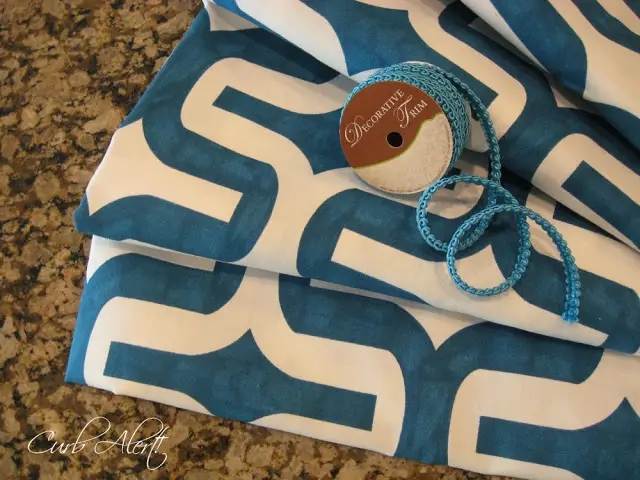 And finally this morning I could not pass on this heavy solid wood french provincial coffee table for $14.99.
These things painted and distressed go for hundreds around here so why not give it a try!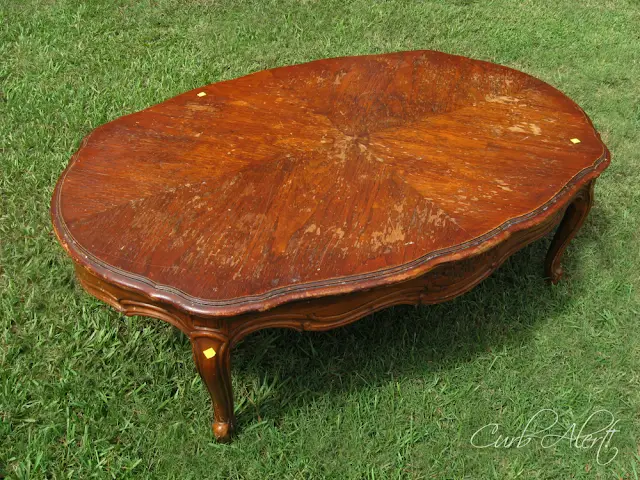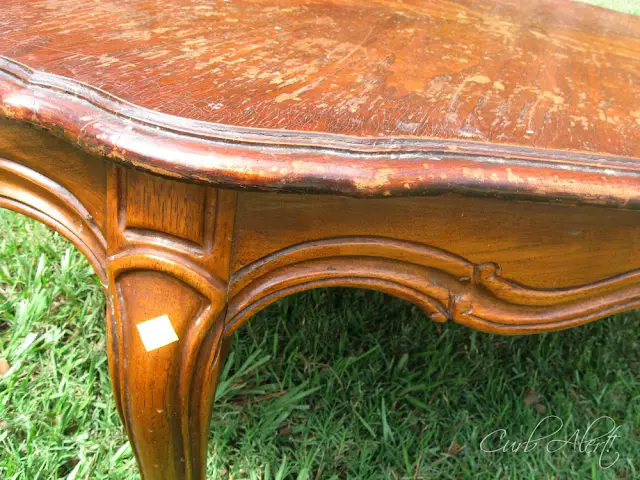 It's been through the ringer.  I was very anxious as to whether I would be able to stain the top or paint it so I started sanding it the moment I got home to test out the finish.   One hour later and I was already done!  The varnish slid off like butter!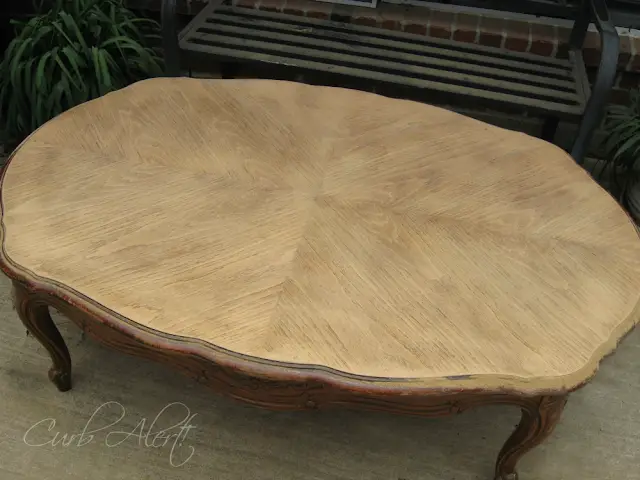 There's no way I can paint over that! 
So what do you think?  Will you hang out at Curb Alert! for awhile as I seek out to find some awesome furniture pieces and share them with you?  I'll even share a bit about our new home along the way! 
I hope you will stick around!  I could use the encouragement  🙂 

I would also love for you to follow me on social media!  Let's stick together!