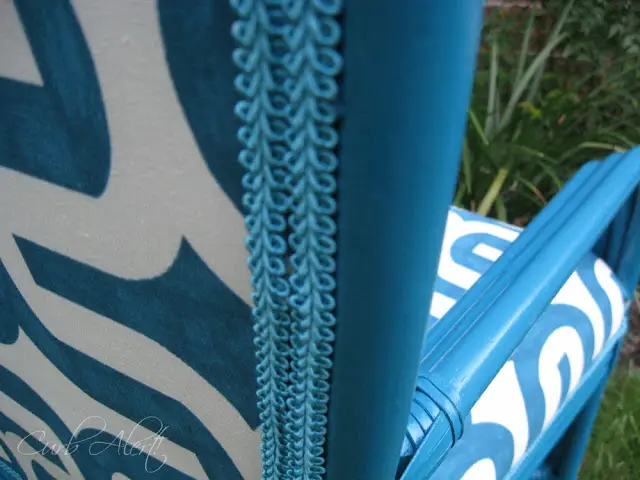 Remember the Wicker Brown and Green Chair that I mentioned in my last post, "Back in Business"?  Well I have had it on the back burner for awhile until my blog friend Rita @ Curbside Creations set her readers up for a challenge.  She challenged us to finish a project in less than a week so that we could all successfully work down our diy "to do" list.
This chair was the perfect candidate.  Cheap, ugly old wicker
with some hideous fabric on it. Remember how I said I was not picking up any curb finds out here, well this one might as well be on the curb but no, this girl actually PAID for it a whopping $14.  Yes, MyLove was SUPER THRILLED not when I brought it home, I cannot even emphasize it enough!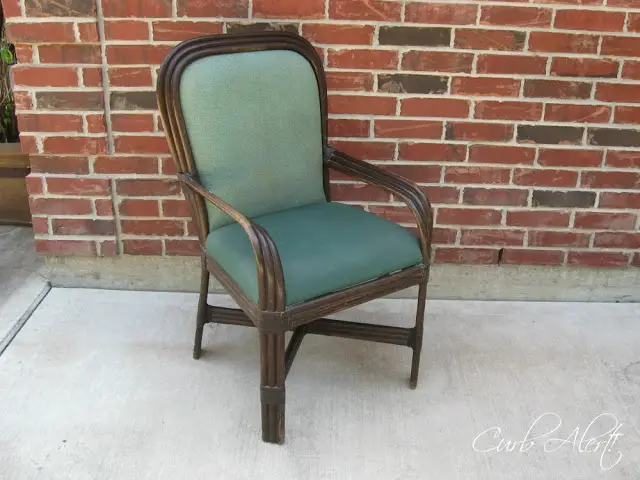 It's even more gorgeous, I mean hideous on the back, don't ya think?  Well I kept telling myself that to convince myself I did not make a mistake in buying it.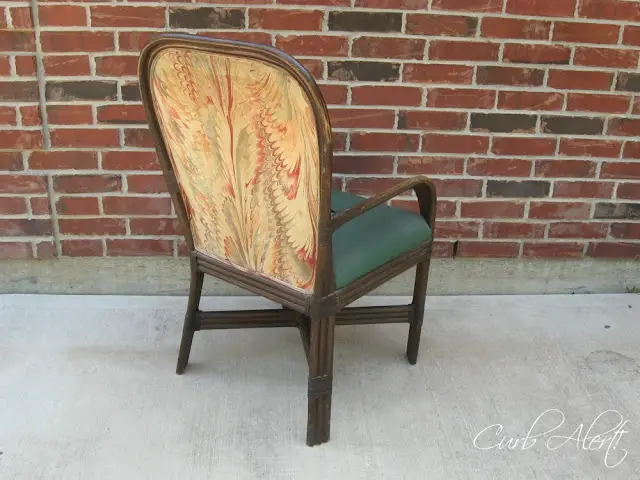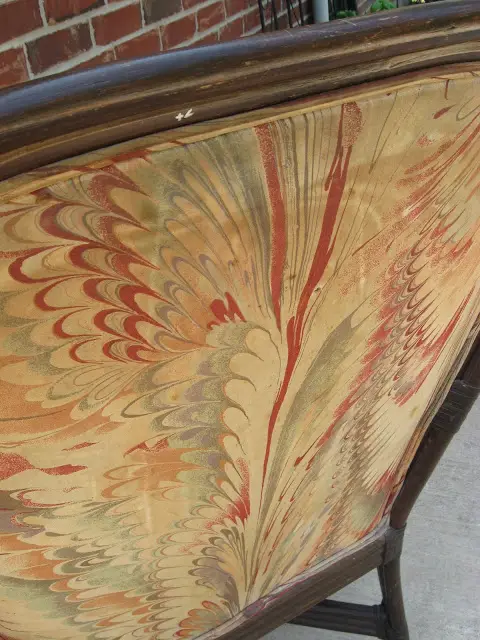 I had some left over spray paint from my Blue Wicker End Table from a few weeks ago so decided it was going to be blue.  I  then found some coordinating fabric on super sale at Hobby Lobby and was again headed in the blue direction!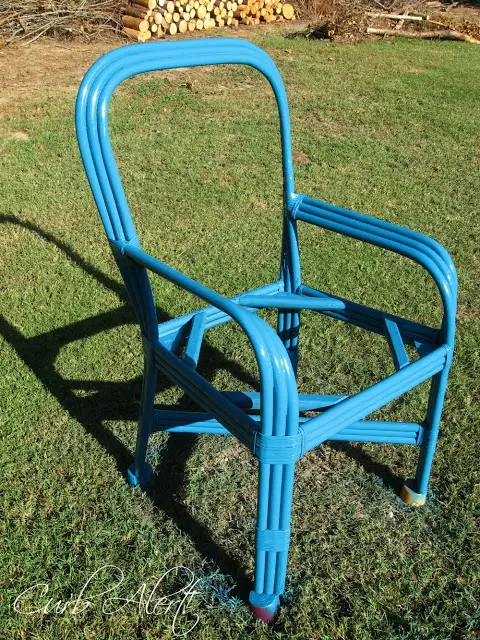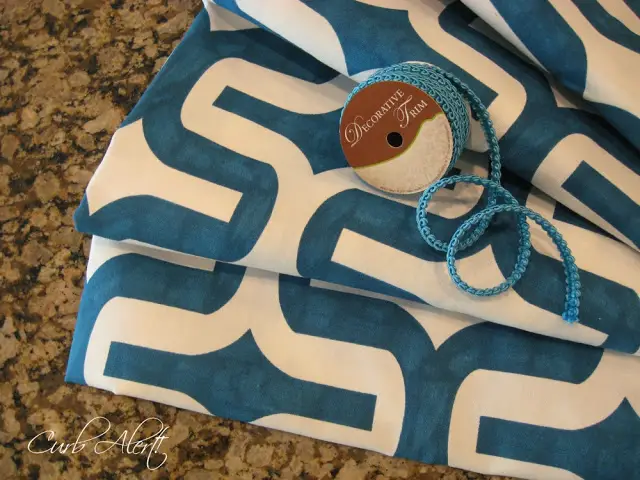 So this is what I did.
Day 1:  15 minutes
I first stripped out all of the upholstry and innards (is innards a word?) Anyway, I cleaned off the chair with Clorox Cleanup, water and a scrub brush and let it sit out in the sun for an afternoon.  I just wanted to start off with a super clean slate.
I sprayed three coats of Rust-oleum American Accents Ultra Cover in Satin Lagoon and let it dry in adequate time between coats.   That gave me time to do a billion loads of laundry in between!  Oh what a fun life I lead!
Day 2: 3 hours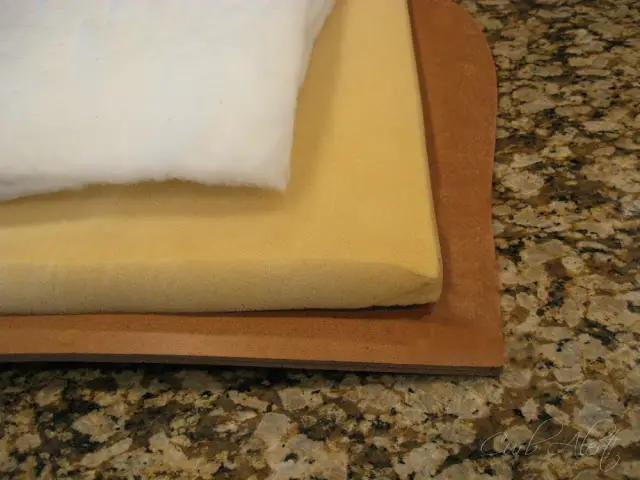 I used the original seat back and seat bottoms from the chair but used brand new foam and batting.  I traced around the board and cut all of the foam and batting to size and then stacked in the cushions by using spray glue in between layers until I had it the desired cushyness.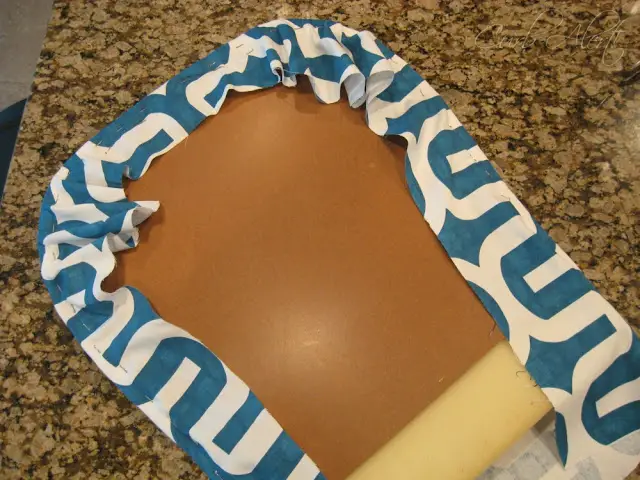 I then cut the fabric a few inches larger than my board form and stapled the fabric about 1/2″ from the edges of the back board and seat board.  I then fitted it into the chair to ensure a perfect fit.  Thank goodness it fit the first time, I would hate to start over.  Did I mention how I no longer like to do upholstery?  It's not too hard but for me just seems a lot more stressful than painting! – just sayin'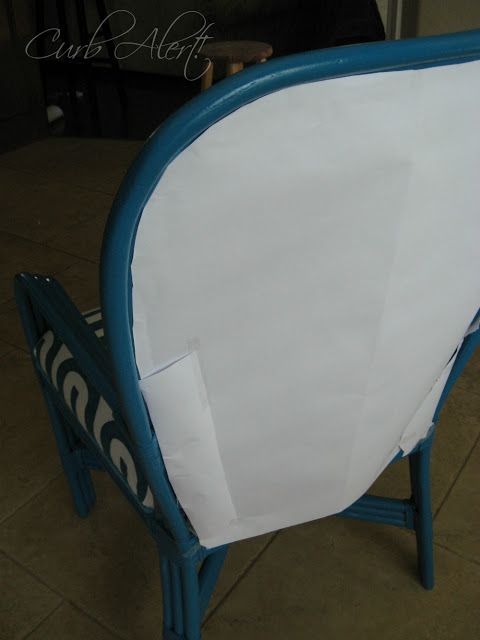 I made a template of the backside out of paper and then used it and a jigsaw to cut a piece of wood that we had on hand to make the backside of the chair.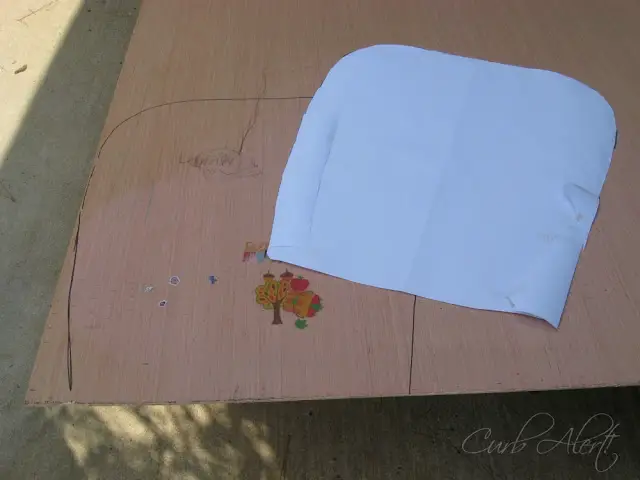 I nailed the board to the backside of the chair and then spray glued on layer of batting to the wood.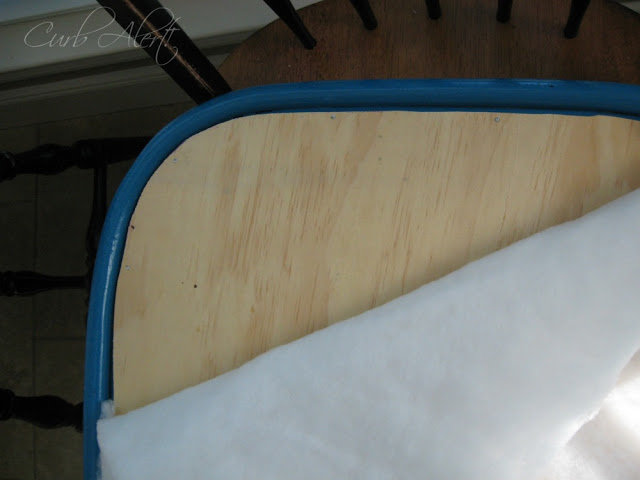 I then covered the back with my fabric with a few nail tacks and a glue gun.  Of course I barely had enough material to finish so I was cursing up a storm while burning my fingertips with got glue the whole time!  Luckily I was home alone so my kiddos don't think I am a "potty mouth"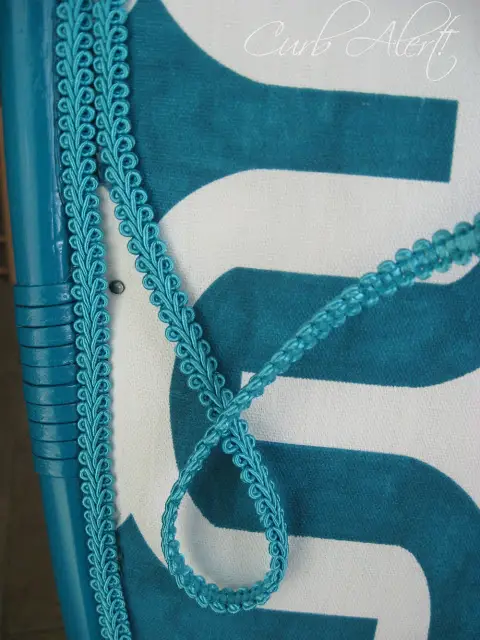 I covered the edges with some coordinating trim.  I think it definitely gives it a more polished professional look, when in reality it's covering up a few little errs and mismeasurements!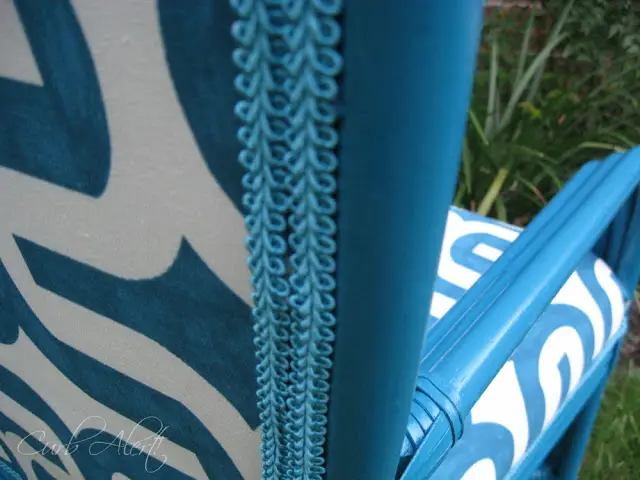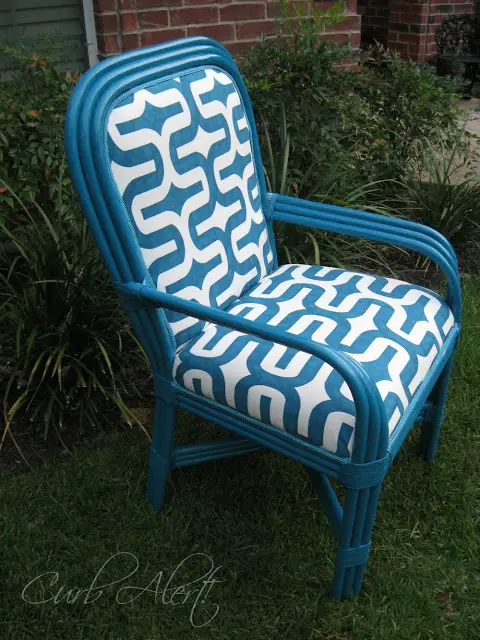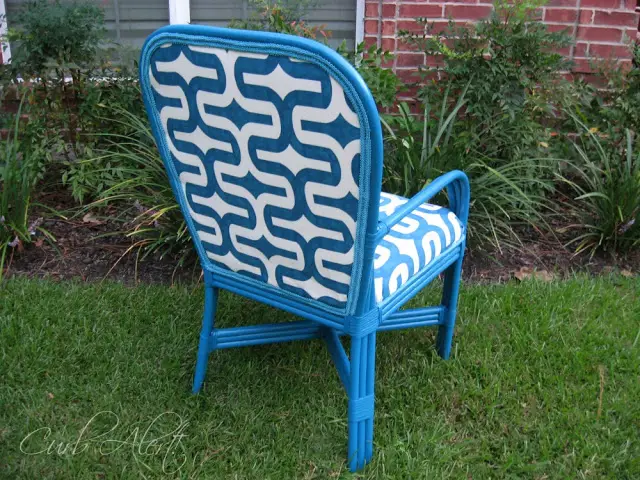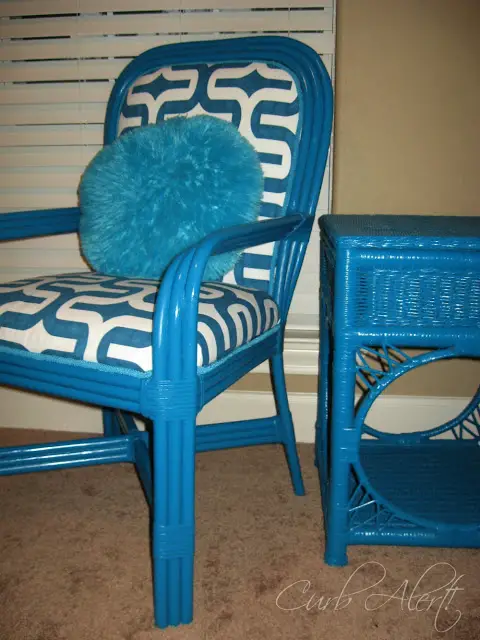 So do you like it?  Do you know someone who would like to buy it because I am putting it in my Renewal Shop along with the little Wicker End Table.  Wish me luck!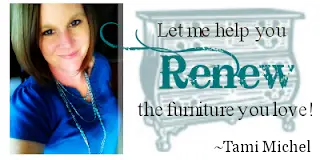 And thanks Rita @ Curbside Creations for giving me the little kick in the butt to finish a project this week.  Otherwise who knows how long I would have put it off!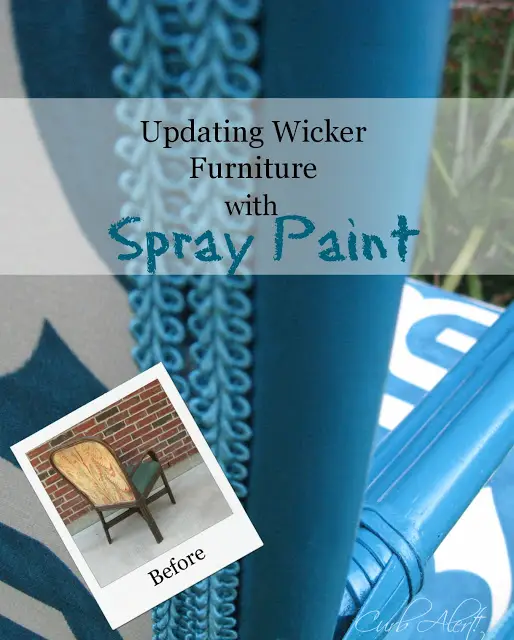 Do you follow Curb Alert! on social media?  Well here's your chance, just click below!

Sharing this over at: