It has been such a fantastic year.  I never in my wildest dreams would have thought that sharing my little curb shopping secret with you precious readers and the world would fulfill me beyond what I ever dreamed.  Even better, I never expected to call my blog readers "friends" but definitely feel that way now, thanks to all of you. 

So here, friends, are the 
The project that I admit I spent the least amount of time on has earned the most amount of blog traffic: 

The second most popular post was: 
Updating our old Kitchen Drawers
.  I was determined to get out the power tools and pretty excited that I figured it all out myself with no cursing, cut body parts or mishaps.  I was also proud that it caught the attention as one of the top contenders and was considered for a feature in
Cottages and Bungalow magazine
.  I was not chosen but pretty honored and was a great stepping stone for my tutorials and photography skills.  You can go check out the tutorial too, give it a try!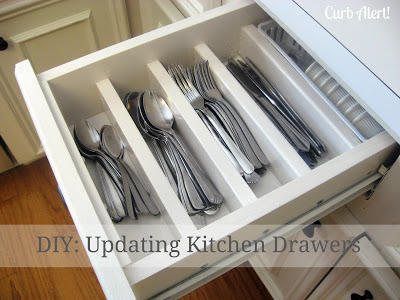 My DIY:  
Knockoff TOMS Glitter Shoes
 were unexpectedly quite popular.  It was a simple solution to bling up some dollar store shoes for my toddler and she still loves them!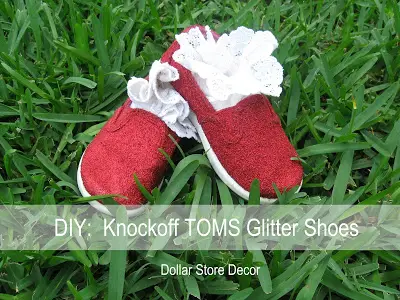 Along the way this year I really found a passion for refinishing furniture and spent some time updating quite a few pieces.  A readers favorite is by far my
I worked very hard on it and love the results.
If you missed it you HAVE to see how ugly it was before!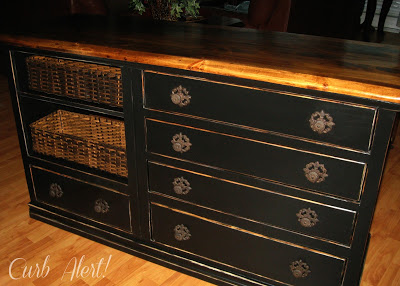 Another fun project was the
Tomato Cage Topiaries
 that I made out of garden tomato cages (found on someone's curb) and greenery from Dollar Tree!  This project has really given a big bang for the buck and came in around only $30! 
I love how versatile they have become all year and especially looked festive all lit up for the holidays.
Oh my!  I am having so much fun looking back through all of these old posts and almost forgot about these 
Red Shutters in the Entry Way
!  I got them for free from a sweet neighbor – can't beat that!  Can you tell I love the color Red?  It just makes me smile!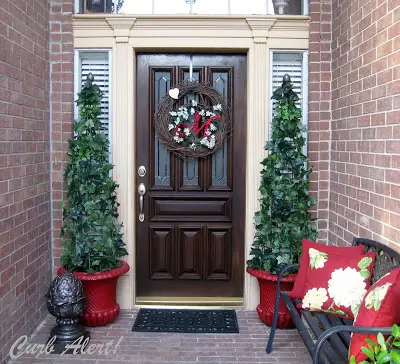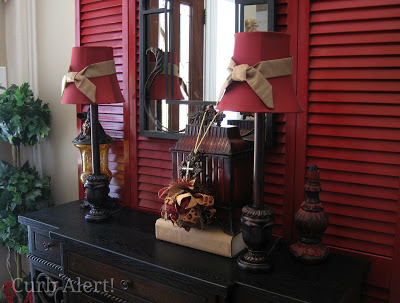 That same sweet neighbor commissioned me to make over an ugly pepto-bismol pink and yellow dresser into a Nate Berkus inspired cabinet that she saw on his show.  My three year old thought we were calling it the "
Naked Bird Dresser
", hence the name!  teeheehee!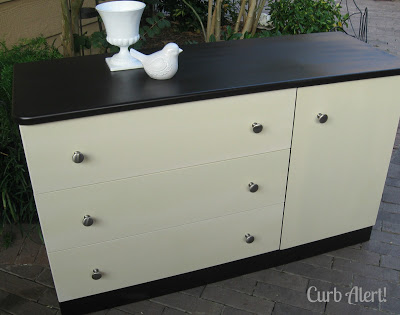 A final furniture piece that I actually started awhile back but blogged about it when I was just a wee blog newbie was my grandmothers sewing dresser that I inhereted.  It was originally painted yellow (what's with the old yellow furniture?)  and I now lovingly have named it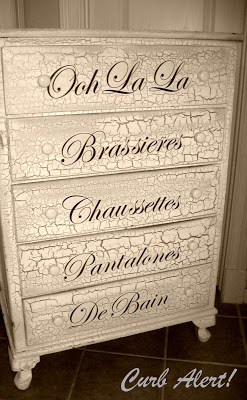 Those were your favorites based on blog pageviews and comments and now I will share with you my favorite.
The Dark Walnut Gentleman's Dresser
.
I love that it was a beauty in disguise.  When I began the project I had NO IDEA of how beautiful it would turn out.
L O V E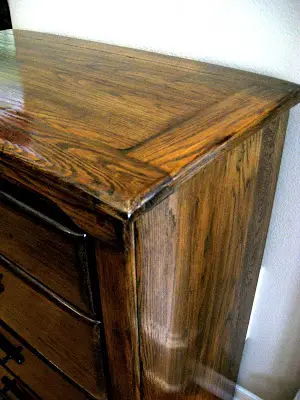 Oh wow!  There are so many more projects that I have shared and it has been fun working on Every.Single.One.Of.Them.  And better yet…most of them are from items that I have found on the curb or next to nothing.  Free-Ninety-Free as my sweet friend would say!
So that's it!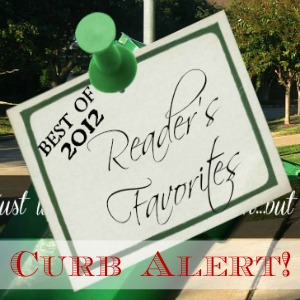 Thank you, Thank you so much for following along my adventures this year.
I hope to find a lot more and share them with you.  
Here's to a great 2013! 
Happy Treasure Hunting! 
~ Tami @ Curb Alert!
Stay Connected with Curb Alert!