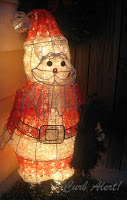 Yes you read that correctly, I found him on the side of the road!  I mentioned in my last post that the Curb Alerts! have been slim lately and they sure have. Well  now that it's Christmas time, I am able to finally bring out some past curb finds that have been stored away in the garage.
Let me introduce to you Mr. Clause in his sad state.  He is 4 feet tall and comes in three parts.  His previous homeowners kicked him to the curb all broken and worn! How could they let this little guy go?  I couldn't just leave him there, I had to rescue him!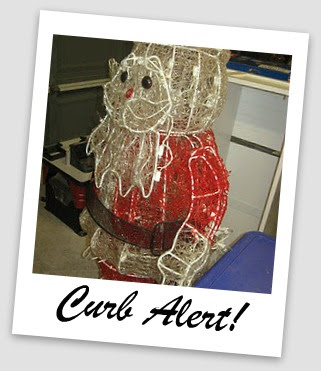 Well my goodness, how could I pass him up!  Poor guy! 
He has been sitting in the garage for months now, tripped on, kicked over, stumbled into, shoved in the corner waiting patiently for a makeover.
I finally rescued him last night!  I plugged the lights in hoping they would work (of course they didn't) so cut every darn stinkin hard to pull out every last light out until he was just a hollow shell. 
I then layed his 3 parted body pieces on the counter and stuffed three strands of white lights in him.  I already had the lights on hand so totally loving the budget of this project so far!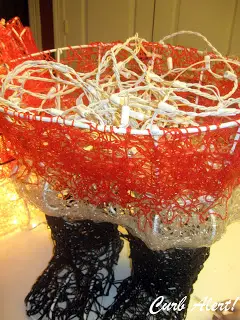 I used zip-ties to connect the lights to the inner shell so that they would not slide down into his toes!
And here he is!  Standing guard at our back fence!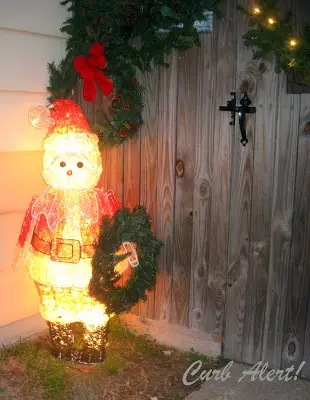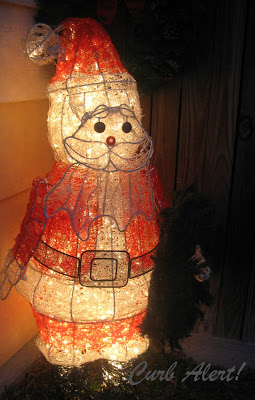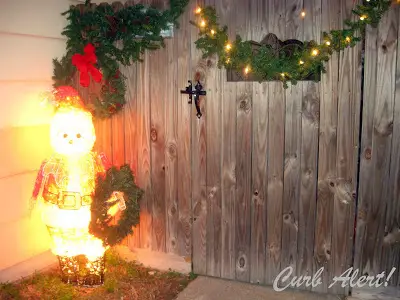 Even LadyBug (my poor child that slouched down in the front seat of the car while I scooped him up) it was nighttime for goodness sakes!   anyway, LadyBug commented "Mom, I cannot believe how great he looks, you did a good job"! 
Seeing this Santa makes me smile!  Especially when I back up a little and see him near the FREE 5′ Christmas wreath that I also scored a few months ago.  I'll share more about it tomorrow!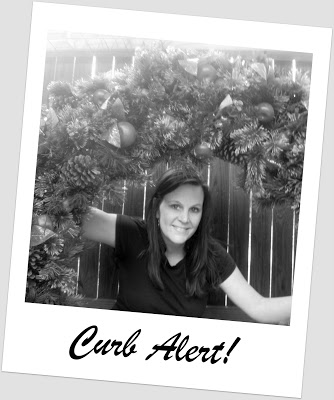 Pls ignore this crappy bad hair day makeupless pic of me!
Until then, Happy Treasure Hunting!
~Tami