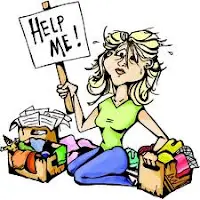 I admit that I do a lot of curbshopping, hence the name Curb Alert!, there's no denying that..but I am not sure if you realize that behind the scenes of the brave curbdigger dustiness- I am a bit of a clean freak!
So as you can image the hustle and bustle of all of the Christmas messiness gets me a little frazzled. All of the Christmas wrappings, decorations, it just adds to all of the mess that we already have in everyday life with four kids.
I love the excitement and laughter as the kiddos tear open gifts and play for days with no worries of homework, real schedules or school activities but there comes a point when I have to admit
It. Drives. Me. Crazy!!!
It makes me go into hyper-sensory overload and my neurotic mind gets a little psycho.
We had a fabulous Christmas, don't get me wrong but who ends up dealing with all of this mess? Yep, you're looking at her…ME! So I have taken the week off from doing my favorite thing of working on my curbside/crafty finds and prioritizing my time in getting my house back in order.
I work really hard to re-organize it all but it seems to just be piled everywhere and the clean up effort goes on for days and days!
Seriously! All of this for homemade pizza and pizza rolls!
**I am just teasing, MyLove! He loves to cook, me-not so much! *
I had to forgive him though since he made a special heart-kinda shaped one for me:
And bought me some flowers.
I'm quietly thinking: "just eat and smile and forget the mess, forget the mess, forget the mess!"
I must forget the mess……..for now! Well for now turned into days but Hello 2012, back to reality!
Not too bad. Then I moved on to the spice cabinet. I would show you a before picture but it was pretty bad. Just imagine every time you open the door all of the piled up spices falling on you. That's about how it looked.
And here it is now:
Have I ever mentioned how I like to label things? I just printed these off of the computer and taped them to the front.
Pretty good for my F.R.E.E. budget!
Ahhhhh, so much better – Breathe…and Exhale! I can totally find everything now. And finally moving on to the rest of the kitchen. My neurotic brain is starting to feel a bit of calm. Especially since it is MY space, I spend a lot of time in here so it makes me feel peaceful to have it clean and neat once again!
So what do you think? Have you started on any organizing projects this year?
Tomorrow I will share with you another project where my OCD kicked into high gear!
Until then…Happy Treasure Hunting!
~Tami
Sharing over at: