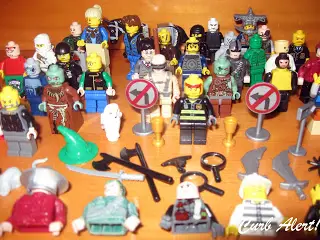 I have a love-hate relationship with Legos. The kids love them and are entertained for hours playing with them but the mess…oh the mess and I hate finding them EVERYWHERE. We need a system!
Legos have always been in our family since we had our first child almost 17 years ago. We have accumulated quite the collection and now more than ever because Bubba LOVES lego kits and anything involved with Legos…Lego Wii games, Lego DS games, Lego Magazine, Lego Websites, Lego Camps, Lego Exhibits, Lego Candy and the Lego Store!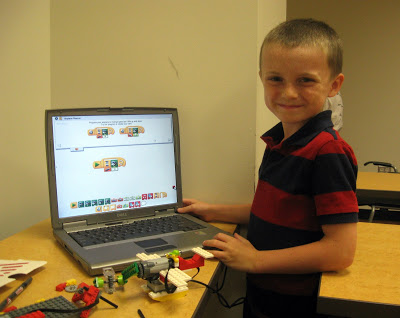 Lego Robotics Camp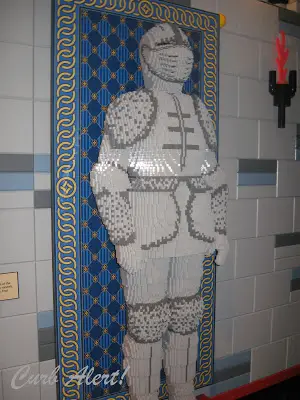 NASA Lego Exhibit
This is not a pic of his room but just to give you an idea.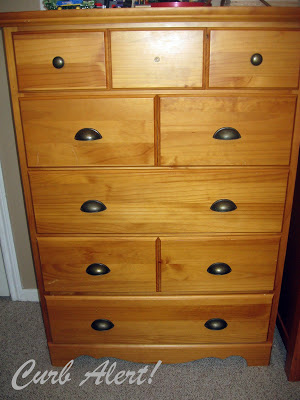 His room is usually covered in Legos and multiple Lego projects going on at one time. After a recent tooth fairy incident that caused some injury after the tooth fairy stepped on one of those darn things in the dark, I decided once and for all that we must instill some type of organizing system!
Check it out!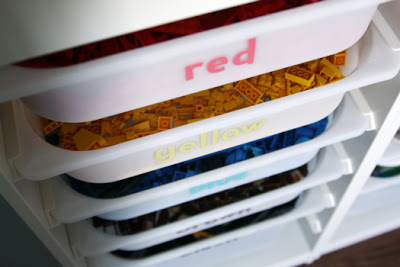 Take a look and what she came up with for her kiddos lego storage: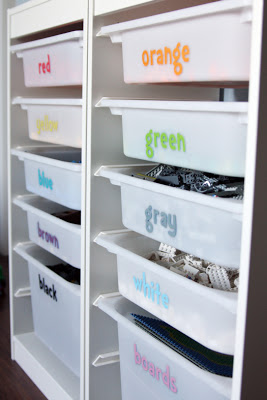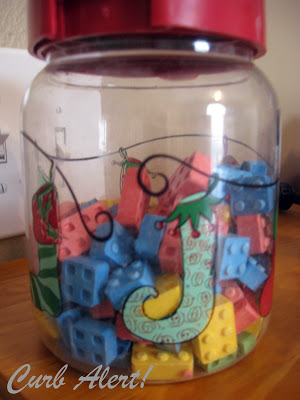 Lego Candy he got for Christmas
I purchased an additional dresser last year for $30 from a neighbor (our 10th dresser-there is a need for storage w/6 of us!). It was originally a baby-changing table but it matches Bubba's existing furniture so I did not hesitate to purchase it at that price. I moved his clothes to his closet and dumped out all of his lego bins.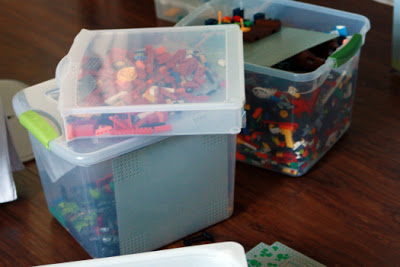 This is Jen's kids lego bins as I dove right in to this project without taking a before picture.
The drawers already had the glass inserts so it worked out perfectly!
I sorted them by color and these are all of the Legos that didn't make the cut for the final masterpieces.
Black and Gray from the Star Wars Collection:
Tan/White and Browns from the Harry Potter Collection:
And primary colors from the Lego City Collection:
There's even space for his Instruction Books and Lego Magazines:
Not too bad for a $30 dresser!
The Lego Table that MyLove built for him compliments it perfectly. Bubba has already spent hours and hours building on this table. The top of it is a Lego sheet!
My friend pinned this website on her Pinterest the other day, I think it's worth taking a look into just to revive those old Lego parts and give them new life!
And Finally what to do with all of the Lego Men that I found.
This is my idea (well someone else's idea on Pinterest) Should be easy enough, now if I could convince someone to give up their golf ball or shot glass collection display! Maybe I will score one on the side of the road, I'll keep my eyes out!
And there you have it. My brain is clutter free for the moment. I am wondering how long it will last? I give it about a week! Doesn't matter, for now Bubba is happy and can find whatever Lego's he need and I can feel a little calmer the next time I walk into his room!
As if you didn't get enough of our Lego-mania, I leave you with pics of a few of his creations:
Thanks for sorting out the Lego Dilemma with me 🙂
Happy Treasure Hunting!