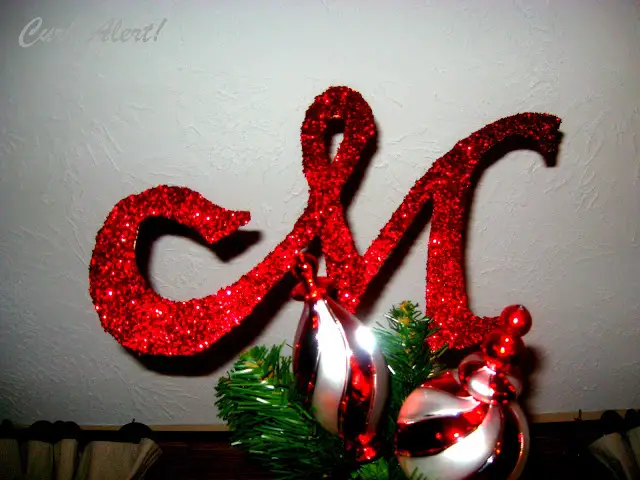 While my tree is nothing to brag about, I wanted to hurry and show you my new Glittery Monogram Tree Topper.  I am in glittery love right now!  Here, let me show you how I made it!
But first, the weather has not been very pretty lately so the curb finds have been slim. I have high hopes though and have found a few things that I have not shared with you yet. Until then, you will just have to bare with me sharing my craftier side!
I have to let you know where I got the idea from.   A few days ago on 
Scribbles and Swirls
I featured a really neat Sparkly Monogram Tree Topper that I found over at
Brooklyn Limestone
.  The "S" monogram is spectacular and so pretty in blue.
Well today my blog friend, Katie from
Sweet Girl Expressions
, and I were emailing back and forth how much we loved this idea and how easily we could do it!  Although I am in love with how the script letter "S" looks it has no use for our family.  That's okay though because I am also completely in love with the script letter "M"!  I used the Vivaldi word document font size 440 and printed it out.  I copied and free handed it on a large shoe box top to enlarge it a bit more, and then cut it out.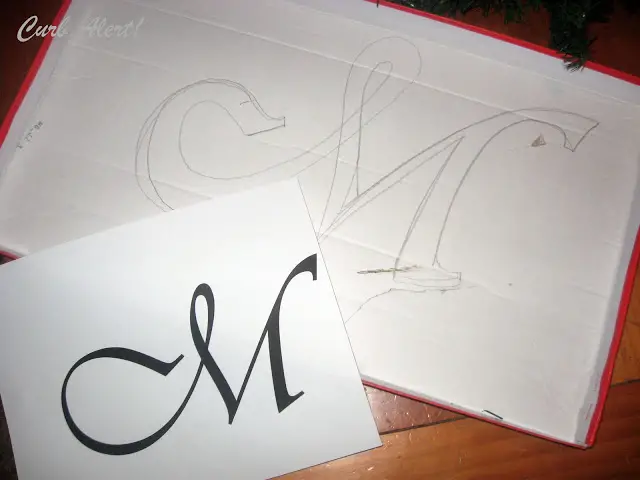 The next step was the fun part:  Glue and Glitter!
My LadyBug was using glitter to finish up her science project presentation so my kitchen is now a glittery mess!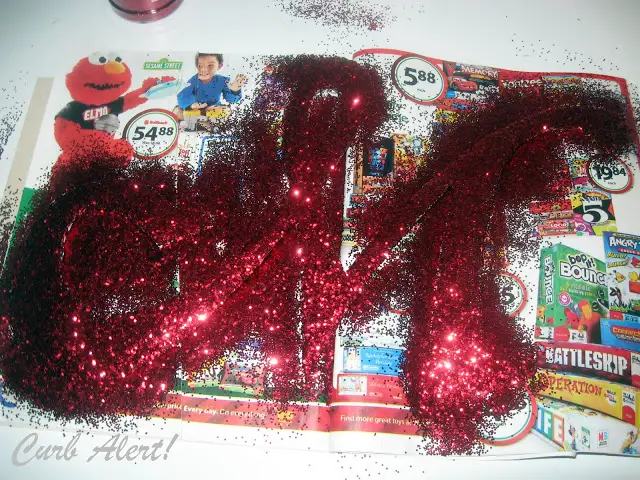 It seemed kind of flimsy so I decided to hot glue some popsicle sticks to the back for support.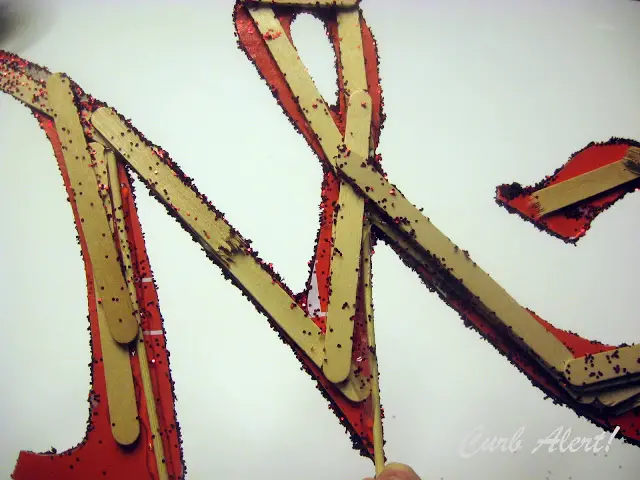 Next I glued some cooking skewers to the bottom so that I could perch it up into the treetop!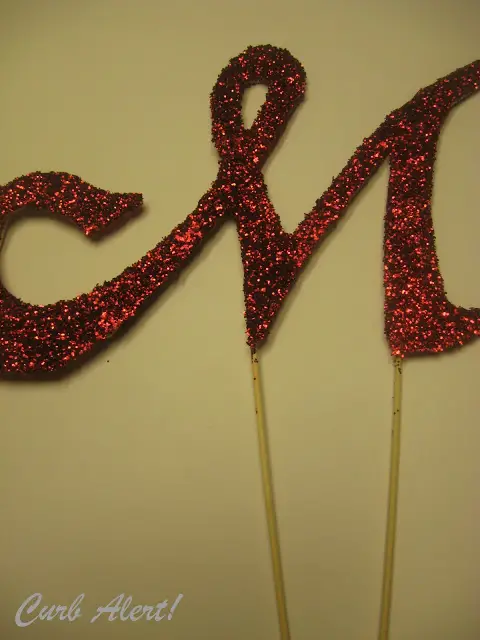 Finished!
It's not quite as classy as the three dimensional "S" over at the Limestone but I didn't have the time or patience to do that.  So by the time I left for Bubba's karate practice and back it was all dry and ready to go!
Note:  If I did have the time and the patience I think I would choose to do this project on Foam Board and use an Exacto knife to cut the letter out – it would look a bit more "finished" and sturdy! – but like I said "no time or patience here!"
I love it!  I think it is quite impressive.  I love love love monograms and have words, monograms and scripts all over my house so why not a glittery one on the tree, right?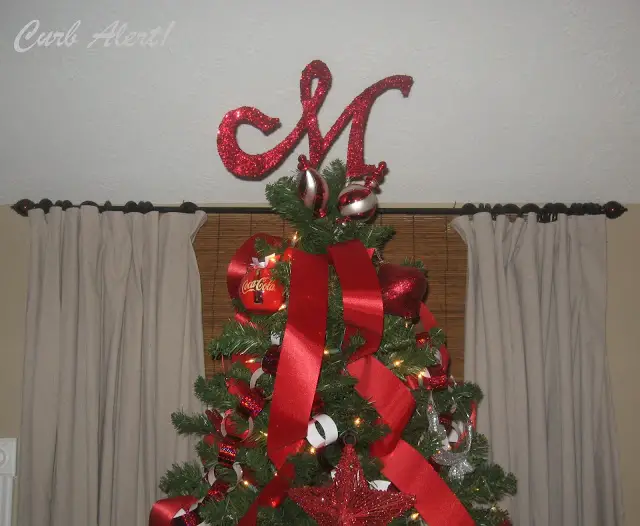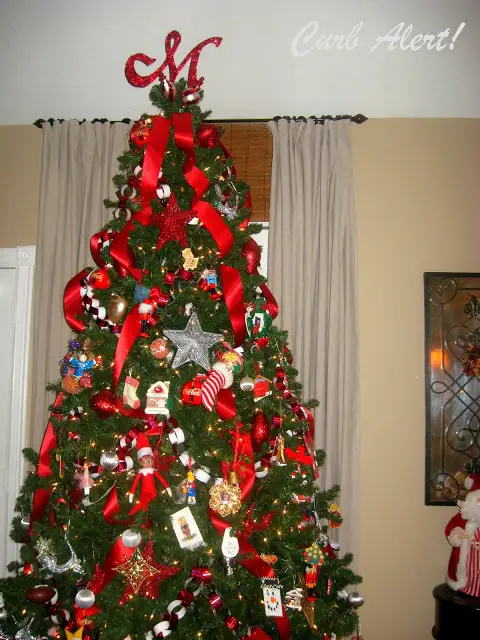 And here is one more picture up close on top of our 9′ tree!  I finally finished decorating it, well the kids did!
I think this is my favorite Christmas project by far!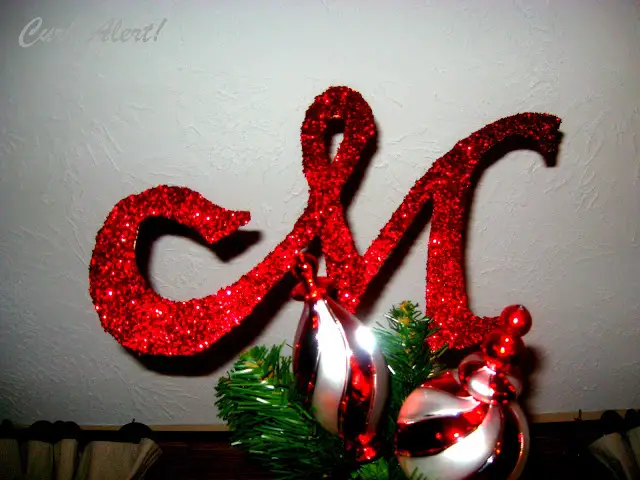 Thank you all so much for your encouragement.  I really enjoy reading through your sweet comments.
Happy Holidays!
~Tami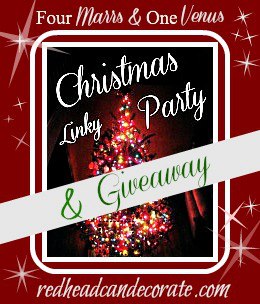 Sharing with:
Suzy's Artsy Craftsy Sitcom
Thrifty Decor Chick