I keep trying to convince MyLove that shopping at Goodwill for Home Decor items is worth my time.  I always find unique items for bargain basement prices.   Here is a recent find that a woman found at her Goodwill for a mere $12.34.
How much was it worth? 
$9,000! 
There have been other art and paintings found at numerous Goodwill stores values topping at $165,000!
Not bad for a quick investment.
The full story is found found
HERE
: 
MILWAUKEE (AP) — "Red Nose" just meant a reindeer named Rudolph to Karen Mallet until she bought a print by that name for $12.34 at a Goodwill store in Milwaukee. It turned out to be a lithograph by American artist Alexander Calder worth $9,000.
Mallet's good fortune is at least the fourth time in six months that valuable art has turned up at Goodwill, where bargain-hunters search for hidden treasure among the coffee cups, jewelry, lamps and other household cast-offs.
Last month, a Salvador Dali sketch found at a Goodwill shop in Tacoma, Wash., sold for $21,000. Last summer, a North Carolina woman pocketed more than $27,000 for a painting she bought for $9.99 at Goodwill. And last spring, a dusty jug donated in Buffalo, N.Y., was discovered to be a thousands-of-years-old American Indian artifact — it was returned to its tribe instead of being offered for sale.
When told of the Milwaukee woman's find, a Goodwill spokeswoman said workers at its 2,700 stores try to spot valuables and auction them on the organization's online auction site to net more money for the charitable group. But things slip through the cracks and the workers aren't art experts.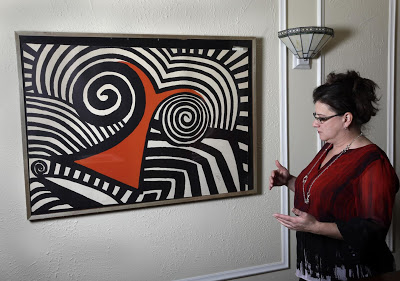 "That's kind of part of shopping at Goodwill — the thrill of the hunt," said Cheryl Lightholder, communications manager for Goodwill in southeastern Wisconsin. "You never know what you're going to find."
Mallet, a media relations specialist for Georgetown University and others, didn't even like "Red Nose" when she first spotted it during one of her frequent Goodwill shopping trips in May.
"The big find that day was this great set of steel knives, in a block, for $18.99" by Wolfgang Puck, she said.
But the graphic black-and-white picture was striking. In low-browed terms, it might be described as an abstract image of an ape with a hangover, with spiral swirls for eyes like the ones in cartoons when someone gets punched. A large red nose is the only color.
Then she saw the Calder signature.
"I thought, I don't know if it's real or not but it's $12.99. I've wasted more on worse things," she said. A discount for using her Goodwill loyalty card brought the price down to $12.34.
Once home, she searched the Internet and found similar lithographs by Calder, who died in 1976 and is widely known for his mobiles and abstract sculptures at airports, office towers and other public places. Mallet's piece was No. 55 of 75 lithographs and was made in 1969.
Jacob Fine Art Inc., in suburban Chicago, recently set its replacement value at $9,000.
"This happens very frequently — you can't imagine," the company's owner, Jane Jacob, said of treasures found at thrift stores. "They don't know what they have. They're just not set up to understand art history."
Lauren Lawson-Zilai, a spokeswoman for Goodwill Industries International Inc. in Rockville, Md., gave these examples of art that Goodwill staff spotted and sold through the auction site:
— In 2009, a painting by Utah artist Maynard Dixon donated in Santa Rosa, Calif., sold for $70,001.
— In 2008, a Baltimore-area Goodwill store netted $40,600 from a Parisian street scene painted by Impressionist Edouard-Leon Cortes.
— In 2006, a Frank Weston Benson oil painting donated anonymously in Portland, Ore., brought in $165,002 — Goodwill's top haul so far.
Mallet has no immediate plans to sell her "Red Nose."
"It grew on me," she said. "Now I love it."
____
Online:
Goodwill auction site: http://www.shopgoodwill.com
____
Marilynn Marchione can be followed at http://twitter.com/MMarchioneAP
_______________________________________________________________________________ 
Wow!   Do you think she will keep it?  Have you found anything of value at your local Goodwill Store or resale shop?
Nope, me neither! but for some reason I keep going back! 
In case you are interested, here are some more Curbside Current Events.
 Hope you enjoy the silly reading material!
Man Found $500,000 in Storage Unit
Man Inadvertantly donates his Suit with his $13,000 Cash Savings
Okay, sidenote here but don't you notice how all of these stories are of MEN throwing away good stuff by mistake?  Just sayin' guys, BE CAREFUL!
I'd better keep my mouth shut since I accidently left my purse in a Burger King and didn't realize it until I was an hour down the road!  No kidding – and someone turned it in with all contents saved-ID, money, credit cards. 
(Burger King Employee Julia is MY HERO!!)
Happy Treasure Hunting! 
~Tami 
P.S.  Finding stuff on the curb is FREE!
Stay Connected with Curb Alert!