I have been dreaming about this project for quite some time now since last Christmas.
Now, finally I have my very own
Faux Mounted Deer Head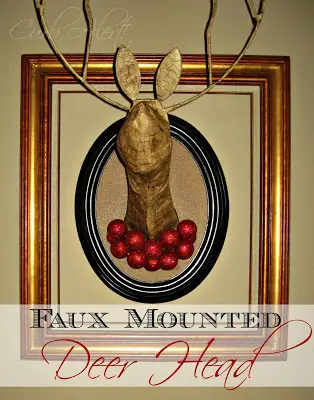 I have searched high and low in every Michael's stores, resale shops and Hobby Lobby's for some faux deer but they were either sold out or they wanted an outrageous price for them if I was just going to, excuse me for saying, but massacre the poor guy. 
Here are two images that I have been eyeballing:
Jennifer's "Reindeer turned Mounted Deer Head" 
and this "DIY Deer Head Sculpture"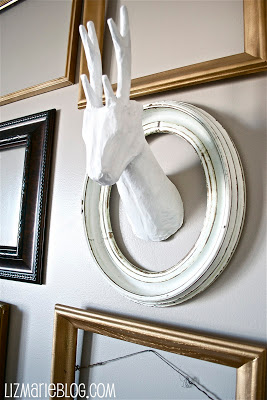 This week when I walked into the resale shop I had a little "hallelujah moment" when I saw this mess…
a broken Outdoor Metal Reindeer Light frame for $20.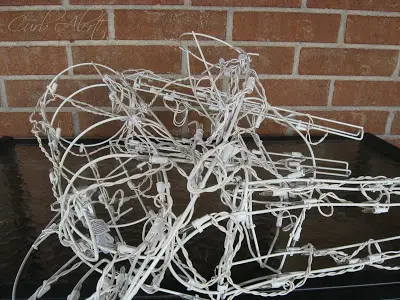 It was in a shambled broken mess so I asked the sales lady if she would consider marking it down and she agreed.  She wrote $8 on the ticket and with the daily discount I ended up purchased it for around $5. 
Perfect!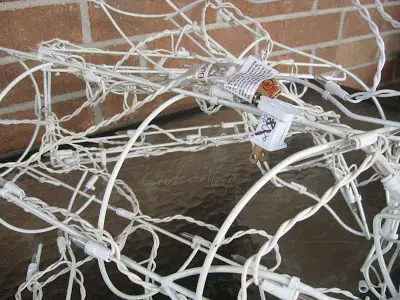 In his former life he looked like this: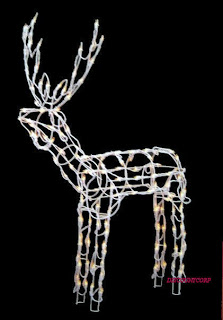 Not anymore, sorry buddy!
I stripped off all of the lights and cut off the head to find the shell of my future faux deer head. 
My vision was starting to come to life.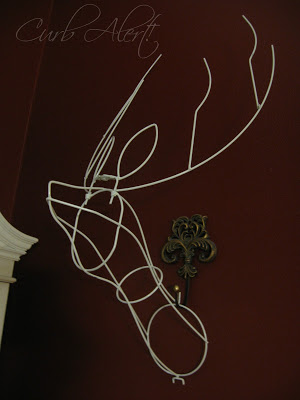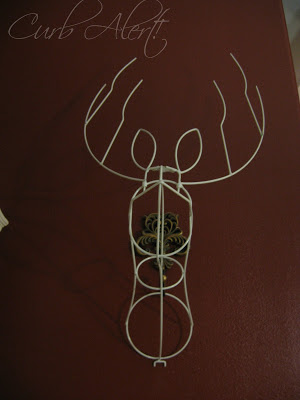 I took many pictures of the process but it's getting late and I am super tired tonite but was so anxious to show him to you so I am! 
I'll just tell you that it took only about two hours to complete and lots of masking tape and shoe polish to turn him into my new faux beauty. 
I will try to post a full tutorial for you tomorrow.  I know you cannot wait to see my excellent crafting skills.  
Actually it's been awhile since this fall I have focused on primarily furniture, it felt good to work some of the creativity juices. 
And here he is in my living room dressed up for the holidays: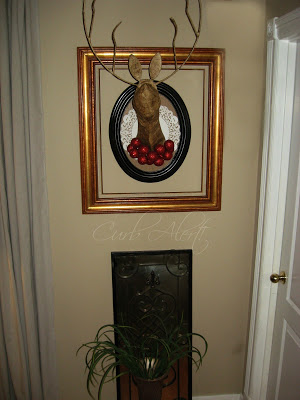 Closeup.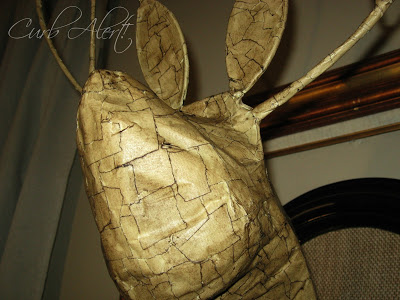 Maybe that's too close!
He looks more like "The Grinch" from this angle.
Moving on….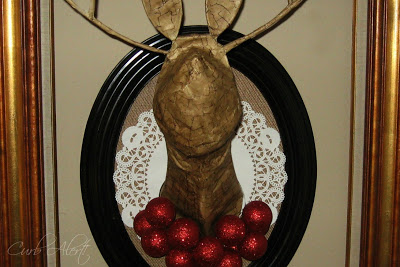 It's ironic because MyLove has lots of beautiful mounted ducks and other animals but I will not allow him to display them in our living room but for some reason I LOVE this one!  And I definitely love the price tag considering that last year I was actually CONSIDERING purchasing one of these guys for way more than the $5 deer I found: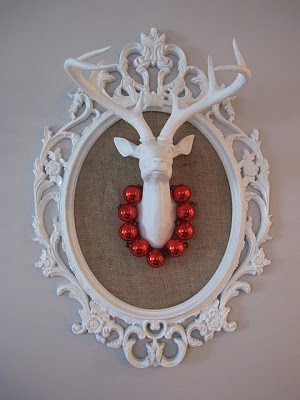 I actually have two of these pretty frames and like them better but would have to swipe them from my girls' rooms so for now used what I have available on hand. 
Not too bad even though mine looks a bit more like a swollen moosehead that just got his wisdom teeth removed!   
Let's just pretend it's a fabulous deer head, shall we? 
I LOVE it!  
And MyLove thinks it's cool that I did a bit of a manly crafty project that does not involve glitter!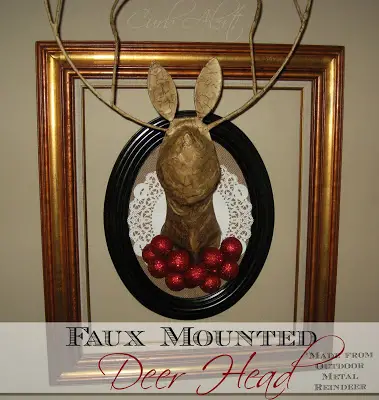 Would you hang him up at your house? 
Happy Treasure Hunting! 
~Tami
P.S.  Speaking of glitter, if you are a blogger and happen to have a project that involves glitter I would love for you to link up to our 
Stay Connected with Curb Alert!              

Sharing this silly project over at…