As I was pulling out our fall decor today I was reminded of this post from last September.   It was such a joy to be a part of such a sweet community of church friends and I was honored to spend the time to decorate for them.  I truly miss it, and them…*sigh*
Fall Decor ~ Church Pastoral Reception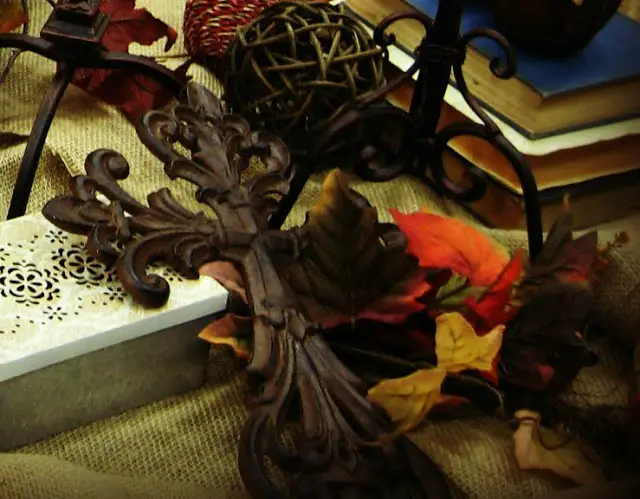 Our church is currently going through the call process of trying to fulfill our Senior Pastor position.   They have narrowed it down to
three and have planned upcoming congregational 
Pastoral Receptions welcoming the new prospects.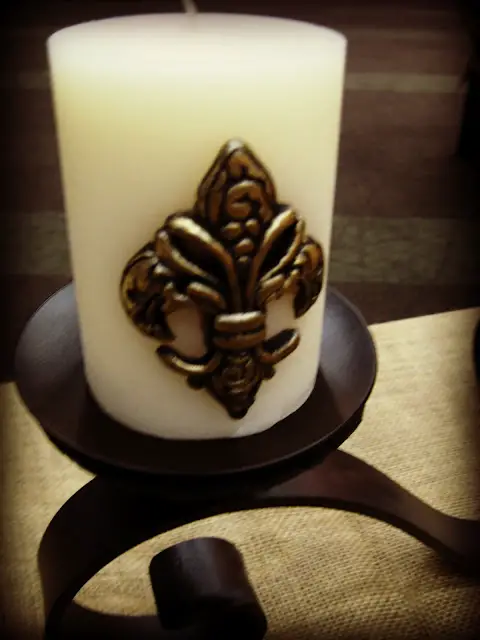 I was so excited when they asked me to decorate for the Pastoral Receptions.
and I was nervous…no trash to treasure stuff here guys…it has to be nice!
I love the way it all turned out!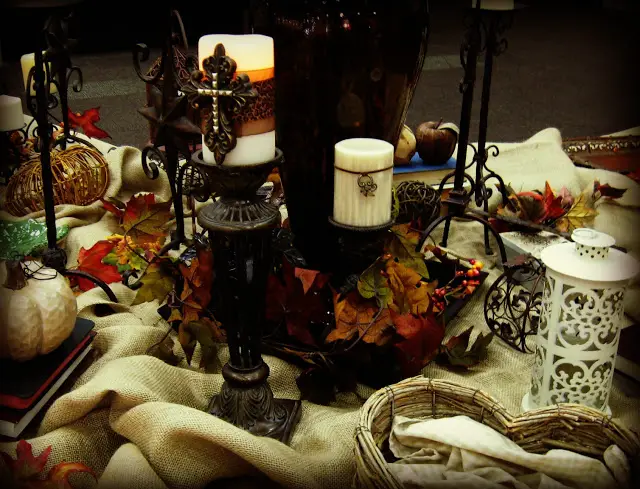 The first of three receptions was last Saturday evening.   I met my new decorating partner, Susie, and the moment we started the planning process our ideas just meshed.  I felt like we had been decorating together for way longer than a week.  I was amazed at how our ideas and styles coincided and how easy it all came together!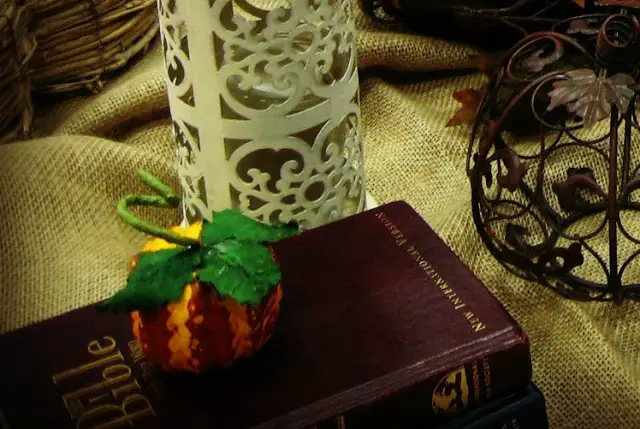 The only suggestion that the coordinator had was to make it look a little "Texan" but not "Rodeo Go Texan" since the three prospects were from out of state. 
Susie and I immediately agreed that we wanted to go in the direction of a classy rustic vibe with burlap and iron pieces.  Of course we had to add some fall into the mix as well! We both shopped our homes and pooled our resources.
and made a pact not to tell our husbands that this was really our own personal decor.  Husbands don't notice stuff like that in the house, but it looked like a TON when we had it all gathered together on the tables. 
And here is what it looked like at the first reception.
I promise there was plenty of room for the food!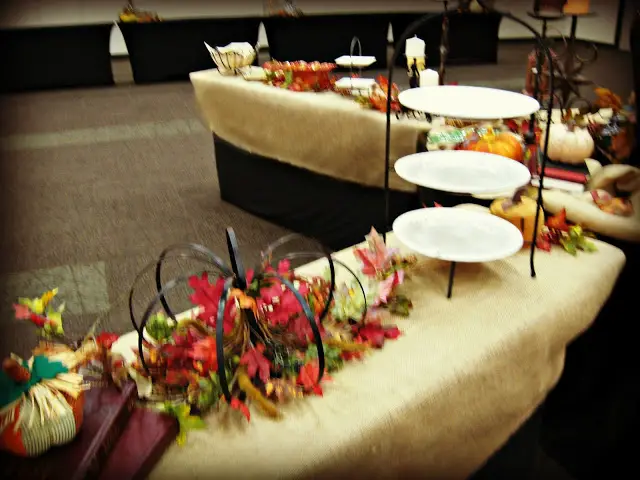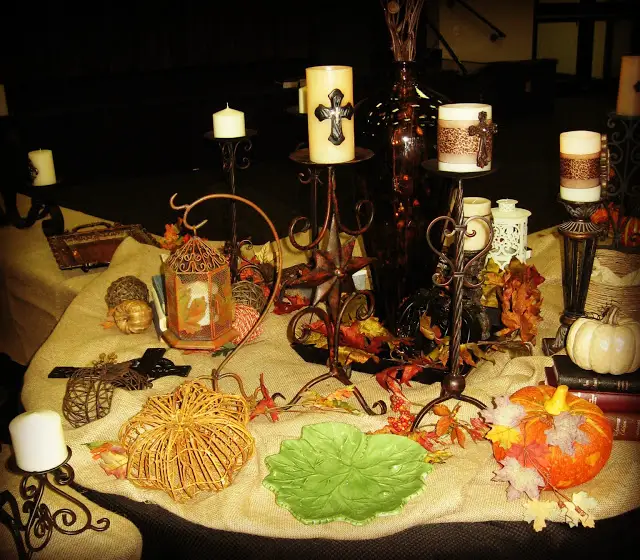 I was so honored at the compliments that Susie and I received and felt like I was blushing the entire night.  My husband even overheard some ladies complimenting "the girl that drags stuff off of the curb and makes it prettier, hey she even blogs about it!"  "It looks like a Southern Living Catalog!"
They had no idea he was my husband, heehee!  Oh boy, I guess word has gotten around about my trashy reputation.  Maybe this will convince them that there's a classier side to me as well.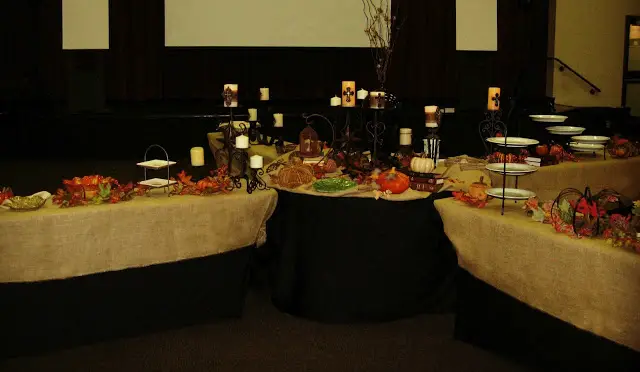 Other attendees commented that it "felt like home" and "made them think of Thanksgiving"
I was pleased.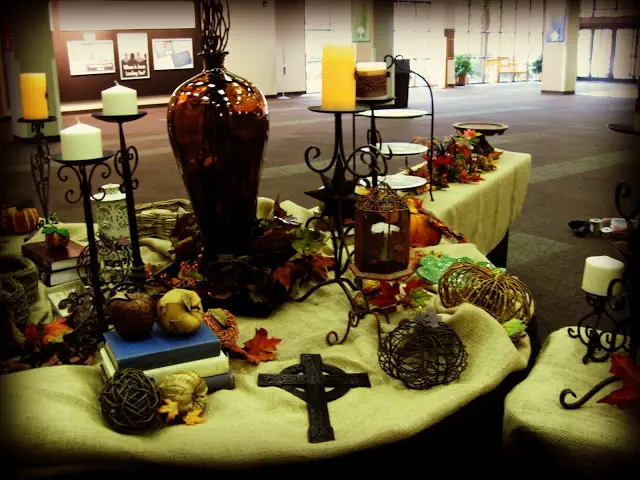 I was pleased with the evening.
I was pleased with the decor. 
I was pleased about meeting a new friend that shared some of the same passions that I have. 
I was pleased that our church is finally in the position to faithfully take the leap in hiring a new pastor.
It melted my heart that Butterfly helped us, since she is growing up way too fast! *awwww*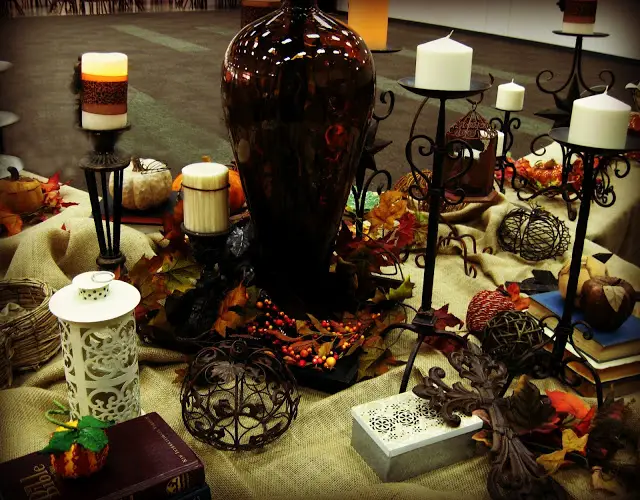 All around it was a great weekend!
I can't close out this post without mentioning that it was a good excuse for me to finally make my own candles using inspiration from my blog friend Shenita, of Embellishments by SLR.  She has a talent for "embellishing" beautiful home decor items.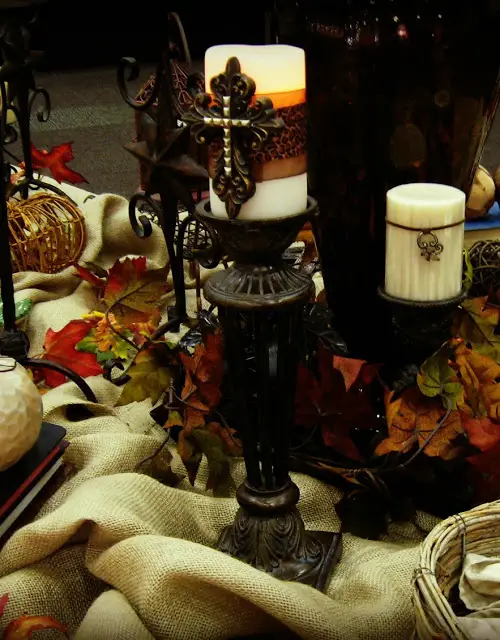 I was shocked at how great they turned out! 
Definitely looking forward to the next two Pastoral Receptions and super excited to where God leads our church on this journey!
Thanks for letting me share this with you.  I am pleased to say that our church unanimously chose a new pastor and he has faithfully served now for almost nine months.  I was sad to leave but know that our beloved church is in good hands.  God is so good!
Happy Fall!
~Tami