I am in LOVE with my new pillow!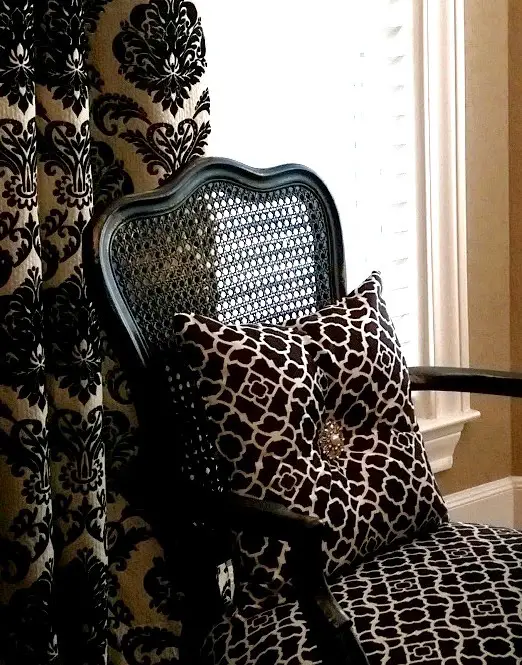 Can you be in love with a pillow because if so then I am not just in love, but smitten!
I am very excited to team up with my blogger friends and Online Fabric Store for this post.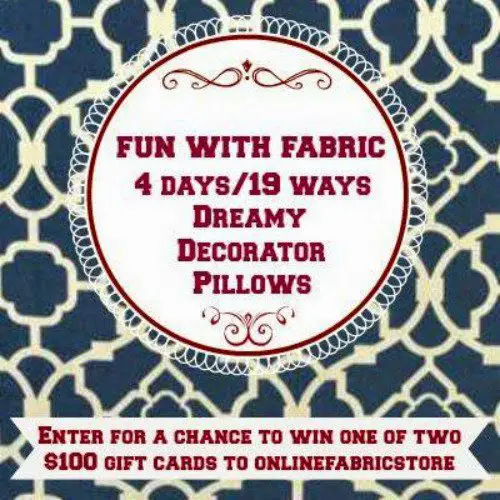 Even MORE excited to give our readers a chance to WIN your OWN fabric from 
Online Fabric Store. Be sure and enter at the end of this post for a chance to win one of TWO $100 gift cards to Online Fabric Store – that could be YOU!
Be sure to enter the form at the bottom of this post.
But First – Here's what we did! 

Initially it was a tough choice as their selection is fabulous.   So many colors and textures to choose from but of course in the end I played it safe and went with what I felt complimented my existing home decor.  I chose this beautiful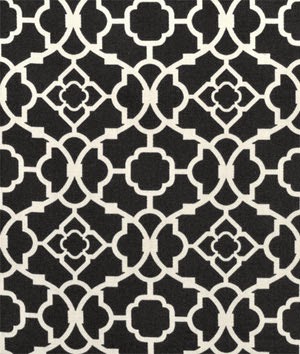 I was super excited to get started on this but have to admit it has been a long, long time since I have sewn, so I was a little nervous.   It didn't help that my other blogger friends have been posting some amazing pillow ideas all week and have set the bar really high!  I will provide the links at the bottom of this post so you can visit them as well. 
My friends have also posted some amazing pillow tutorials so I will spare you the details here and just show you the supplies that I used for mine.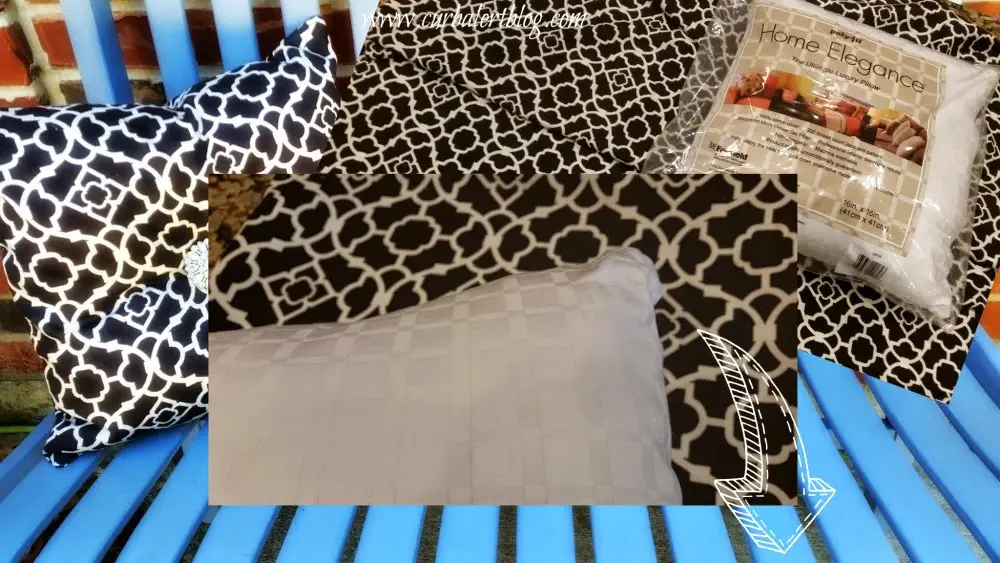 Cut, measure, sew and ready to go…so I thought!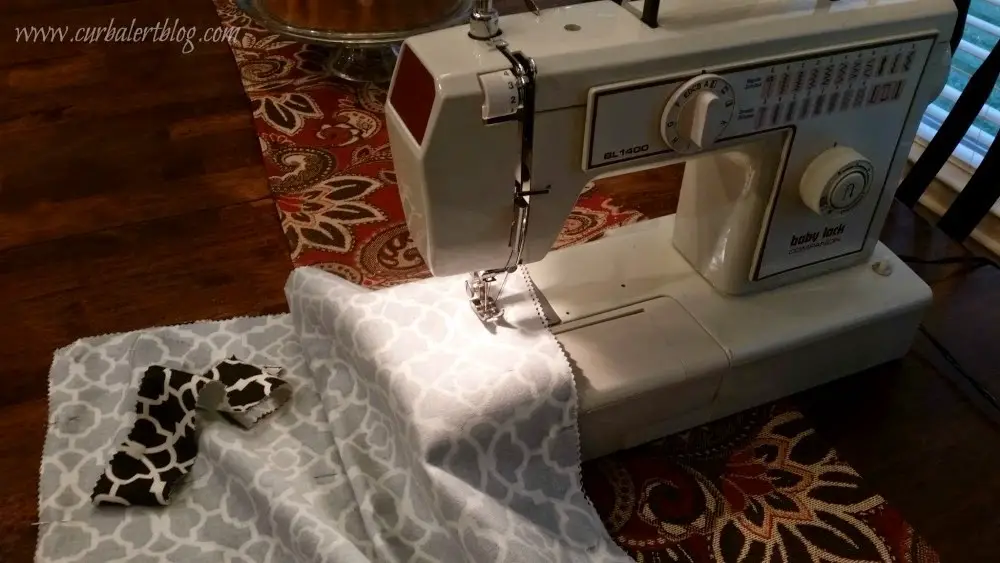 Seems that my sewing machine is out of commision so I went back to the basics and sewed up my pillow by hand.  My mom and middle school home-ec teacher would be proud!  It literally took me thirty minutes to complete my pillow!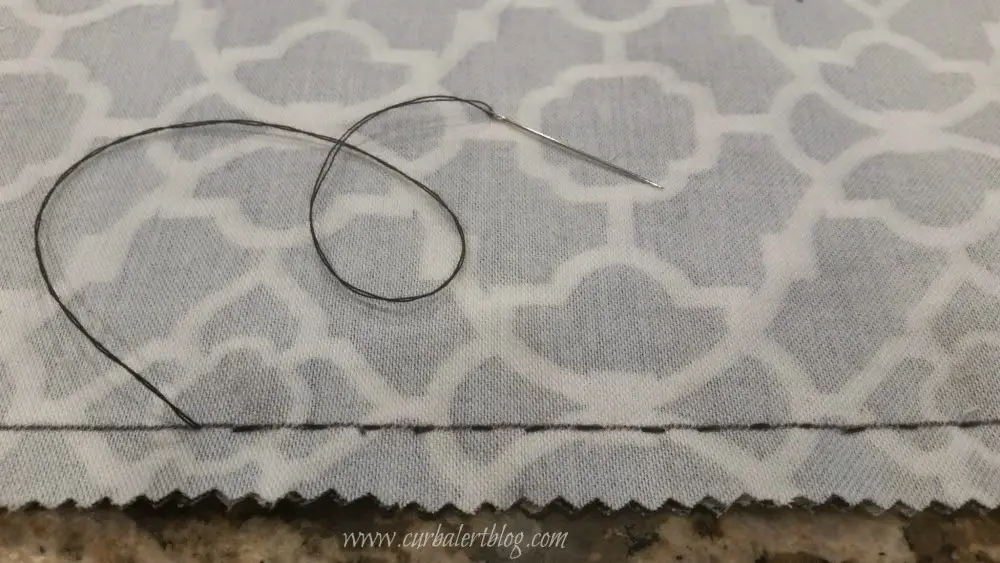 If you don't have the skills or the patience – no worries.
In addition to carrying fabrics and supplies to make your
own
pillows, OFS now carries
ready-made decorative throw pillows
!
I just may have to try a few more because can you ever have too many pillows?
According to my husband, yes as he removes the 57 throw pillow from our bed but what does he know???
Like I said, thirty minutes later and I had this beautiful new pillow!
The center embellishment was sewn on with some Heavy Duty Upholstry Thread.
And now some beauty shots!
There are so many places in my home where my new pillow looks stunning!
The pillow looks great with my Aubusson Blue Sewing Cabinet.
Note to self…get sewing machine fixed!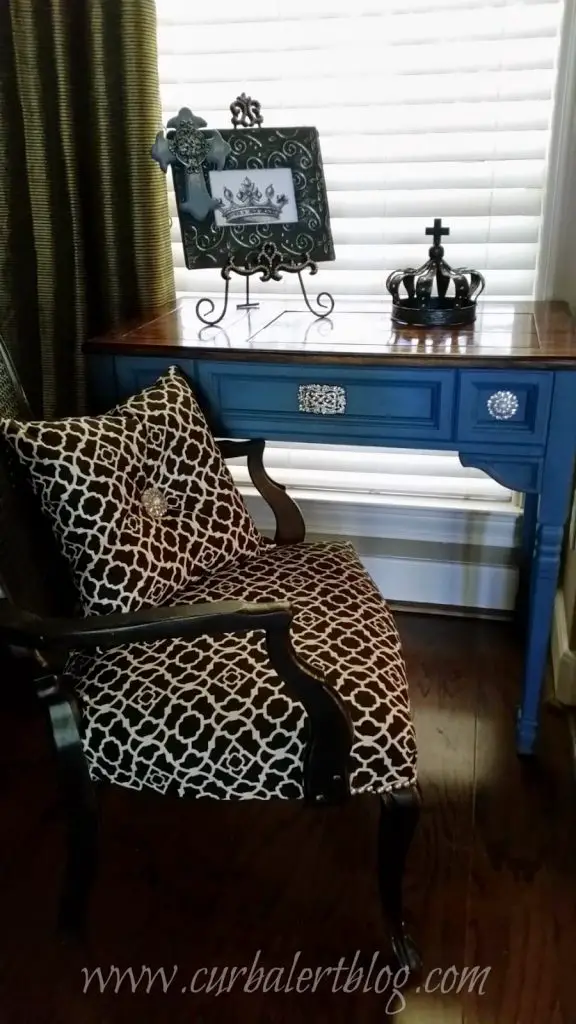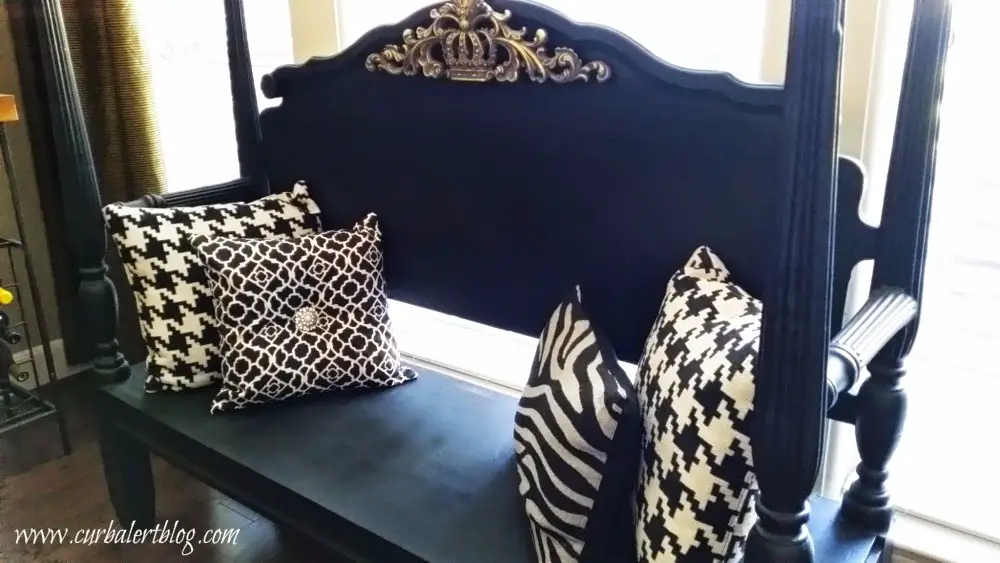 Outside on my Iron Garden Bench…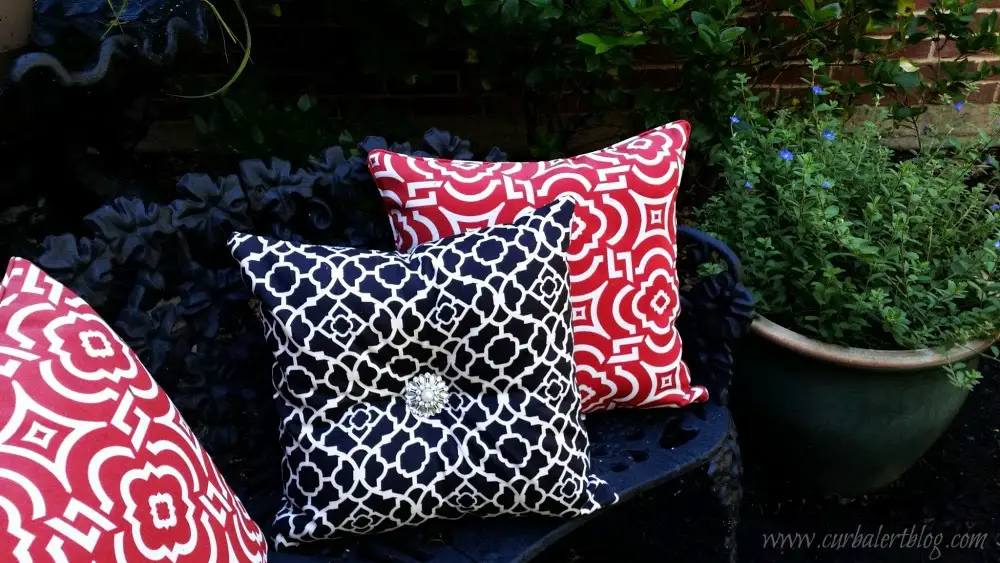 Online Fabric Store sells similar coordinating Red pre-made decorator pillows
HERE
.
Or on my Blue Rocking Bench…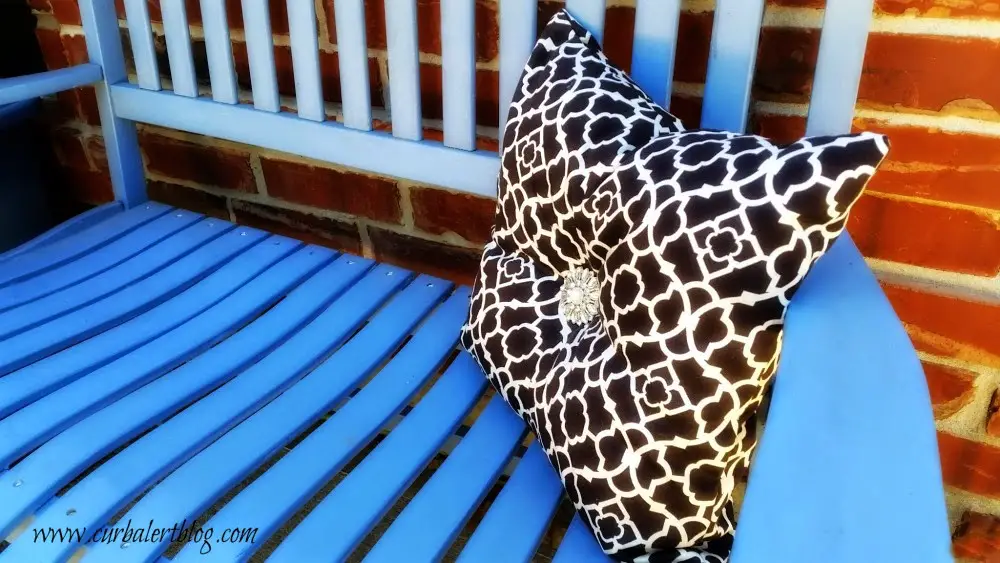 Wow!  maybe I should have made a few more pillows to spread around, but did you happen to notice the chair?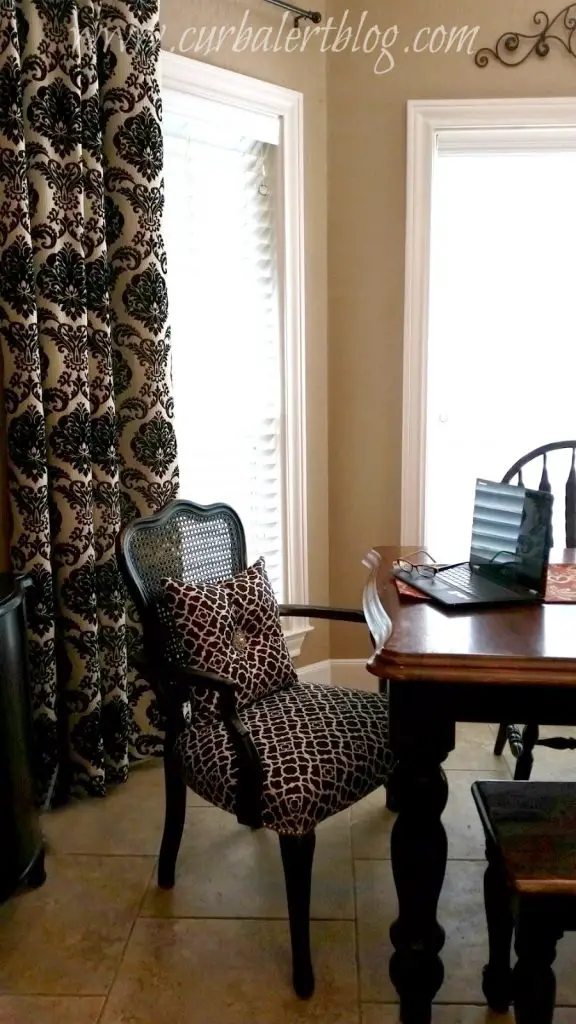 Online Fabric Store was so generous with the amount of fabric that I was able to do a little makover on the chair too!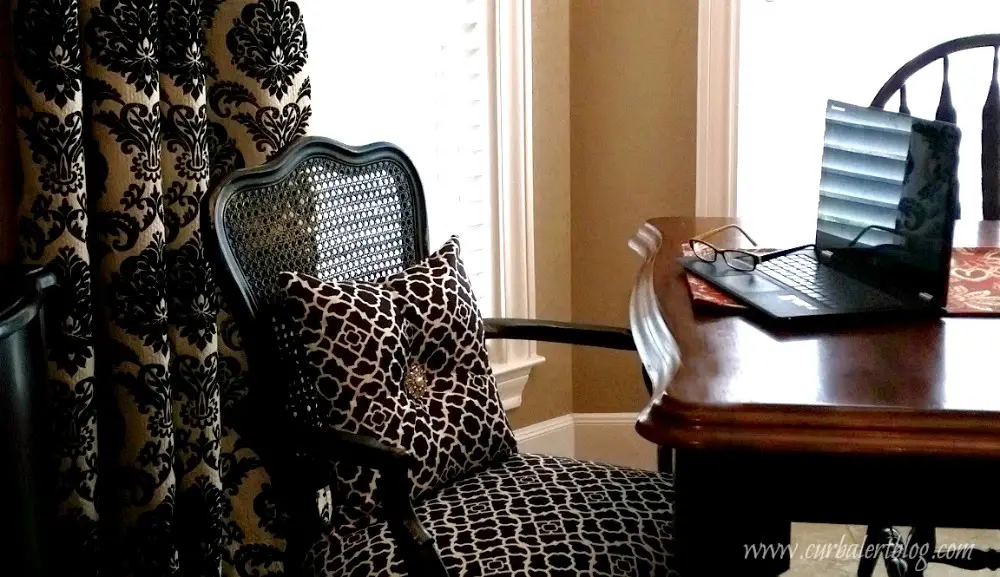 Now I have a comfy place to sit in my kitchen as I blog.
(if this little guy will scoot over!)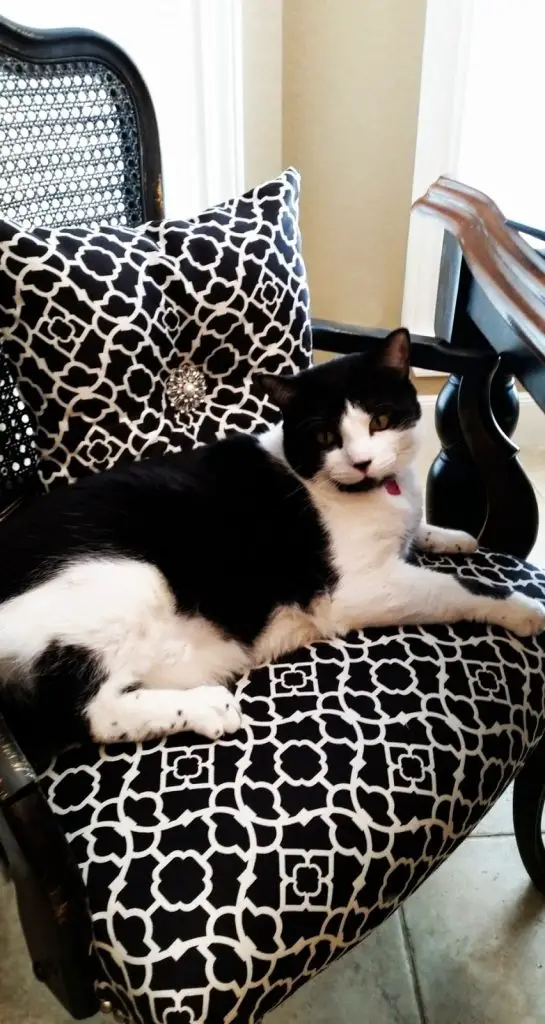 Well I am super pleased with my pillow – THANK YOU Online Fabric Store for the opportunity to create some new beautiful home decor! 
Now here's your chance to WIN! 
Enter below:
Good luck!
~Tami