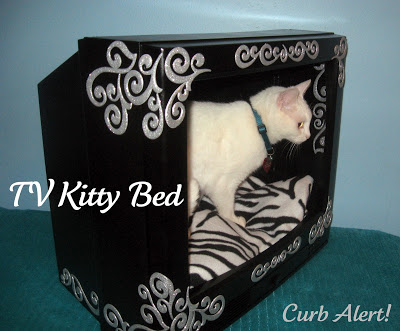 Do you know how hard it is to have your kitty pose for a photo shoot?  Well I thought, "no problem" until "miss uncooperative" was not doing her share of the posing!  She actually layed in this new bed for awhile and by the time I got my camera out it was very difficult to get her to "sit".

 I had seen this idea on believe it or not, wait for it – PINTEREST! and thought it was cute and different! This particular one was made out of an old computer monitor.  Love the green but I wanted to make mine a little classier. 
Well if you recall from months ago I just happened to have a TV that I found on the curb and used it as a prop in our church January Sunday School
KidzSpace
.  Please note that I would not have ever taken the TV in the first place unless I knew there was something I could use it for.  I still have no idea if it even works and never tried it.  Considering there were loose parts that shook around the inside was a pretty good indication that it probably didn't.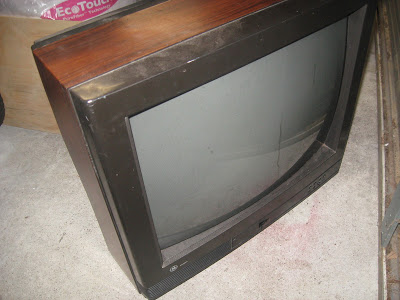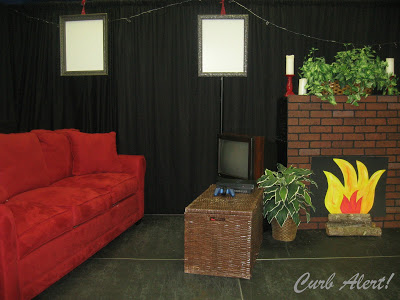 So my alternative was to throw it back on the curb or put it to good use.  
First I recruited my ever so excited "How do YOUR projects turn into MY projects?" husband.  He helped me to carefully take apart the TV and properly dispose of the inner contents.  Please note that there is some kind of part that still holds an electrical charge even w/the TV unplugged, and could shock you so DON'T TRY THIS AT HOME FOLKS unless you have a Superman around like My Love who knows what he is doing.  How sweet of him to volunteer to help out so that I would not get hurt during this delicate important blogging procedure!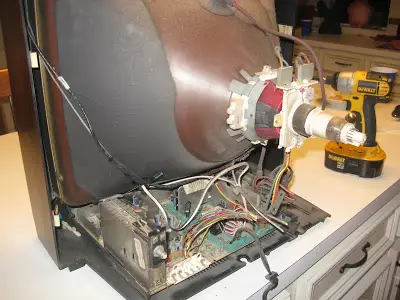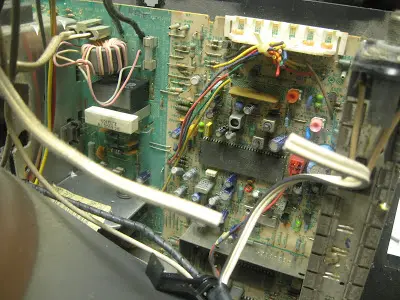 Isn't that cool?  I couldn't wait to show Bubba all of its "guts".  His typical ask mom 50 question curiosity game technical engineering genius brain thought it was neat. 
Wow, Retro!  1989 – I was in college back then – did I just age myself?  Oops!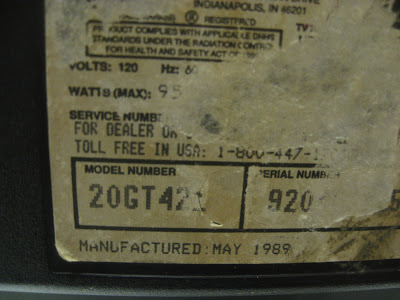 Although I love the fun green colors, I painted mine black with some cheap Wallyworld spray paint, just to be quick and easy.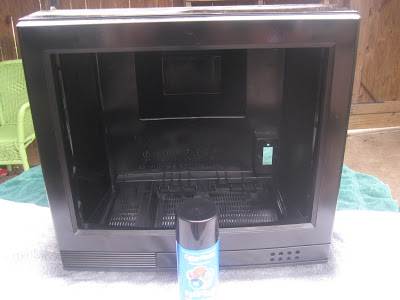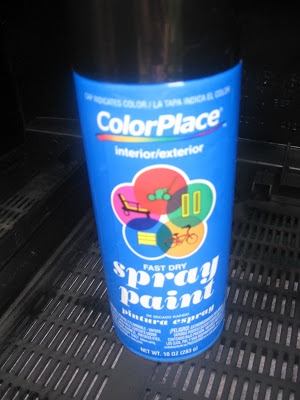 I embellished it with some 99cent stickers I found at my favorite store Tarjay and started to love the extra little bling – so easy.  Kitty's name is Diamond by the way, so some bling was in order here.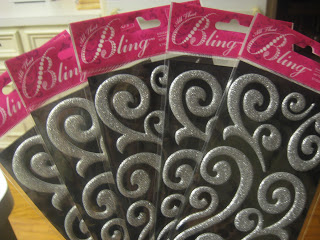 Diamond says…
"You want me to WHAT? Pose with that silly old TV?  Okay I'll do it if you give me an extra can of tuna and hide some kitty treats under the pillow!!! 🙂 "   
So after much coaching and a few failed attempts she agreed to stay still and let me take some pictures…and then fell asleep in her new Kitty Bed!!! (Of course the batteries in my camera DIED and I had no more so the photo shoot was done! darn-it!
And here it is again, all prettied up.  
The Kitty Bed out of an old TV: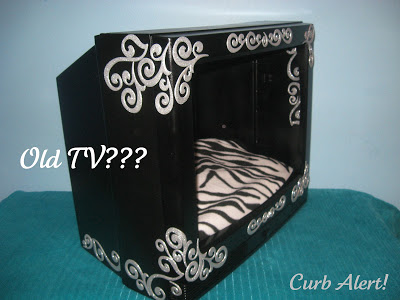 Diamond, be still!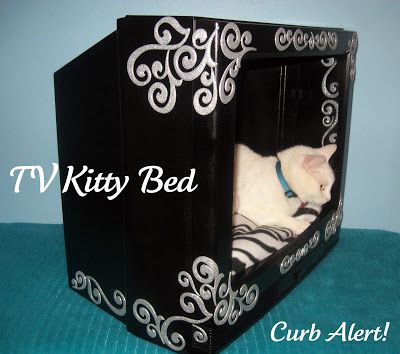 Diamond, look over here!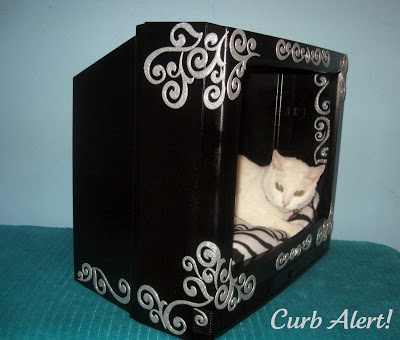 Wait!  Buttercup, quit distracting her!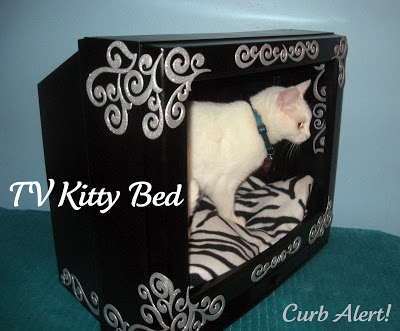 The treats are under the pillow, not on the table!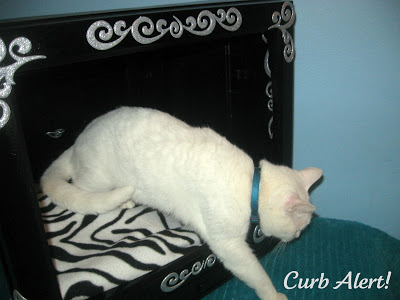 Aaaand, she's done!  Photo shoot over! It was fun while it lasted 🙂  I know you are sick of seeing my cat, she was such a good sport for a second there!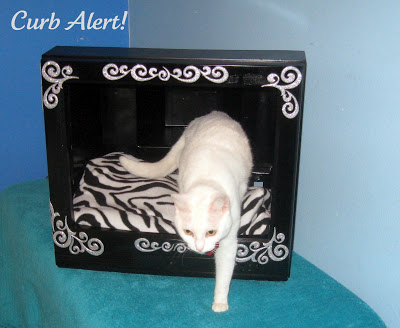 I had originally put it in the living room but luckily the girls started fighting over whose room the Kitty Bed would reside in – LadyBug won.  Thank goodness because it looked pretty ridiculously stupid in the living room! What was I thinking?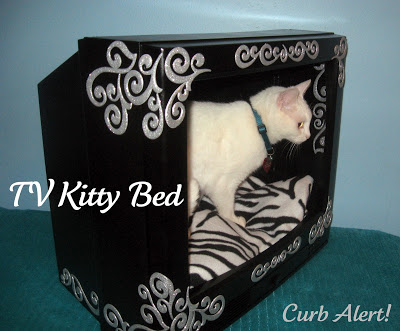 So her first photo shoot was a bit silly, but I catch her sleeping in there now and then.  I think because someone keeps hiding treats under there.   That's okay.  I know I have lost my mind but I loved this silly project, almost as much as I loved the
Duct Tape Boots
! (Thank you for the features last week, I was thrilled!)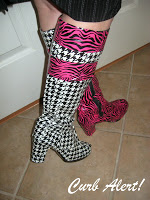 What do you think? (about the TV?)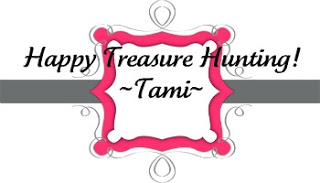 Sharing this post over at: