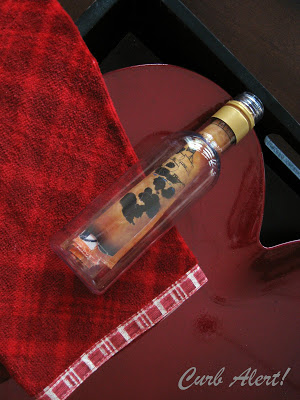 I have to share this little story with you about a silly little misunderstanding that I had.  It's about this little Message in a Bottle.  A few weeks ago was pretty rough for our family when we unexpectedly had three cars in the shop within the same week.  MyLove had expensive routine maintenance on his truck, my little SUV needed emergency tire and battery repair, and then when we thought enough was enough Butterfly had this little mishap: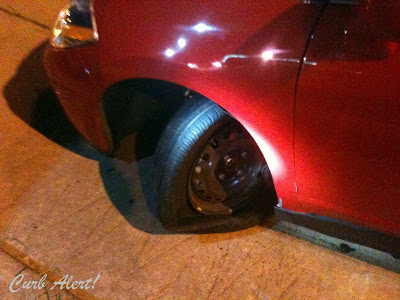 A REAL CURB ALERT! (literally!)
She has a "thing" for curbs somehow keeps running into them and this one was not an easy fix – it was to the tune of $4500!  Thank goodness for insurance and deductibles!  I was really stressing with all of this money spent and did I mention it was the week before Christmas?!  Needless to say I was not a happy camper but was praising that we could handle it and thankful no one was hurt.
I was praising all was well until a few days later I saw this…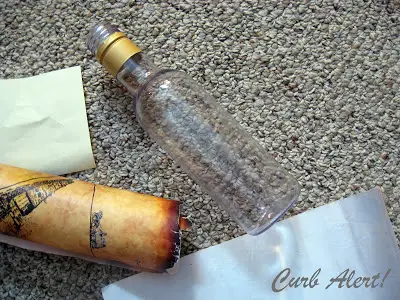 Butterfly had been driving MyLove's truck while her car was in the shop.  At first glance I was pissed! my heart fell a bit.  Yes we do have a teenager but she has NEVER given us any indication to worry about alcohol.  I left it there and went inside to put my thoughts together before I spoke to her or her father about it!  I prayed a lot too hoping that there had better be a good explanation for it!
Well, upon closer look I felt like the idiot of all time – it was really this…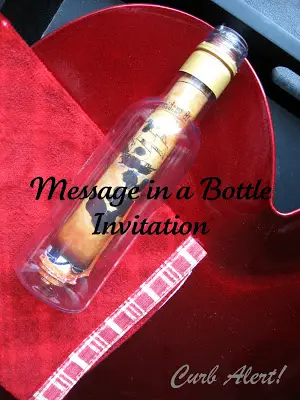 An invitation to an upcoming annual wine-tasting party hosted by some friends.  It was already opened and left on the floorboard since MyLove had a hard time rolling the paper up to fit back into the bottle.
 I have to tell you I felt pretty stupid for being in such a panic mode for a few hours  minutes worrying about all of the scenarios of how that bottle got in the truck!   Sheesh!  Thank goodness I didn't have to deal with the alternative.   I was a little embarrassed to explain the situation to Butterfly and was so glad that I kept my cool assessing the situation before I started accusing and blowing my top!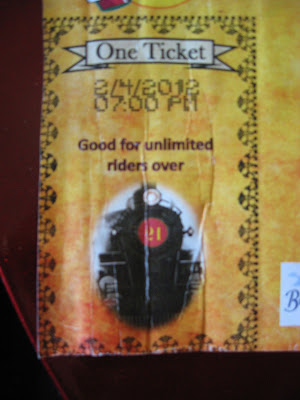 Now on to this cute invitation.  I must tell you that my friend, Ms. A, is quite crafty herself and always sends us adorable hand-made invitations and holiday cards.  I.love.that.!   Her husband's "man-cave" is their finished garage turned into a fabulous train room and bar, so how appropriate to plan their party as they have.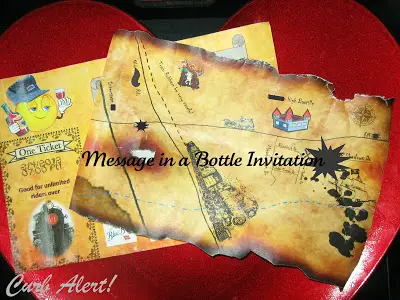 I love how they incorporated the wine-tasting theme with the train-robbers on old script parchment paper.  It really gets you in the mood to enjoy an evening with friends.  I am really looking forward their party!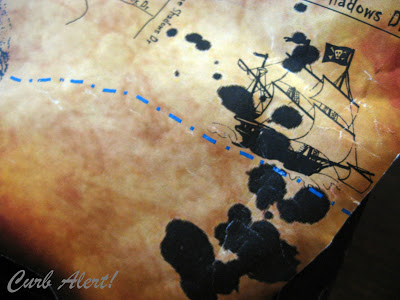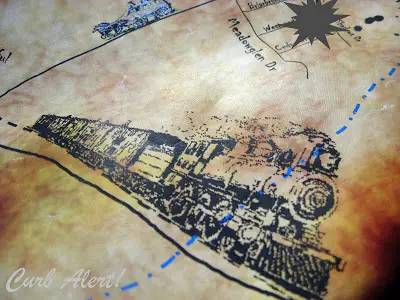 Usually when you think of a party invitation in a bottle the beachy theme comes to mind, I like how they put their own twist on it!  Now I am wondering how many mini bottles of wine they had to drink before they could send out their invitations? Such a cute idea!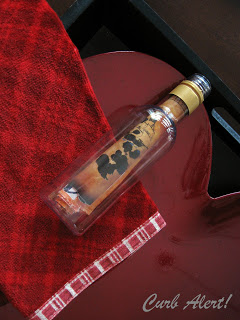 And the message to me is (thinking of my reaction to the teenager dilemma)…"Think hard before you react".  There just may be a good explanation to every matter and luckily this time it was a silly result.  Of course if there was alcohol involved there would have definitely been some major consequences going on in this household!!!
Happy Treasure Hunting!
~Tami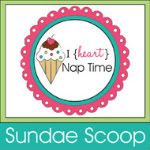 I {heart} Nap Time