I am pretty proud of myself this weekend.  We had a great evening with friends, entertained 10 young boys at Bubba's Karate Party, great time visiting with family, and church services to round off the weekend.   With all that going on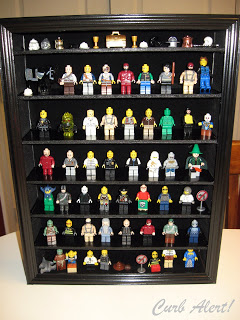 I was able to squeeze in a little bit of house cleaning and completed two projects!  Oh and I almost forgot I also found some pretty awesome things on the curb!  I cannot wait to share.  Until then I will show you the little shelf I made for Bubba's Lego Dudes.  After 
playing with the legos for hours pretending like I was organizing
 sorting out Legos, (check out my "Organizing Chaos Lego Edition"
HERE
)  I found tons of these little guys: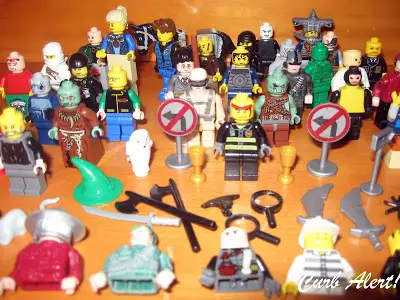 I recall the boys always digging and digging trying to locate the dudes so I wanted to make something to store them all in one place, while making it appealing to my decorating eyes.   I love the idea of putting them in little boxed shelves and online they run a little pricey.
This particular
Display Case
 online runs about $39.99 and does not quite have enough units to work for the little Dudes. A light bulb went off in my head and I remembered that I still have this unused display case, paints and some foam board just sitting in my closet.  It's worth a try to see if it will work!  (As you can see by the dust,
my closet is in pristine clean  mint condition
 it has been sitting in there quite awhile)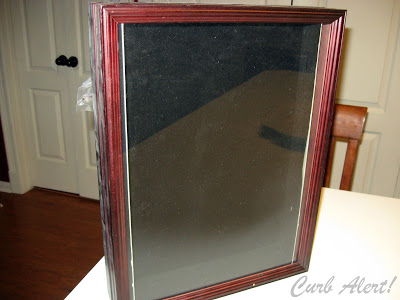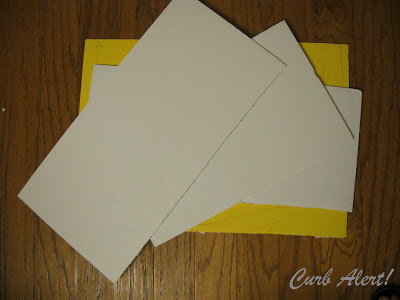 I pulled out the shadowbox insert backing, accidentally broke the glass.  Oh well, I didn't really need the glass in there anyway.  I am not going to explain much more as I am sure you can figure it out pretty easily how I did it by the pictures.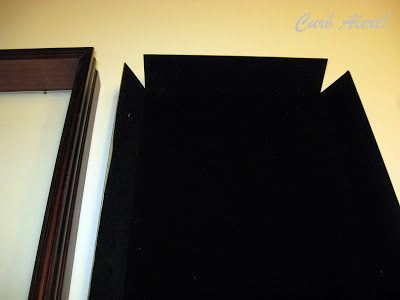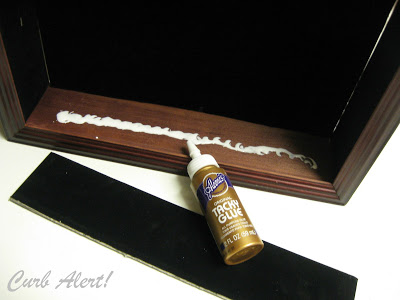 Now I am no master woodworking builder so I figured a glue gun would do the trick.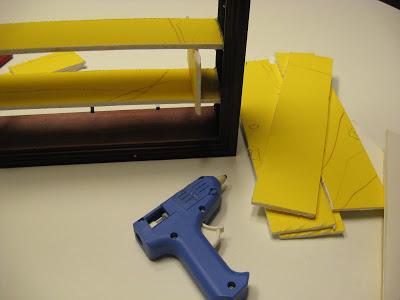 And here it is in Bubba's room.  With a little bit of paint and patience the case turned out exactly as I imagined.  The Lego Dudes do not weigh but a wee tad, so the foam board works perfect!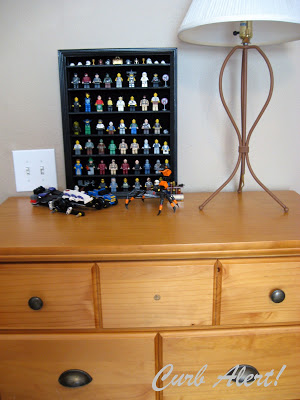 They are now prepared for their close-up photo op…..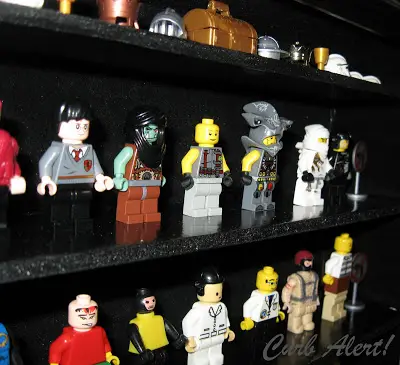 …..or for battle, or adventure or whatever Bubba and his friends decide.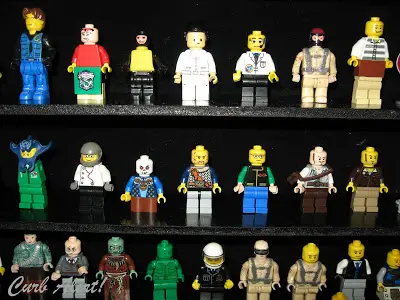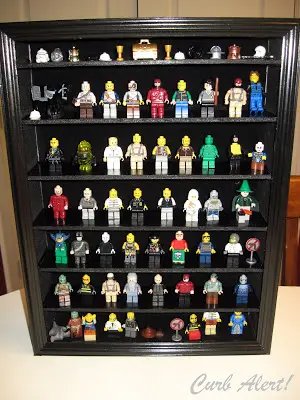 I love these kind of projects, and although I could probably just go out and buy it, I get a real satisfaction out of taking the challenge to do it myself.   Tell me what you think!
Wow!  gotta go.  My girlfriend just called and told me to go check out a cute desk on the side of the road only a few neighborhoods over.  It's worth a try!  Gotta love my friends that know about my little secret and
enable
encourage me to keep on doing what I enjoy!
Happy Treasure Hunting!
~ Tami
P.S.  I am updating this post to let you know that I got a big ole "Awesome!" from Bubba and his friends today.  They love the Lego Dude Storage! … and I am now the proud owner of that cute little desk!  Thanks GirlFriend!!!