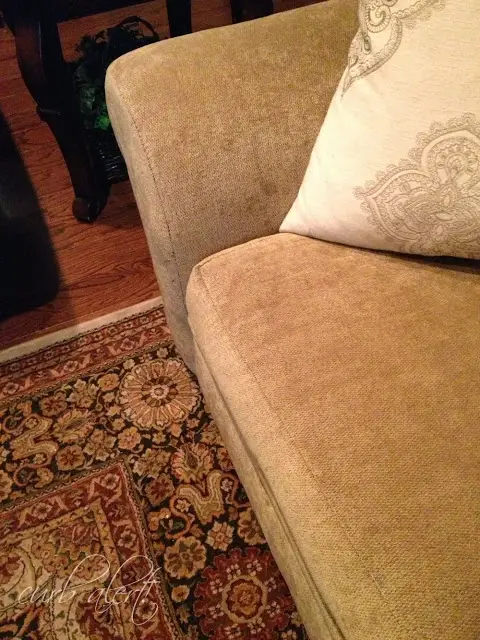 Want to see a little bit of our new home? 
Well you are going to anyway.
Not really a reveal since we haven't done any makeovers but just some show and tell.
I am truly no decorator so don't judge. 
I am thrifty and used what I have.
I say that because last week I posted a picture of our dining room curtains on my Facebook page asking Yay or Nay to the curtains.  I got an overwhelming "Nay" but guess what, they are staying because I risked my life on a super tall ladder to get hem up there! I love them.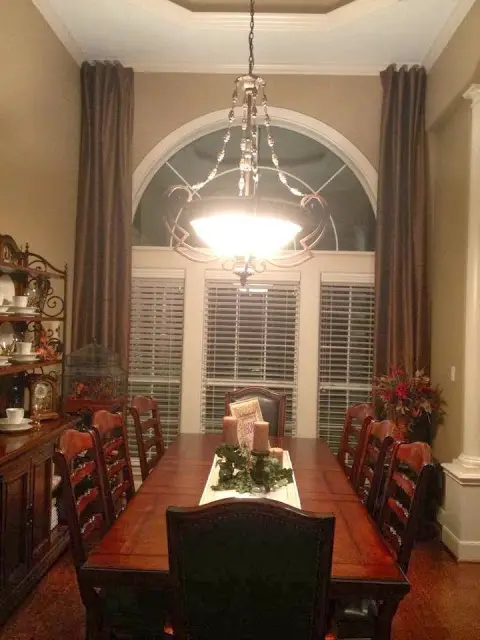 Some did not like the chandelier either.  That's okay, I didn't pick it out.  It was here when we moved in.  It's definitely unique and it's growing on me.
These pics were taken with my cell phone so not the best quality but you get the idea, right?  Well the consensus did not like the color and the fact that it covered the window architecture.  Well I just cannot part with them.  One of my previous neighbors found them at a garage sale for $10 and gave them to me when they did not fit in her space.  I have been saving them for about a year now.  They are actually more gold than they are brown and I just love them for some reason.  And look at how long they are – 14feet people and lined!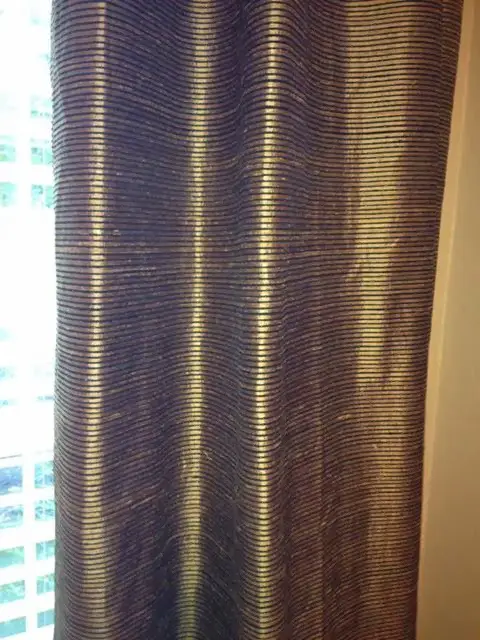 Anyway they are staying at least through the winter months, I think they warm the room up a bit and that's what I was going for.  And more so for the fact that I love curtains but I am a cheapo and do not want to spend the money right now to buy the EXACT ones that I want. 
Straight across from the Dining Room is our Living Room and lo and behold I happen to have two more curtain panels! Goodness they are tall but I love the dramatic effect.  I was just testing to see how they look so I just nailed them right into the wall.  Eventually I will hang them on rods, which I think would look better but I was getting a bit scared on the ladder with MyLove out of town so I'll wait till he is around to drill the holes for them.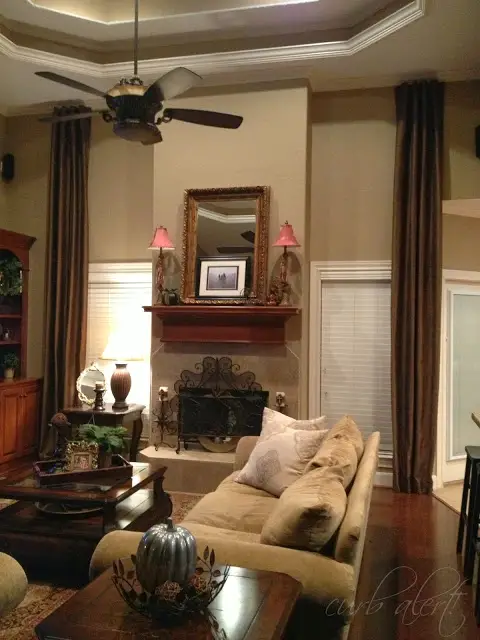 And while we are in the Living Room did you happen to check out the rug?  It's an 8×10 super thick soft rug and breaks up a bit of the darkness of the room (lots of browns-I know I cannot help it!)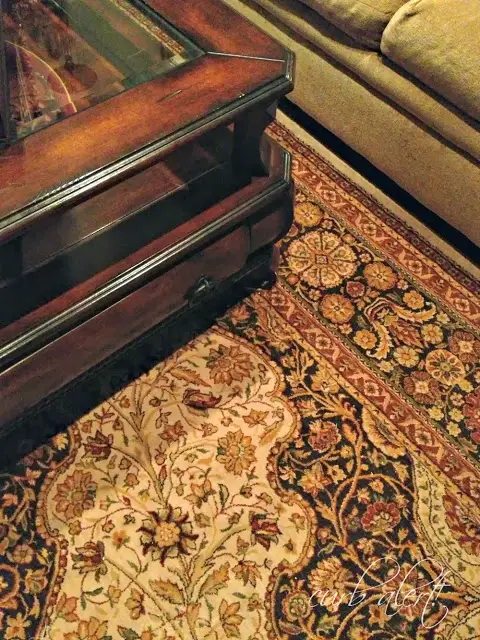 Funny that in my mind when I think of what kind of curtains or rugs I would buy I tend to want to try something a bit more modern and colorful but in the end I end up with more traditional.  Doesn't surprise me because that's what I love.  So why am I trying to be trendy or go with what's in for the moment?  I even thought that I would try to incorporate more blue in this house and get rid of the red.  Why Tami?  I am happy with red!  My friend
Sharon
recently reminded me, "if you love Red, then go with Red" so I am sticking with what I love.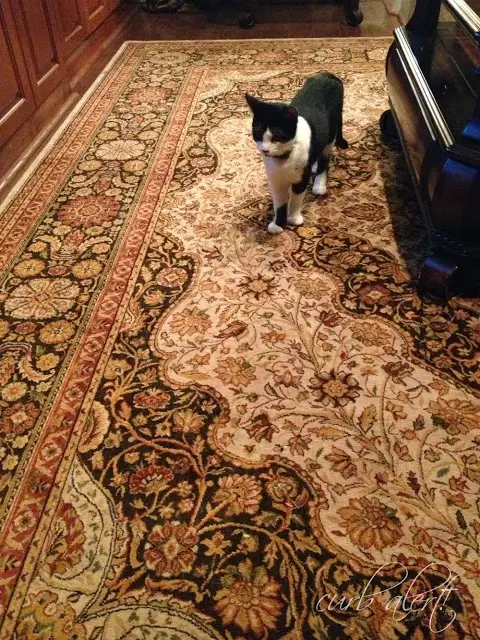 My new little friend, Tex (yes Buttercup named him) loves the rug too and you know what?  I love it even more knowing I paid a whopping 
$25
 for it at an estate sale!  Yep, that's right.   In Love that is goes well with my home, it's comfy and super clean and makes me smile! 
So what do you think about these rooms? Please don't tell me to change any major pieces because right now I am saving my money big time for a brand spanking new super comfy king sized bed for Christmas!  Seriously I cannot wait so these two rooms will have to stay the way they are for awhile.  
That's okay for now because to me they are cozy and I love to spend time in them.
Have you found any good bargains lately? 
I am a curtain loving kind of girl, do you love curtains? 
Happy Treasure Hunting! 
~Tami