Happy Halloween!  I hope yours turns out better than ours because from the looks of the weather predictions it looks like it may be a washout!  I am currently searching for indoor alternatives for our kiddos tonite!
Anyone that knows me well knows that I am in L O V E with fleur de lis!  I have fleur de lis decor items in my home, fluer de lis jewelry, and even fleur de lis bling on my phone.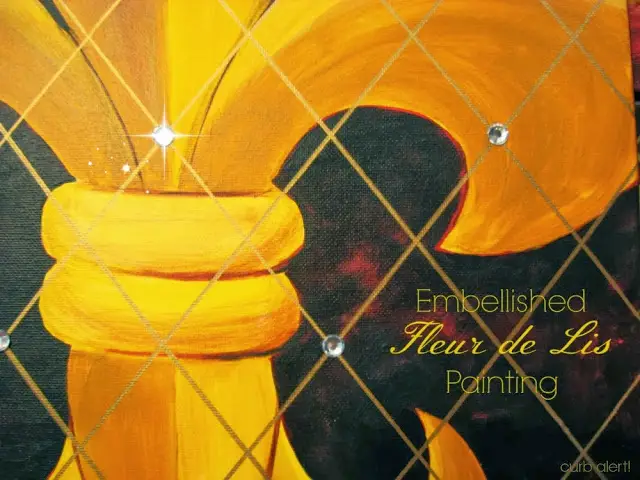 I was super excited when our local
Painting with a Twist
studio held
a class on learning how to paint a fluer de lis.  If you are not familiar with Painting with a Twist then you are missing out.  It is a painting studio where you meet up with friends and enjoy the evening learning how to paint.  It's a great step by step process and anyone can do it (even my 5 year old – more on that later) They also have summer camps and classes for the kiddos, ladies nites, birthday parties, private classes and family classes.  If you have not experienced it yet I urge you to go give it a try – it's fun!
  Check out how excited this lady is to paint her very own fleur de lis!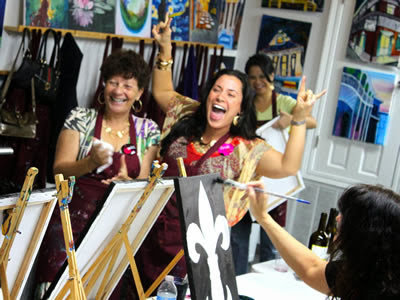 Photo source:  Painting with a Twist
My kids have done it before on their own and I loved how their paintings showed their unique style and talents.  These are from 2011.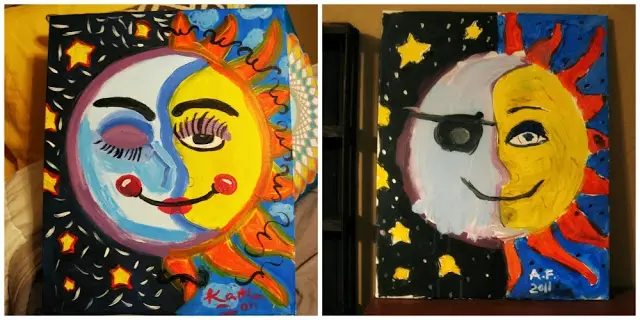 A few months ago I needed one more summer activity with my kids and bribed, begged, convinced them to go with me and paint to help me out with a big project that I had in mind.
Our instructor was so patient and fun as we all painted step by step while 
thinking about the wine sipping ladies nites
 chatting and listening to music.
Here is Buttercup painting away during the class.  She really payed attention and worked hard on her painting and the end result shows!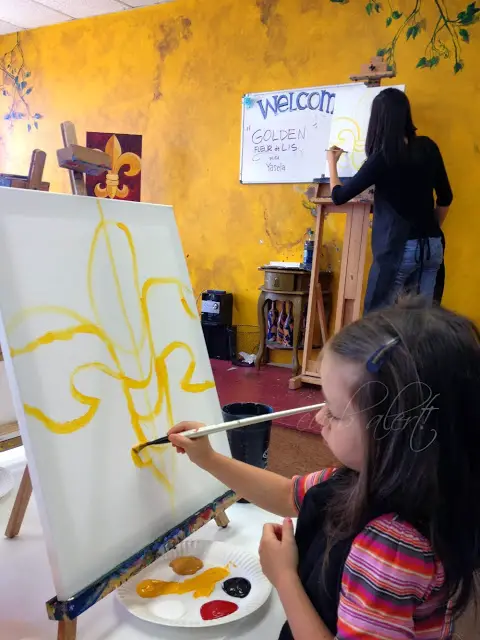 At the end of the class everyone gets together to take a group shot.  My older kiddos preferred that I keep ours private or otherwise I would share it with you!  Boohoo! 🙁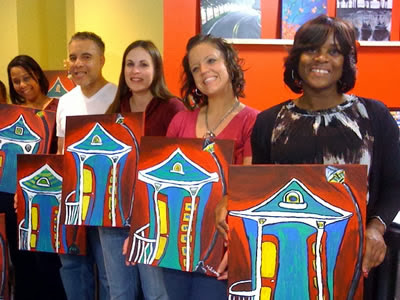 Photo source:  Painting with a Twist
My kiddos did a great job.  I kept the paintings on my dining room table for a few weeks until one day inspiration struck!  I adhered the canvases together and made them into one large painting.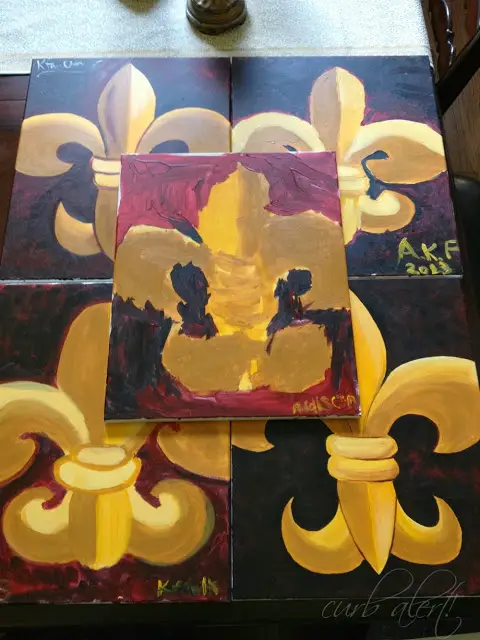 I then played around with the grouping of them and adhered the back of the kids' canvases together with screws, attached my painting to the top with a Glue Gun!   I liked how it turned out and the direction it was going, one huge canvas painting … but it needed more!
I wanted them to look more cohesive and think I did the trick by painting on a harlequin diamond pattern with a Gold Paint Pen.  I just measured each line by using a super large construction ruler.
Ahhhhh, that's better!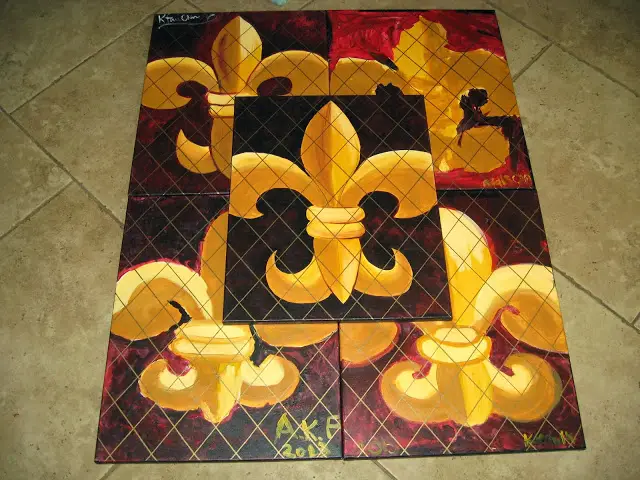 Hmmm…it got me thinking.
Speaking of diamonds, it needed just a bit of some bling.
I raided my craft stash and found these little Rhinestone Jewels.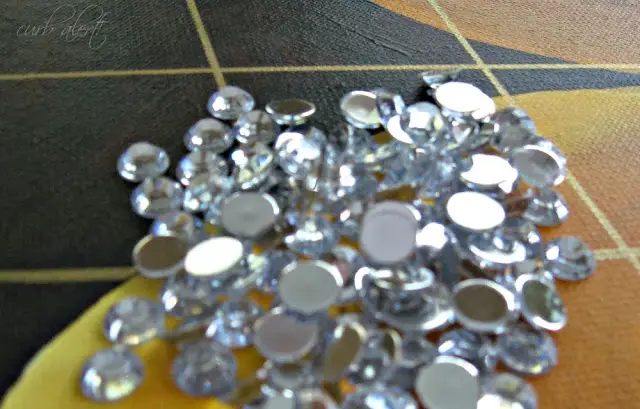 An now I love it! and the extra added pizzaz!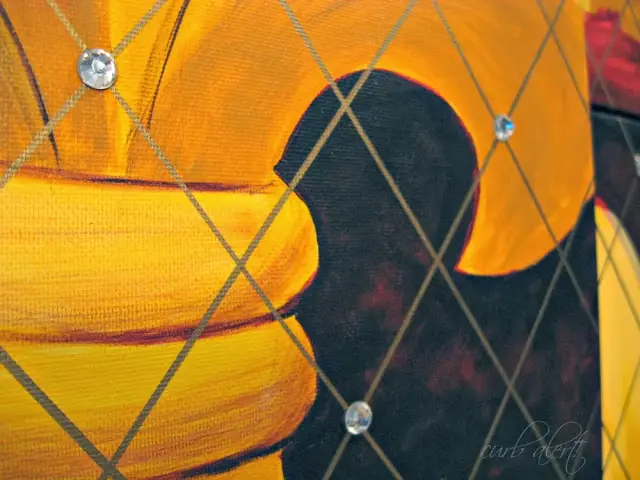 Here it is on the wall in our hallway.
Rainy day – I wish it was a better picture.  Have you tried to take a picture in a hallway, not so easy!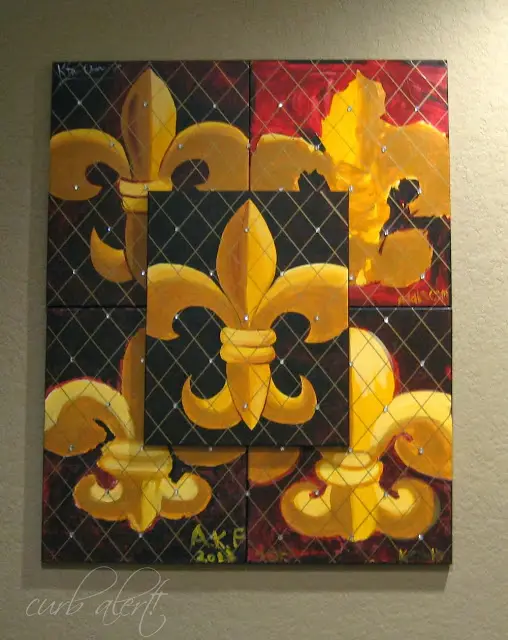 I love how it shows each unique interpretation of the fleur de lis.  My kids are 18/13/10/5.  I like the overall affect of the grouping, although I am in trouble because kiddos complained that mine is on top instead of one of theirs.  I purposely did that because I knew they would be upset at the sibling that I favored by featuring theirs.  Just can't catch a break with them!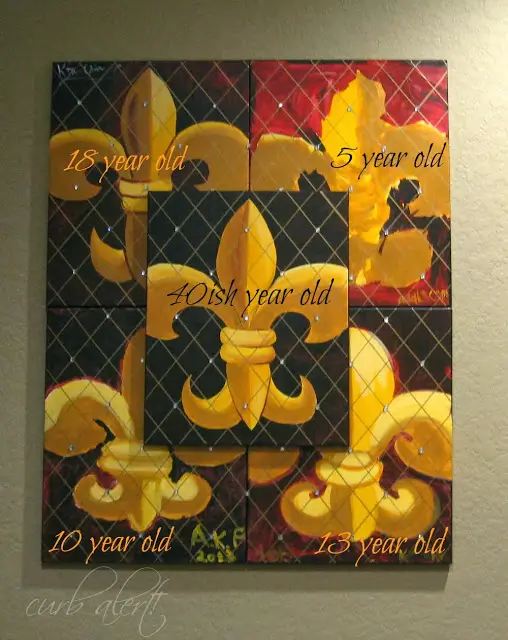 Please note that I am not getting paid to write about Painting with a Twist, yet I would gladly accept a Painting with a Twist gift certificate if anyone would like to contribute.  I just love the painting class concept and wanted to share it with you.
Now every time I walk down that hallway it makes me smile to think about our painting experience.
What do you think?