After donning these costumes last night I realized a few things:
1)  Halloween really sucks when it is during the week, just when you are getting into it then it's time to wrap it up and shower up for school the next day.  My kids NEED their sleep!
2)  My kids' new schools ROCK as their dress code today was
"roll out of bed and wear your pajamas" day as my 5 year old said.   It really was pajama day today which made our morning routine so much easier!!!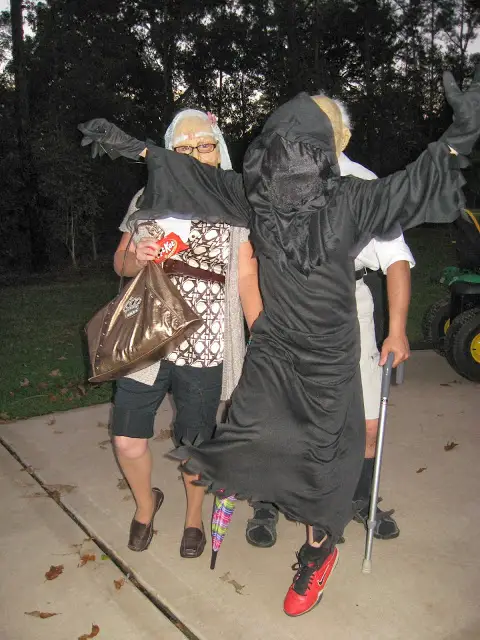 3)  My children make fun of me because I love to take pictures-like ALL the TIME.  I have finally let up a little and not force them into poses
most of the time!
  I remind them that someday when I get old and they are all too busy to visit their dear OLD momma, at least I will have these pics to remind me of earlier days!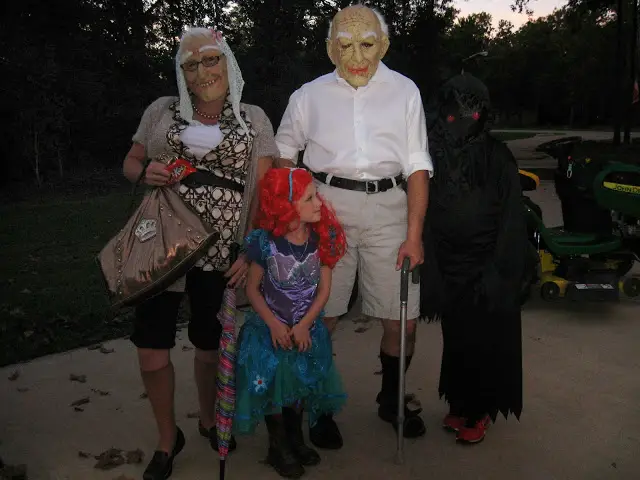 4)  I never realized how clothes really affect the way you feel.  I felt so old and frumpy, even when I took the mask off and no, I don't normally feel that way!  don't listen to what my kids may have told you!
5)  We attended our neighborhood Halloween Party and Hayride last night and it reminded me of how we made the right decision to move here.  We are once again blessed to have awesome neighbors that spend time together and really want to get to know each other.  It made it much more fun for us "newbies"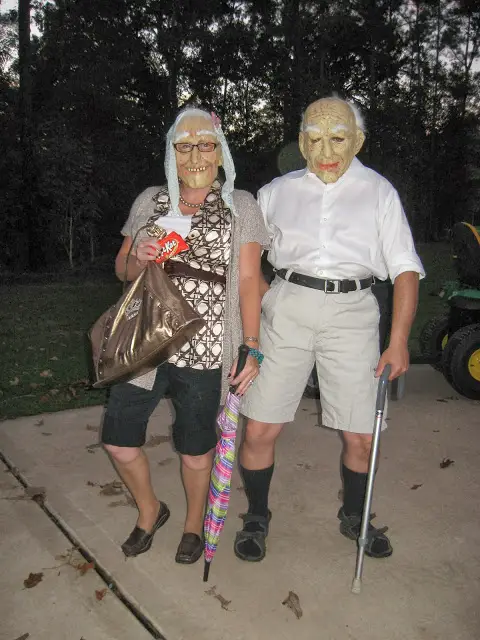 6)  My husband rocks!  He always loves to ham it up for Halloween and enjoys making the kids laugh.  I am so lucky to have him by my side.  We always say that we make a great team.  We look pretty good together, don't we?
7)  My kids laughed at us all night long but no matter how much they may have been embarrassed by their "old" parents, just seeing the smile on their faces and their friends' reactions was priceless!
8)  These "no nonsense" knee highs are for the birds!  They kept rolling down my legs and were very uncomfortable…what was grandma thinking!?!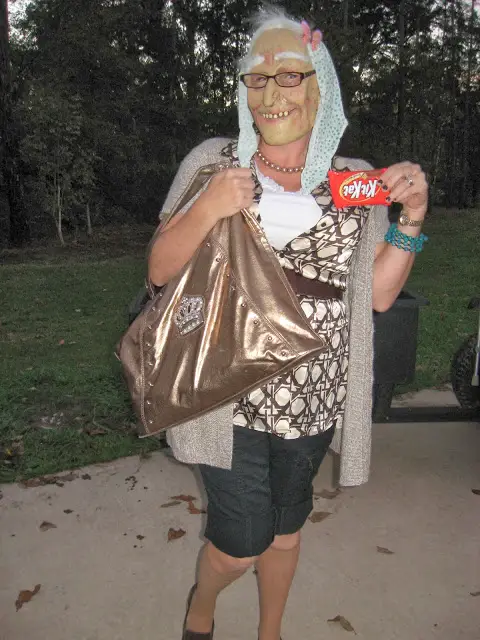 9)  I think I had maybe a size tripleH boob size and that I may never want boob enhancements.   I could not see my feet and kept bumping into myself and the little kiddos- seriously!
10)  I never realized until tonite that my husband has quite the collection of silly socks.  Note to self:  no more silly sock stocking stuffers! (although they do make great bra stuffers!)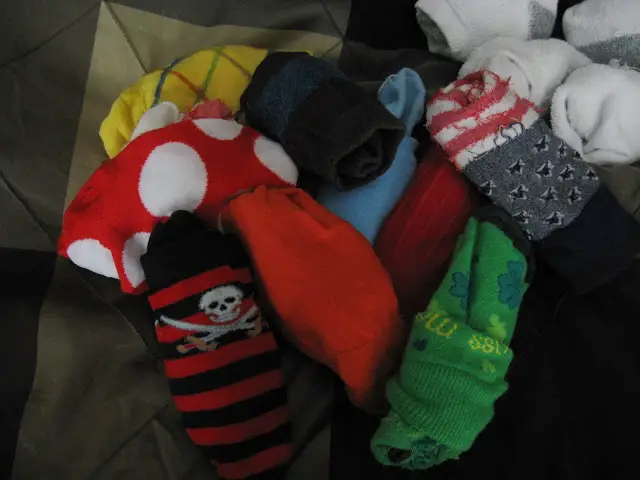 11)  Never decide to get rid of said sock boob/bra stuffers in the middle of the Halloween hayride (they started bugging and itching – HAY maybe?) by pulling
8pairs of husbands socks
them out of your shirt.  Someone may be watching you, and that someone just might happen to be the new DENTIST that
you didn't recognize in the dark
you just spent three hours in his surgery chair last week-
not that it happened to me
-but just don't do it…just sayin'!!!   And GREAT, another appointment is scheduled in two weeks, sheesh!
12)  We are definitely on a candy high today, I hope all the teachers survive the school day today!  You guys are AWESOME!   Again, how embarrassing to get caught by your dentist eating a TON of candy on a hayride.  Oh well!
I hope you all had a great Halloween!   Please tell me I am not the only one that sent Halloween candy in my kids' lunches today!  Anyone?  Anyone?
~Tami